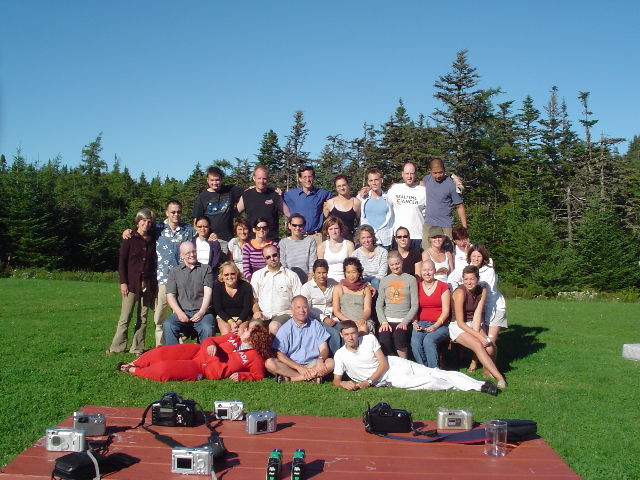 The first five years of YACC—YACC 1.0—can be summed in three words: start, focus, do. We started, and as is often my way, then I focused. The focus came as I recovered from my second transplant and the looming reality of a relapse in less than two years that would come with very few treatment options.
I still remember the feeling of surprise when I found out no one in Canada was focusing on young adults dealing with cancer. Our focus came immediately; we had to be that resource for the 19 young adults diagnosed with cancer each day in Canada.
The doing quickly followed.
We began with a web presence that was available anywhere in Canada, any time—a natural place for us to focus given our young adult target. Then things got real, and really powerful. We held the first Retreat Yourself in 2005 in NL (pictured).
Twenty-seven young adults attended that first event, and we spent four amazing days connecting, sharing stories, and laughing way more than they had in a long time.
"It's like visiting a place, you want to go to some other country and you know someone who's been to it you're going to ask them for some tips . So, you've been to cancerland; what should I know? I've never been there."
– Retreat Yourself 2005 participant
It was apparent to me that we had to find a way to bring these amazing young adults back together, a reunion of sorts. By 2007, we added the Survivor Conference. This event had a slightly different purpose than Retreat Yourself; the focus was on reconnecting with your people—those who "get it"—and providing some information and tools to our community to help them live the best life possible with or after cancer.
"I found this weekend has been really good for me in connecting with other people who I feel understand me. It also reminds me that I am not the only one going though illness and to stop focusing so much on my own problems. But I would have to say the best part of this weekend was having the chance to connect with others."
– Survivor Conference 2007 participant
YACC 2.0 saw us do "more, better." We hit our groove with Retreat Yourself and the Survivor Conference reaching hundreds of young adults annually. We got better, thanks largely to Karine's expertise (Karine is YACC's program director, who moved her life from Montreal to work with YACC and young adults), and we delivered more programs and our annual budget grew to $1M.
Next, after some great times working with our buddies Mike and Bonnie Lang, we decided Retreat Yourself Adventure was an important program addition.
"I really benefited by temporarily escaping from my mundane routine and taking another look at where I want my life to be heading."
– Retreat Yourself Adventure 2011 participant
Since 2005, we have held 29 programs and met 969 participants. YACC is like the Hotel California, you can check out any time you like but you can never leave. We have their back through any stage of their experience. In fact, three of those initial Retreat Yourself participants attended our most recent program, Survivor Conference, in Toronto in May!  Ten years later, we love it!
The Shave for the Brave was the fuel for this growth, without the thousands of Shavers each year at the 100+ Shave for the Brave events in schools, offices, and communities across Canada, we would still be in YACC 1.0.
We'll be back next week with more stories about some of our local and web-based programs!
Always…
Live life. Love life.
Geoff Eaton
Click here to read part 4 of this story!
It's not too late to share this story with your buddies; they can tune in and start from the beginning by registering here at any time! Thanks for spreading the word!