Robin Harry | Toronto, ON
Diagnosed with non-Hodgkin's lymphoma at 29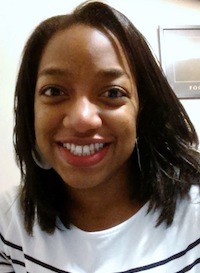 Robin grew up in the Caribbean island of Dominica, but has lived in Toronto since the 1990s. She is currently doing her second undergraduate degree, a Bachelor's of Science in Nursing, at the University of Toronto. She is a music junkie and sings in a gospel choir and says her dream job is to be a backup singer for my favourite musicians, but she'll stick with health care, her other love.
She says she's had to chemo fog, infertility, and adjusting to a new social circle with the changes that have happened in her life.
Robin has been in remission since April 2012.
Attended: Retreat Yourself Nova Scotia 2012, Retreat Yourself Adventure 2013, Retreat Yourself Ontario (peer supporter), Survivor Conference 2012, and Localife Toronto
What superpower would you like to have?
I love superheroes, but I'd always prefer to be the superhero's trusted sidekick behind the scenes.
Random surprising fact:
I regularly watch a Norwegian talk show though I don't speak the language.
Click here for more Big Cancer Hook-up info!