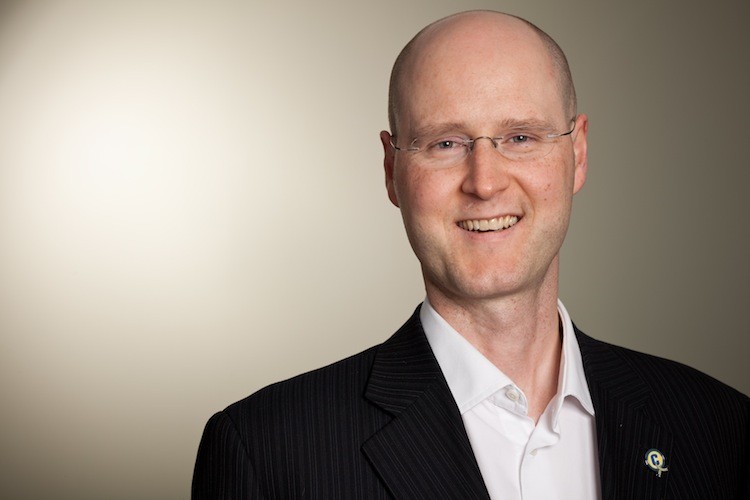 For some the chase is what drives them, but for me, catching Geoff Stirling was 100 times more incredible.
Mr. Stirling held this "mystery man" mystic for me as I left university in the late '90s. As a new entrepreneur his communications empire—and fierce Newfoundland patriotism—resonated with both my ambition and my values.
As I left university and was building my small, one-man show, Internet marketing company, I took the lead on bringing the Young Entrepreneurs Association to the Rock. Who better to be our first major champion than Mr. Stirling.
My chase began in May 1998.
The only means of communication I had was faxing his secretary. I waited a few days then followed up with her. She confirmed he received it and that he had my number.
Nice!
Then I waited. And I waited actively. Active waiting? Having my cell phone with me 24-7—literally. I slept with my phone on next to my bed waiting for a call.
His reputation preceded him. I knew a call could come at any time of day.
A week went by, no call. I sent another fax outlining the Young Entrepreneurs Association and requesting some time to chat with him about it. Another follow-up call. More waiting.
Hit repeat on this for the whole summer and fast-forward to September.
I was finishing my soccer game at Wishing Well field, the late game on a week night. I had a beer in the room with the boys and took my time getting to the car.
10:30 p.m. Checked messages: "You have 1 new message."
"Yeah, Geoff, it's Geoff calling, I'm here at the house in Motion and will be having meetings all night, if you'd like to have a wrap, I'd love to wrap with you. Come on down any time before 11. Look forward to seeing you."
I had fun with the chase, and my buddies made fun, but the catch was 100 times better. I was jacked that I got a call back.
10:31 p.m.
I'm in the parking lot at Wishing Well field, in my goalie gear, full of mud, and five minutes from my apartment, and I had no idea how far that was from Mr. Stirling's house.
10:31:03 p.m.
Call Mom: "Where does Geoff Stirling live?!?!?!"
Mom: "Herb will take you through it, get showered first."
10:43 p.m. (approximately)
"Herb, I'm leaving my apartment on the west side of Lemarchant; where the hell is Motion?"
Mom and Herb knew that if I didn't get there by 11, I would not go in.
My '91 Dodge Shadow flew like a super-charged four cylinder across town out towards Marine Drive. I'm sure I drove past the driveway three times, but eventually saw it.
It was fall, the trees were full and showering over the one lane leading from the road. I remember driving down the mile-long driveway thinking I was heading to the Bat Cave.
I had no idea if I was even in the right place, I came out of an opening to find a relatively small—at least compared to my expectations—but nice, bungalow.
The Ferrari parked in front sealed it.
No lie, I checked my clock: 10:59 p.m.
I knocked on the front door, no answer. After a few times I went around the back, the patio door was open and the living legend himself was holding court on his couch with another gent.
He invited me in and continued his chat. They were talking about permission to use the Stirlings' land in Arizona for some kind of testing.
NTV was—of course—on the whole time.
Less than an hour passed and I was up.
Mr. Stirling jumped off the couch, stretched, flat palms on the floor.
"Do you do yoga? You know it's all connected, right from your ankles up through your back to your head," he said. "Would you like a beer?"
"Sure, I'd love one," I said.
No surprise it was Newfoundland's own Quidi Vidi beer he offered.
There I was, four months of pursuit, and I was in Mr. Stirling's house having a Northern Light (now QV light) with him. Although I have never been a junior high school girl with a fanatical boy band crush, I'm pretty sure I have a good idea what they feel like.
We talked, I asked questions about everything as it seemed appropriate—his passions, his work, why he chose his work. We talked about health and spirituality. He talked about his company's role in promoting Newfoundland and Labrador and its success, particularly "Big Sea." He was adamant that young Newfoundlanders needed role models and was committed to creating local role models and helping to promote their great work.
He was wide open. We talked about the Young Entrepreneur's Association and I asked for his help launching it.
"We'll launch it alright, and we'll do it at the hotel with a bottle of wine on every table."
I left at 2 a.m.
We covered a lot of ground in those three hours and my head was spinning for a while. I run across my notes every now and then; they provide an awesome flashback.
Several weeks later I was in the hospital after passing out at a business reception of a fellow young entrepreneur. My life changed.
I launched YACC 18 months later. For the past 13-plus years, the Stirling Communications International group of companies has been—and continues to be—super supportive of our work.
I'm not sure how much influence, if any, my early chase of Mr. Stirling played in that support. No matter. I am grateful for the chase, the catch, and the chance I got to spend some time with the revolutionary thinker (and doer) and Newfoundland patriot Mr. Geoff Stirling.
While I'm sure there were many tears this past week after Mr. Stirling's death, I'm also sure there was more celebration of a life lived 92 years—a giant number that any of us would take if offered.
My favourite story is one that may be myth, but I love to believe it to be true: Mr. Stirling was travelling and wanted to meet with John Lennon. He found his hotel and left a note for him at the front desk: "John, you said come together. Here I am. Geoff."
Awesome.
I'll remember my connections with him forever and will continue to take his wisdom with me on the road I am travelling.
Always…
Live life. Love life.
Geoff