The YACC community is filled with talented, enthusiastic, interesting people who share great photos and messages on Instagram, so we decided to let someone "take over" our account once a month to shed some light on how they are affected by young adult cancer. Since these stories are important and awesome, we are also posting a wrap-up here on our website once the takeover is complete.

Our seventh guest 'grammer is Krystal Anderson (@beast_strong_nation). Krystal's takeover showed how she handles the psychosocial effects of cancer, manages her family life, and shares the results from a recent scan.
August 9, 2016: It was time for my one year "cancerversary" colonoscopy. I was diagnosed at the end of May 2015 with sigmoid colon cancer. I had an anterior resection done in June 2015 to try and remove the cancer and the section of colon they found it in. After a biopsy of the area, they also discovered cancer in my lymph nodes and suggested chemotherapy. I accepted. During this "anniversary" colonoscopy, they will check to see if I have any new growths in my intestines and colon. I am nervous and I hate fasting.
Post-chemo related brain fog is a REAL thing. I struggle daily with my memory, searching for words when I speak, difficulties with organization, and feeling easily overwhelmed. Sometimes as I am backing out of the driveway, I forget where I am supposed to be going. Sometimes my girls ask for a snack and by the time I walk into the kitchen, I have completely forgotten that they even asked me. My brain throws out words that do not make sense as I try to speak. It can take several moments for me to"find" the right word to use as my brain cycles through random things like a slot machine. Sometimes I stutter, sometimes when people rush me I get more anxious and have an even harder time. I can have a hard time focusing if there is too much going on. Multitasking is a thing of the past and I make to do lists to help keep me on track in addition to my agenda, a yearly calendar on the wall, and a smaller weekly white board calendar on the pantry that I can easily refer to. Some people say it gets better. So far I am six months post-treatment and I am still having challenges with these things.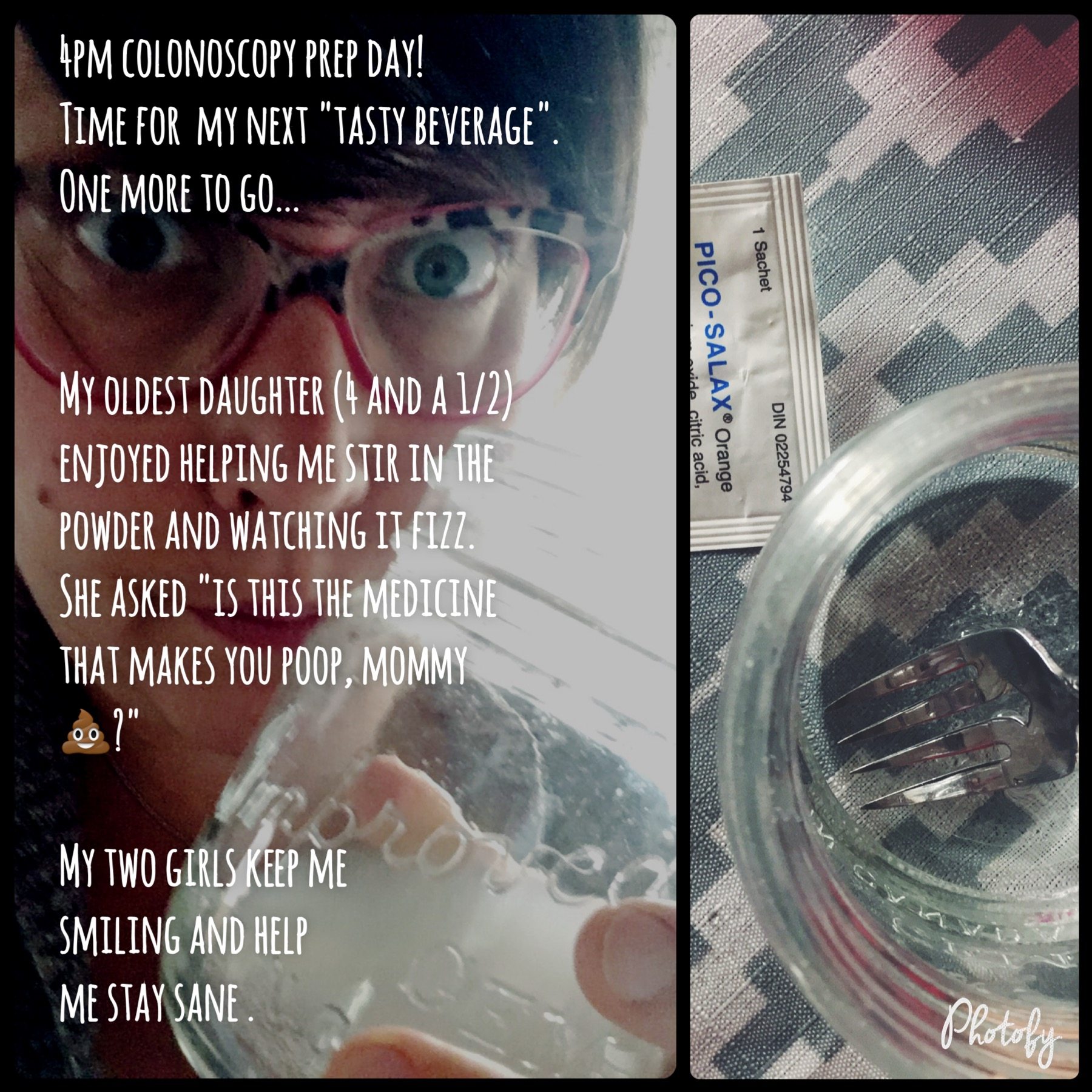 Thank goodness my girls make me laugh daily. I remember the first dose of chemo I had to swallow (I had pill form). I stood there looking at my handful of pills and Ella, my four year old, was the one to get me in action. She knew I was scared. She said "just take them and see what happens," so I did.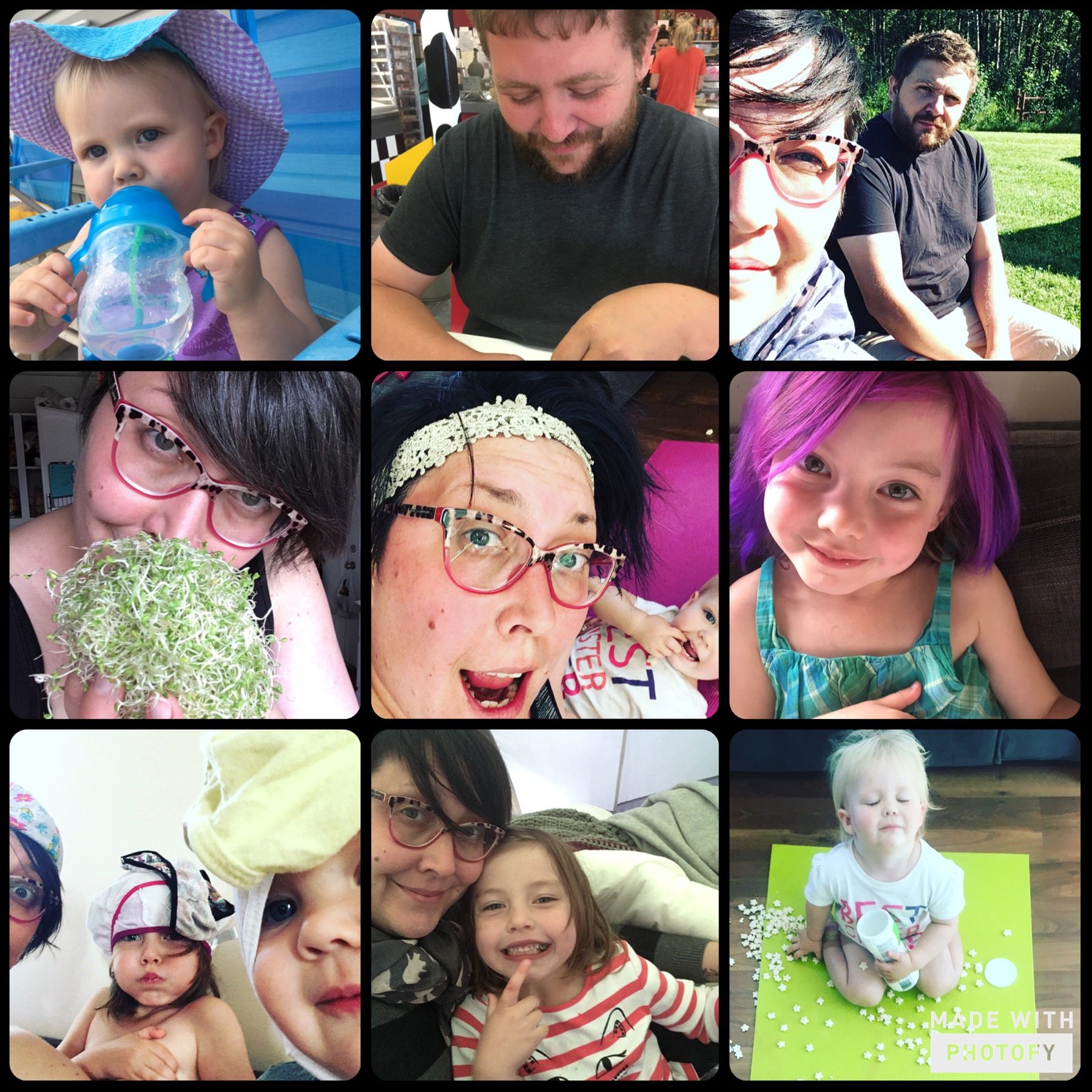 My family is my big reason WHY. They keep me grounded and keep me fighting. It is hard not getting stuck in the "what ifs." Even though I am now cancer free, there is a 35 per cent chance of recurrence in the next five years. There were many moments during my treatment where the tears would come.
We found my cancer four months after I had given birth to my second daughter. I spent my entire maternity leave fighting for my life. There were five especially tough weeks after cancer surgery when I could not even lift her or hold my new baby as I was not allowed to lift over 10 lbs, and if she sat on me she would keep kicking me in my surgery site. With starting chemo, I could no longer breastfeed. Watching my mom take care of her made my heart ache. I felt like a failure as a mom many times, and still do on occasion when I am too tired to be the mom I strive to be.
I remember many moments rocking my new baby to sleep and wondering if I will be here in five years to watch my girls grow up. I do my best to focus on living, but I am also scared of what may come.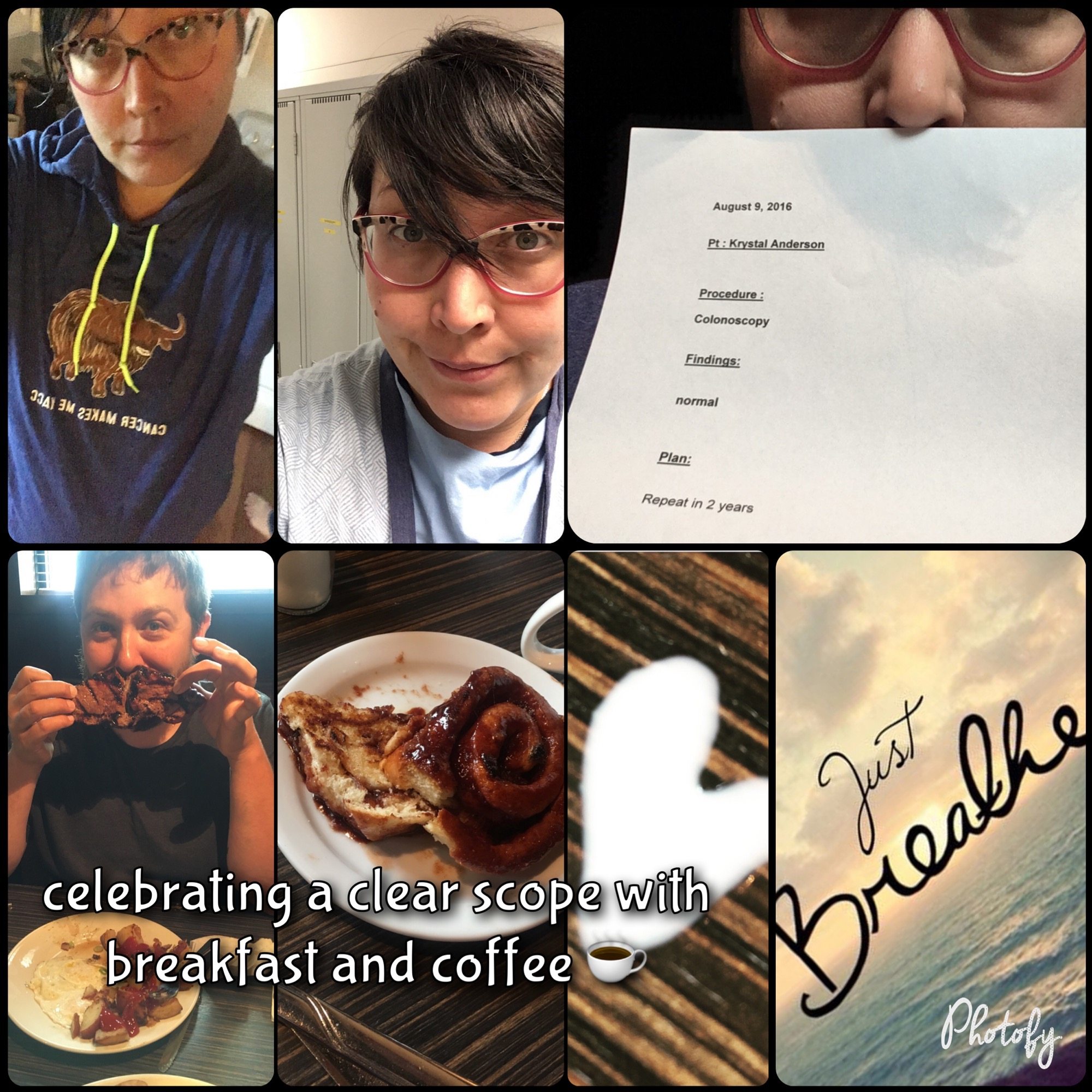 YAY! My ccolonoscopy was normal. We are relieved. Time to break that fast and celebrate with my husband at our fave "post-hospital-visit" restaurant, Lumberjacks. Steak and eggs, cinnamon rolls, coffee — sometimes you need to stop and enjoy those little things.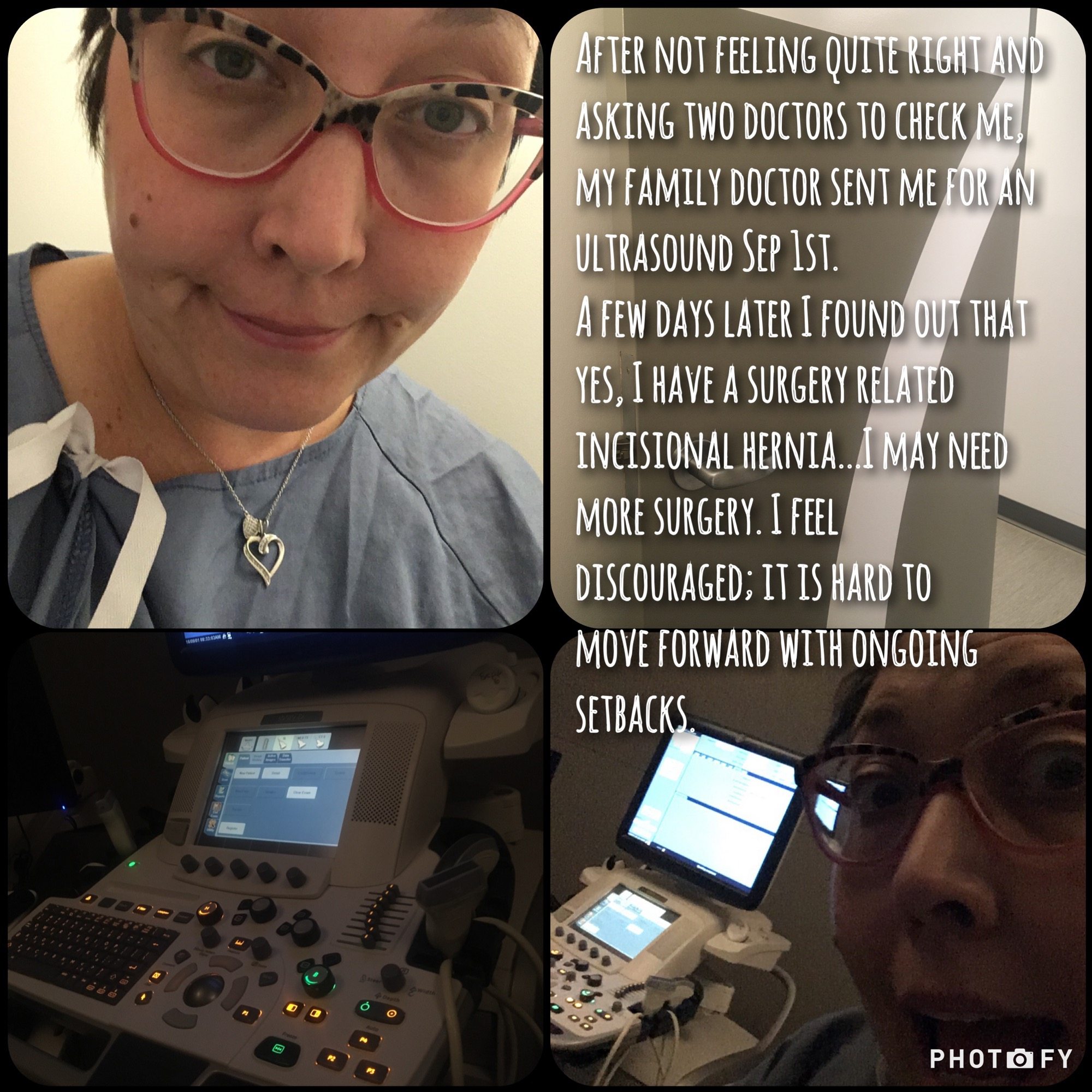 September 1, 2016: Next steps. It has been some time now that I have had some questions about something going on in my abdomen. I had asked a doctor at the CCI to check in June this year and was told everything was fine. Things progressed; I trusted my instincts. My family doctor took a look and sent me for an extensive ultrasound. Umbilical hernia at the cancer surgery site. I'm now deciding what to do and figuring out how this will impact our lives once again.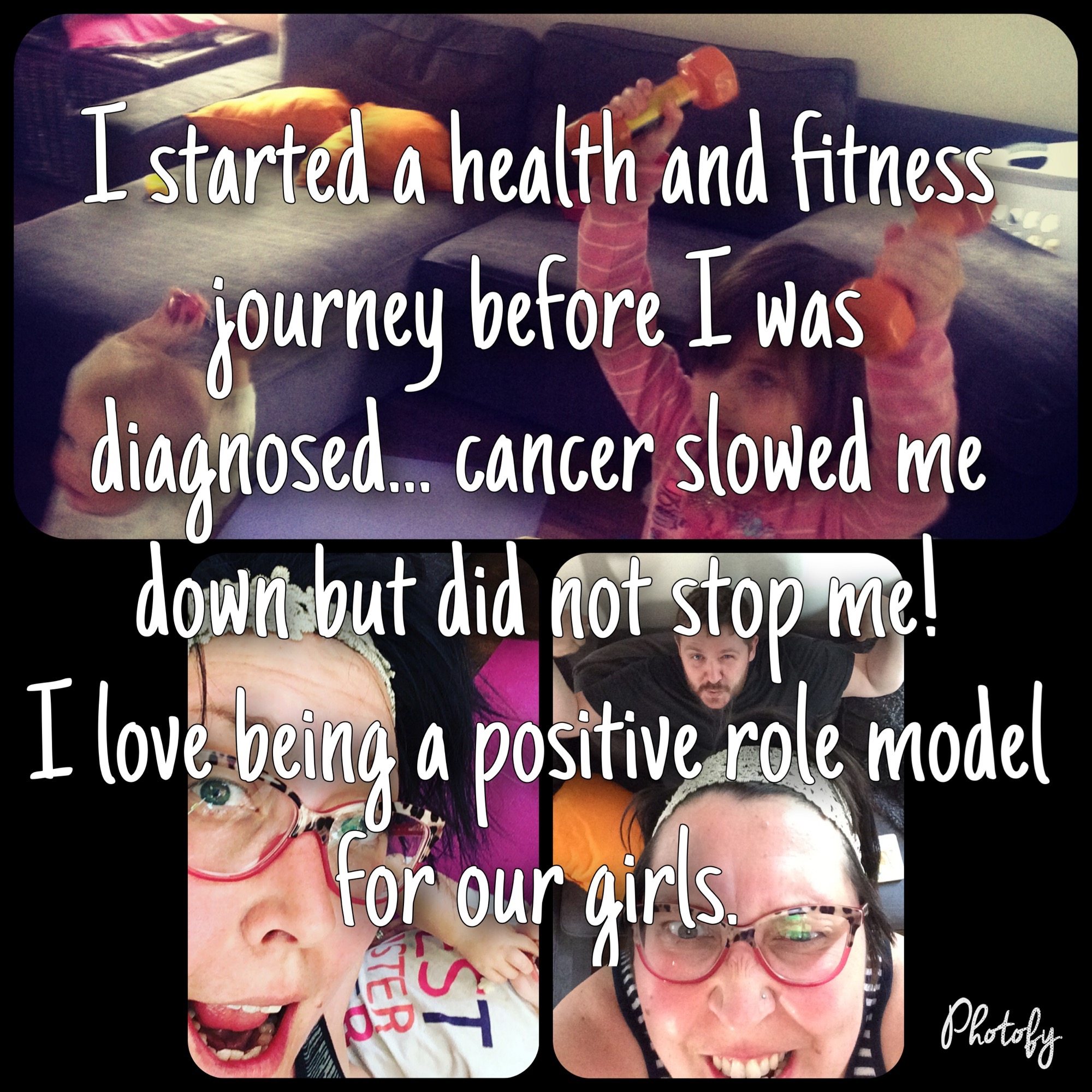 Some things may slow us down but don't let them stop you! Even though there are still bad days, I have many great ones! I love spending time with my girls which is a silver lining to being at home on disability until I am ready and able to return to my regular job. I am surrounded by loving and supportive friends and family, and my YACC community which always has my back when I need an understanding ear.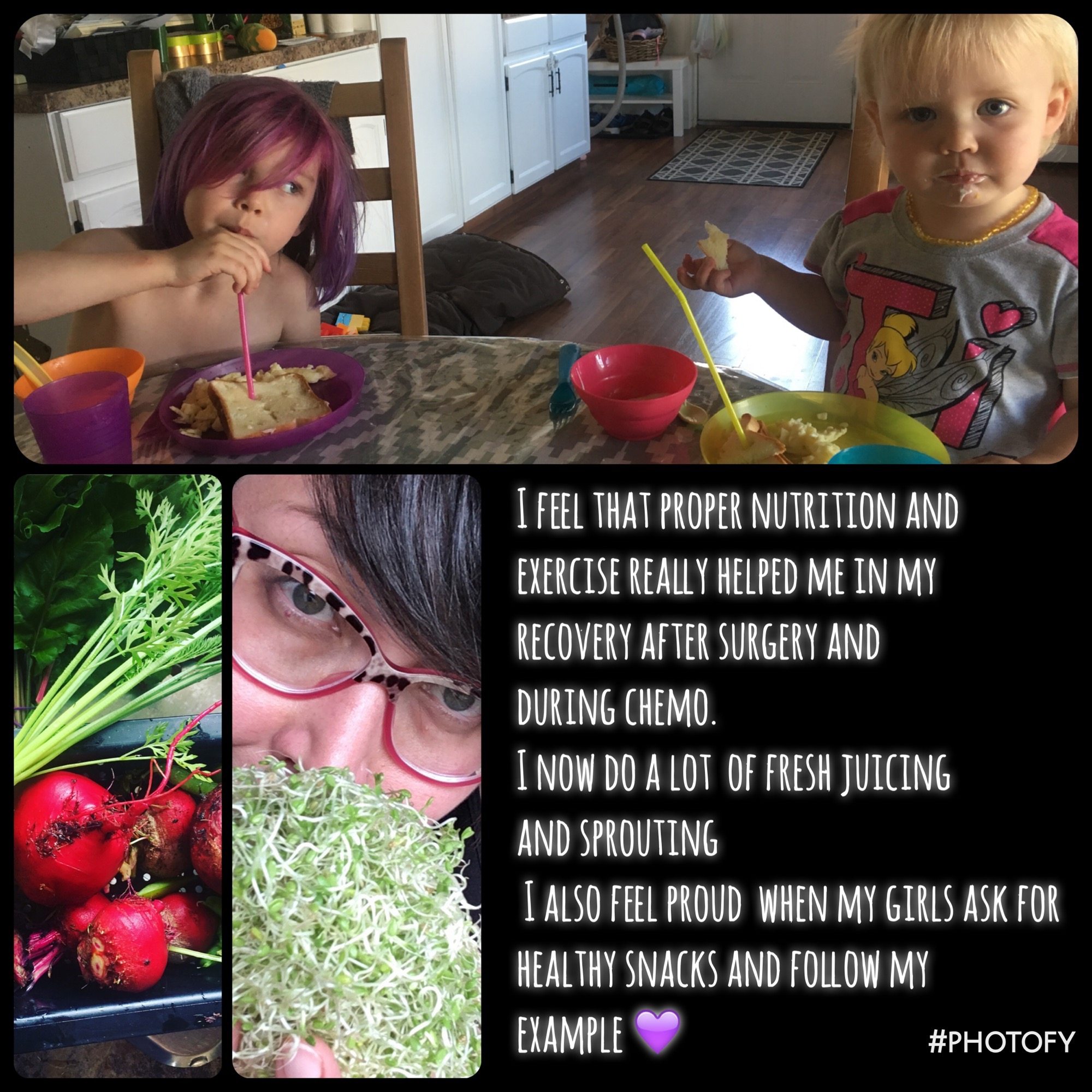 Feeding my body, feeding my soul. Doing my best to take care of me from the inside out. I feel that finding balance in our lives is very important to all aspects of our health.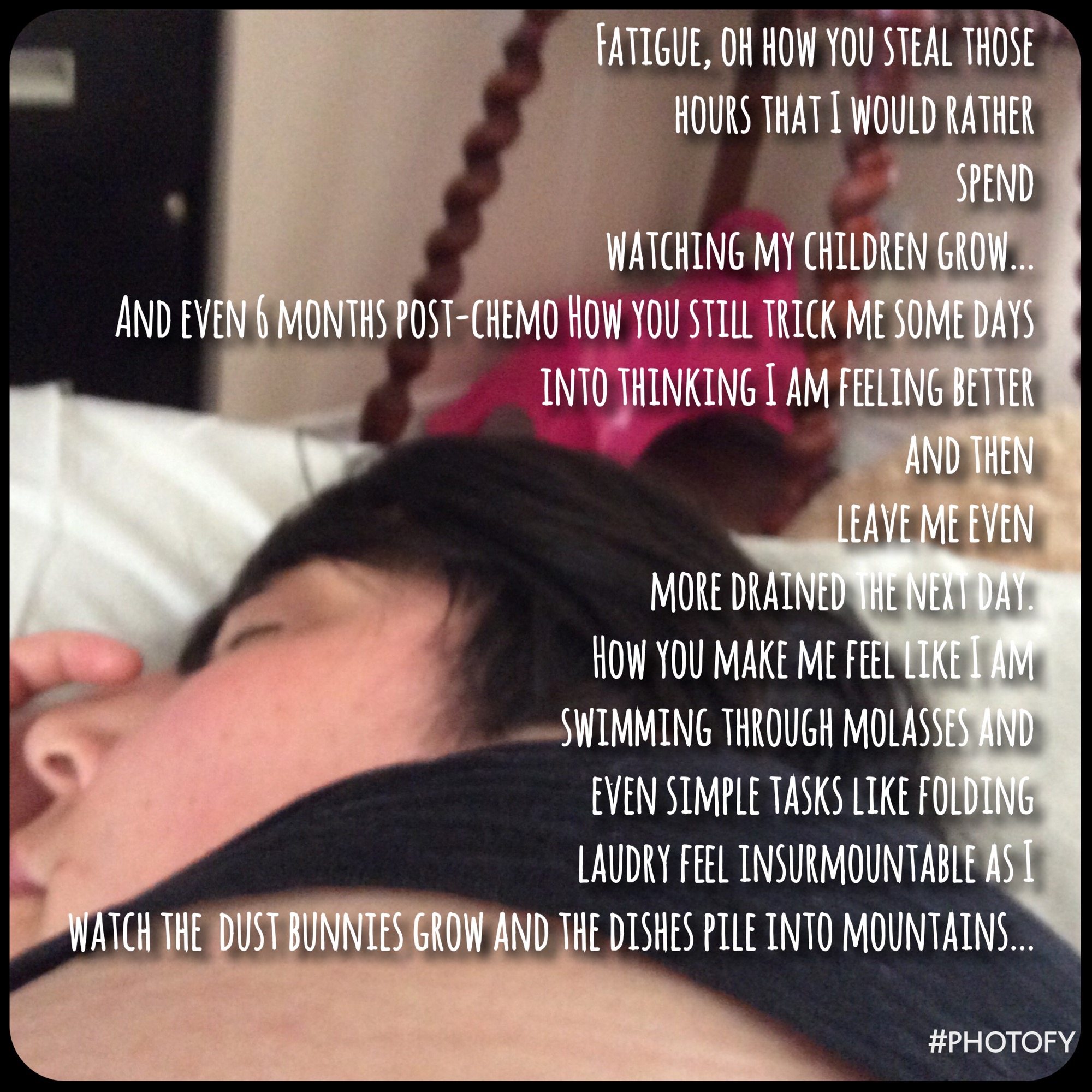 Even six months later, I still have "those days": days where leaving the house, taking a shower, changing out of my pyjamas, or even making meals seem impossible. Taking care of the girls takes all of my focus and energy, and some days I count the minutes until Willow's nap time so that I can also lay down and rest a bit with Ella beside me watching a movie or colouring.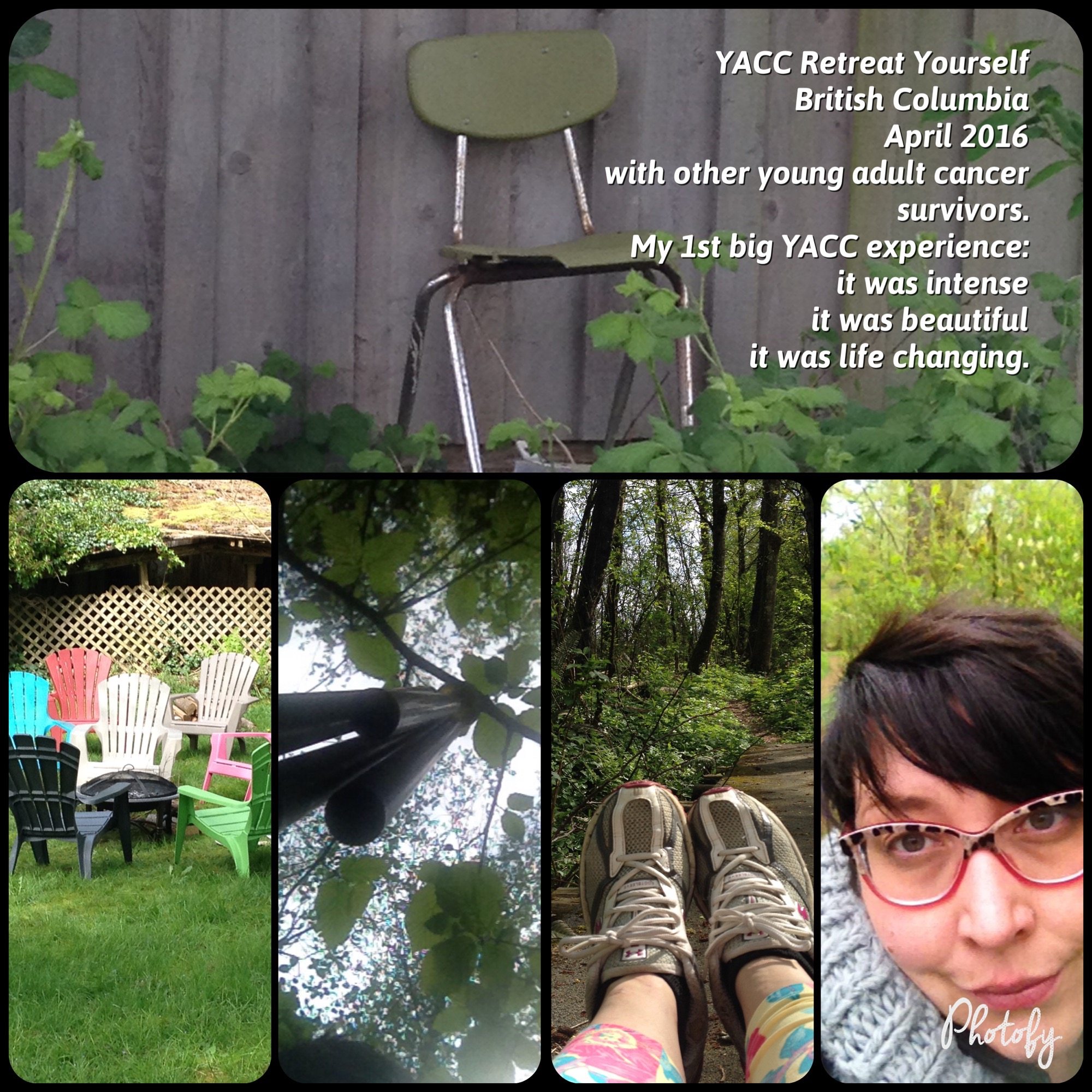 My first big experience with YACC was being sponsored to attend their Retreat Yourself British Columbia in April 2016. I had just finished chemotherapy the month prior and was feeling a bit lost and alone.
As many survivors know, once you finish treatment, people all of a sudden think you are fine. I was not fine. I was still reeling from chemo's side effects and after-effects: fatigue, sore hands and feet, and crazy depression and anxiety.
I had connected to Young Adult Cancer Canada on Facebook via the YACC alumni group prior to this, and I was excited to meet some of these amazing people face to face. They had been so supportive and accepting that I knew this event would be amazing. We spent five intense days together, sharing and learning. We touched on all kinds of subjects including finances, relationships, anxiety, and some really tough ones, like death and dying. It was life changing.
It was also during one of the presentations about holistic nutrition by a survivor that I discovered how my passion for nutrition and fitness could meet my purpose and love for helping people. When I got home to Edmonton, I started researching programs of study in that field. I am now a student at the Canadian School of Natural Nutrition, and am loving it!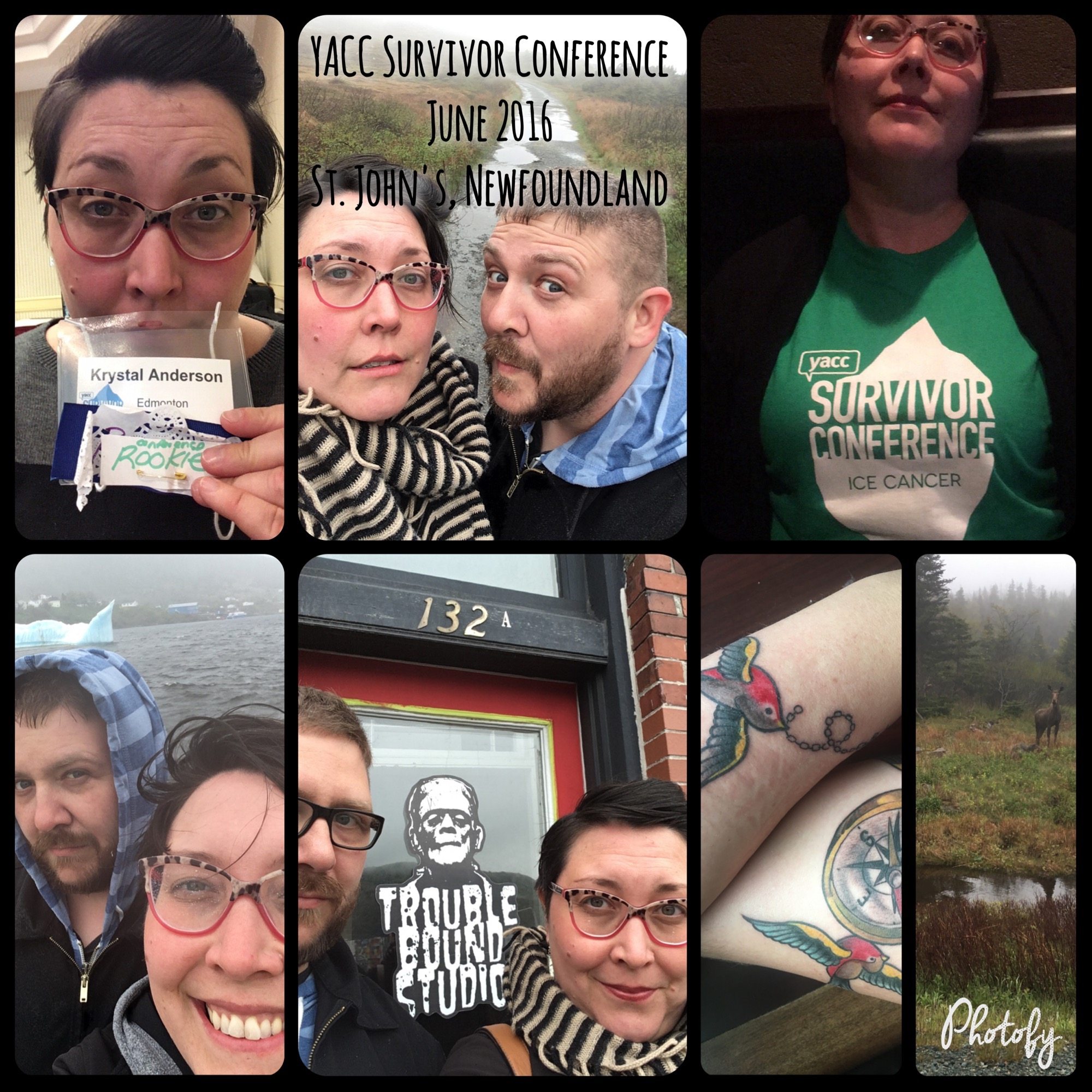 This June 2016 marked one year since my cancer surgery. After attending the Retreat in April, I really felt the need to attend the annual Survivor Conference held in St. John's, NL. I was excited to see my fellow YACCers and attend the workshops offered (I talk about more about all of this in an upcoming YACC blog).
What was even nicer was getting the chance to spend time with my husband just one on one without the stresses of home, kids, "real life." Fighting cancer can bring so much stress to relationships. We were looking forward to this time together while exploring one of our favourite cities. Between YACC workshops, we got to go explore, hike, see icebergs, walk in the rain, hold hands, enjoy fresh fish, collect pebbles for our daughters, look at local art, and we even got some ink to celebrate our family and our relationship. It was the happiest and less stressed I had been since my cancer diagnosis.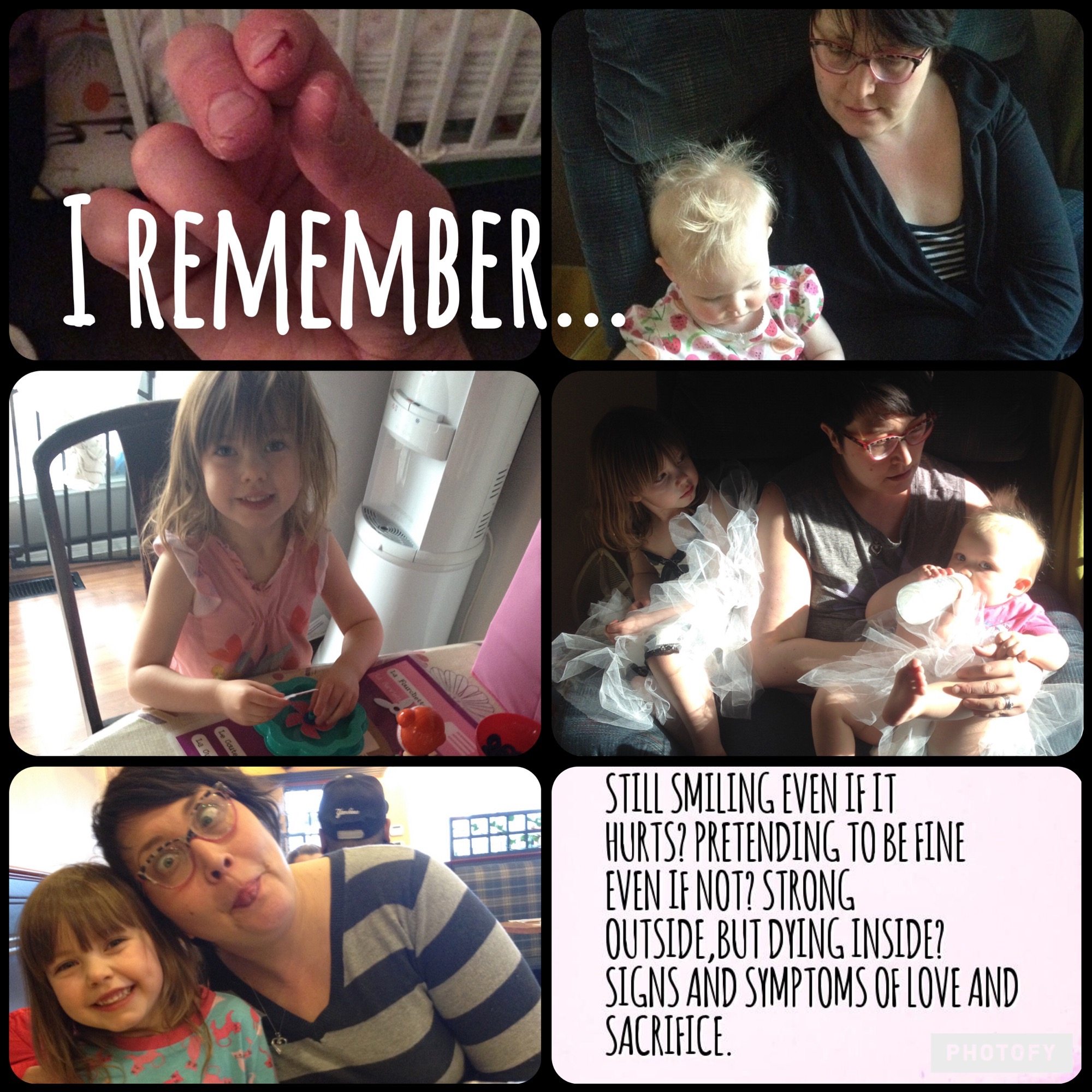 Going through my photos for this Instagram takeover really triggered a lot of shit. There is a lot of joy in my life and my kiddos are my happy place. I am working on letting go. I honour those hard times for making me stronger and, I WILL MOVE FORWARD.
I remember how my hands and fingers split so bad I could not help zip up my daughters' dresses or winter coats. I think not being able to do these simple tasks was what made my heart ache the most. Carrying the car seat was hard because of both the condition of my hands and my recovery from surgery, and there were days where I struggled to walk because my feet were so sore, cracked, and swollen.
I remember often pretending to be okay (even when I wanted to curl into a ball on the floor and cry) so my four-year-old would not worry so much about me. I remember the fear, the pain, the unknown, the what-ifs. And I remember that even though I tried not to, some mornings all I could do was cry because my emotions were so raw, and Ella would bring me a blanket and a stuffy and make silly faces to try and make me "feel HAPPY."
I remember all the times I had to tell my girls "no" because I was too tired or not feeling well enough to play or to go out. And all the times I had to explain that mommy's medicine makes her feel sick so that she can feel better.
I remember: always being the youngest at each cancer appointment.
I remember: having to walk the halls at the CCI with my girls in tow.
I remember: spending hours in our big blue chair because was too tired to do much else.
I remember: everyone thinking I was fine because I did not "look sick" or lose my hair.
BUT I also remember snuggles with my girls when I was not feeling well, friends dropping off meals, and Ella covering the floor in my bedroom with blankets so that the floor would not "hurt my feet," my mom rubbing cream onto my cracked feet, and baking me tasty meals so that I would eat. Things slowly got better, and eventually chemotherapy finally ended.
Now comes that struggle to find a "new normal" because the person I was before no longer exists. Cancer changes a person, however, I feel it is up to me to decide how I want it to have changed me.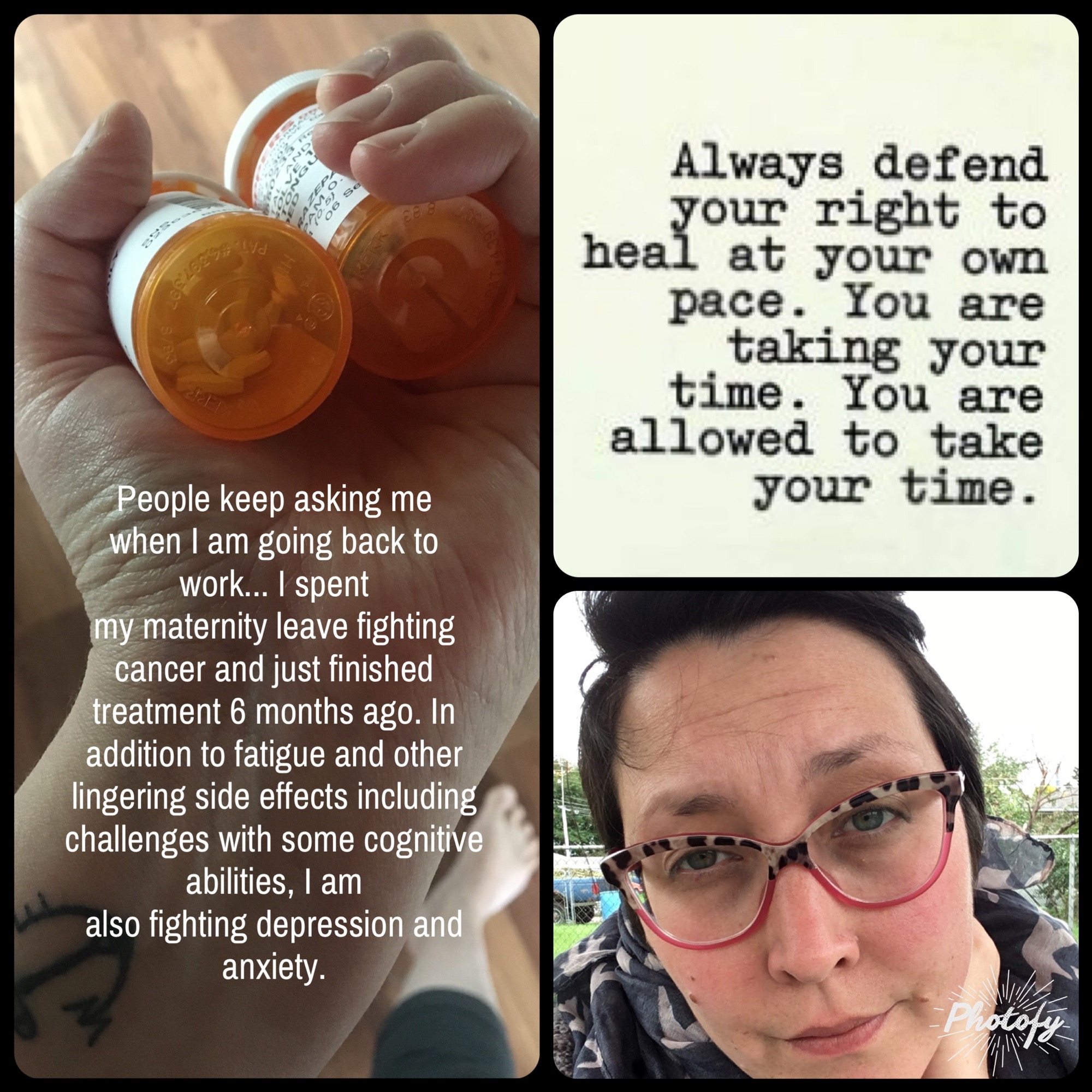 I have been off of work now for a while considering my cancer showed up when I started maternity leave. Now that my hands and feet have healed, my biggest struggle is fatigue and my mental health. Sometimes those things people can't see are the hardest to explain and to talk about — and to "prove."
I worked in the mental health field for quite a few years, and know first hand about stigma and judgement. Only recently have I started coming to terms with my own mental health challenges and have been more public about my journey. Cancer really took a toll on my mental health and amplified things I had been struggling with for a long time.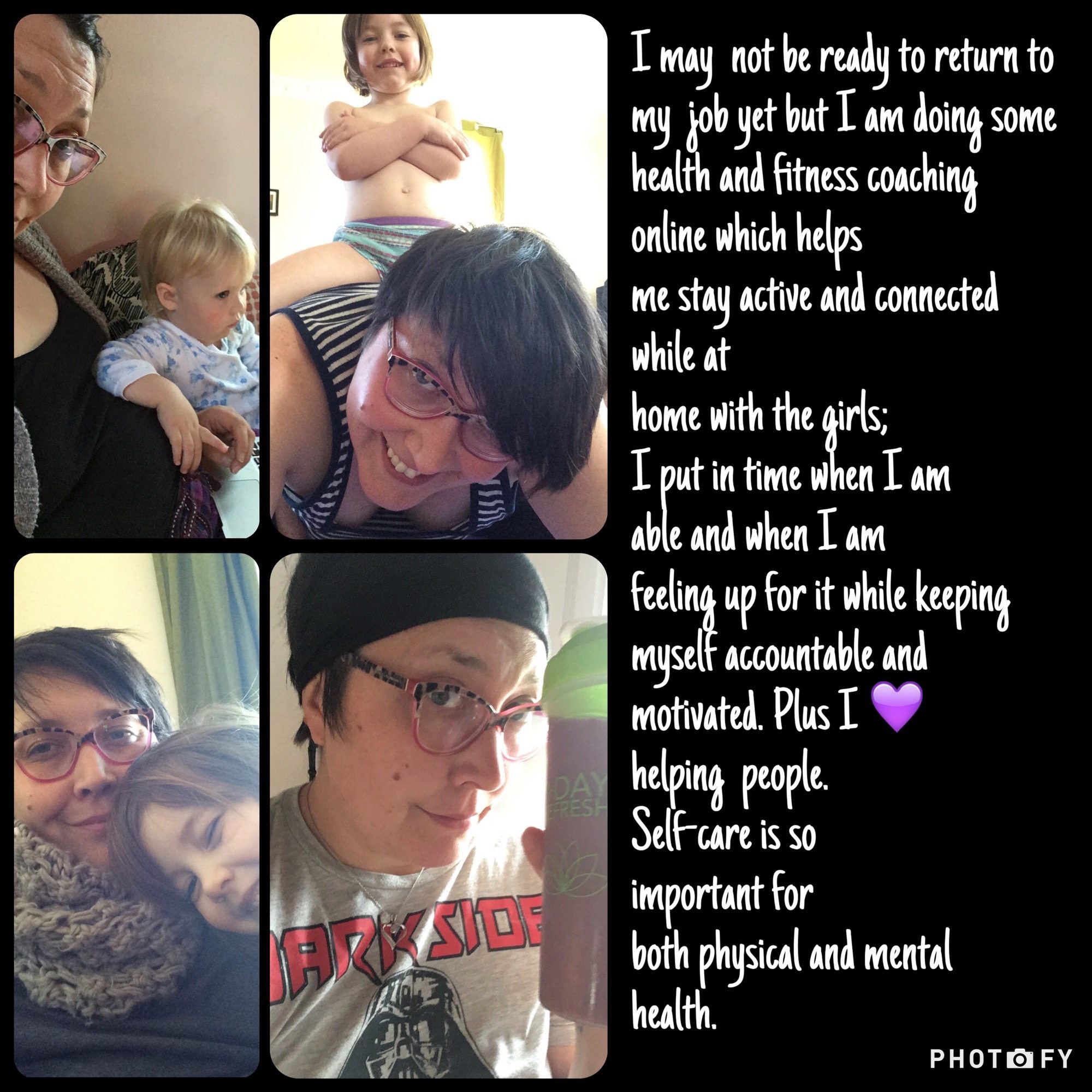 To stay active and involved I do online health and fitness coaching. It is something I love to do; I get to help people, but I can also focus on my own self-care. If I am having a bad day full of anxiety or feeling dark, I am able to take a rest and take care of me first. It is something that is helping me work on my own health and also helps me work on my organization through an outlet where I can be creative and inspire and motivate others.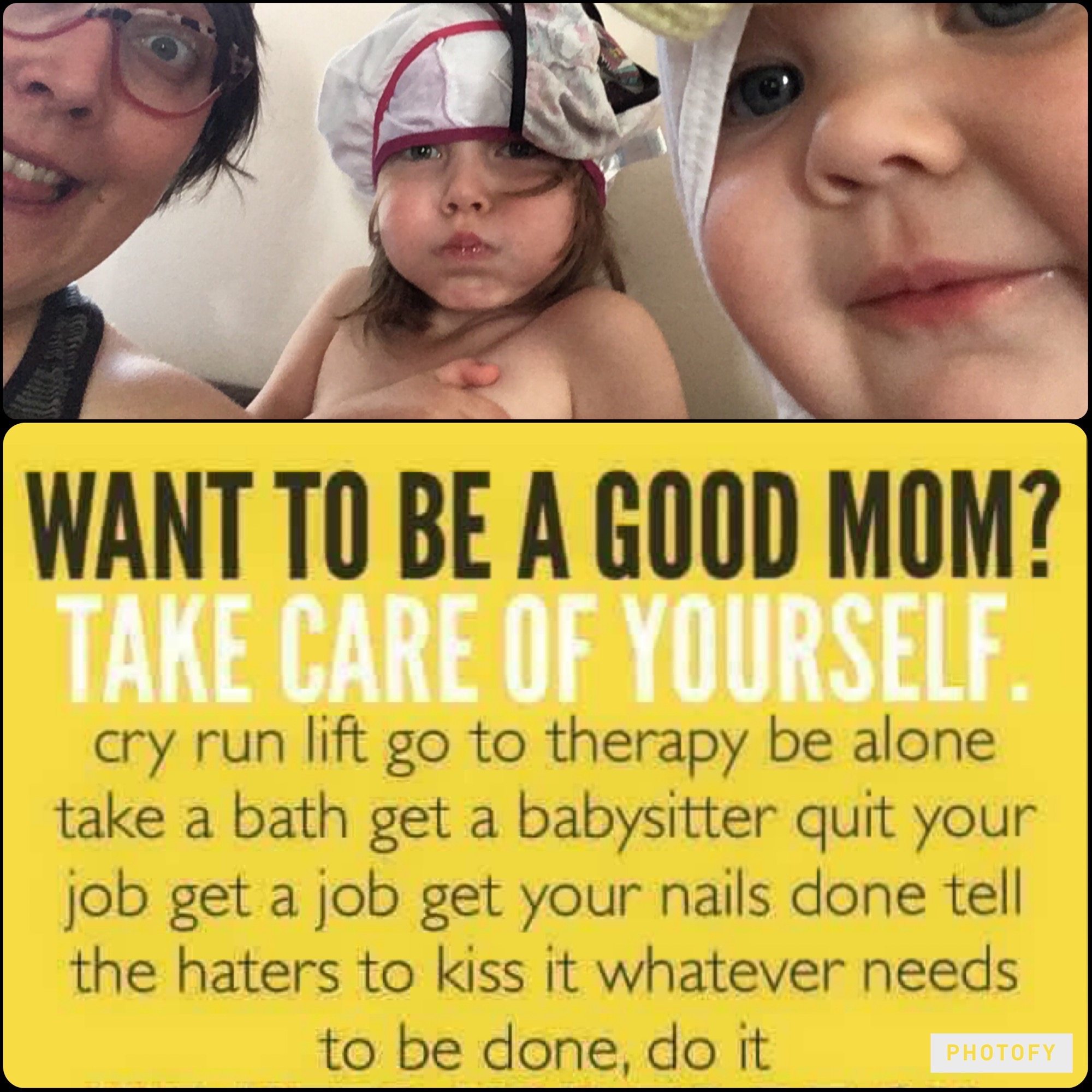 Self care is so important. Try to fill you own cup first; you can't pour from an empty cup. I still have bad days, but the good ones are slowly taking over. I try and find the positive in my everyday life and in the little things. I do my best to practice kindness and gratitude. I am blessed to have this extra time with my family and friends thanks to my cancer being detected before it was too late.
Thanks for following a slice of my journey as a young adult cancer survivor and mother of two. I hope this offered some insight behind the scenes of a survivor and how cancer is different for young adults. Keep your eyes peeled for future upcoming collaborations that we have planned! I look forward to seeing you again.
We have to send a huge shout out to Krystal for her amazing takeover! We always learn so much about those in our network, and they really help to add a little more fuel to the fire.
Are you interested in hosting your own takeover? Get in touch with us at connect@youngadultcancer.ca!