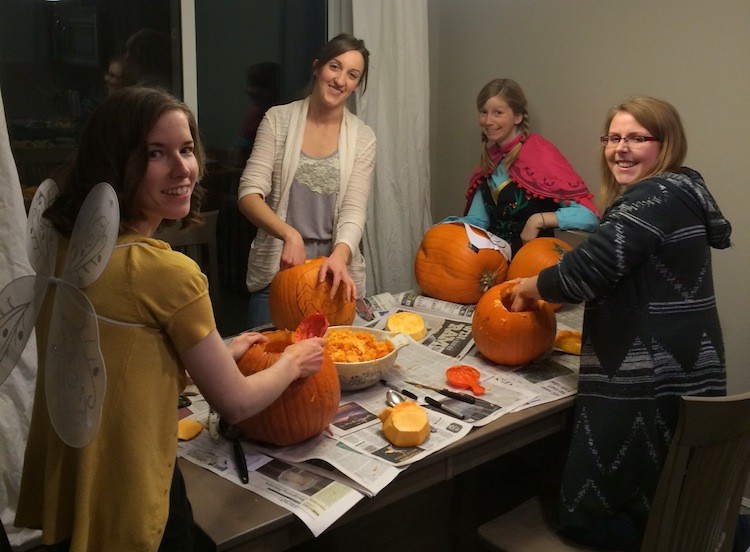 People say you learn a lot about yourself when you go through cancer, and for the most part, I would agree with that statement. However, I think you learn a lot more about yourself when you go through cancer with a knife in your hand. To test my theory, for Courtney's first official event as the Edmonton Localife co-leader, we decided to get everyone together in late October for a good old-fashioned Jack O-Lantern carving party.
Without a doubt, we did learn a lot about each other. We saw that we are a very meticulous, creative, and detail-oriented group. I learned I don't think any of us have a future in the medical surgery field, but it's important to rule out what we're not good at to bring us down the path to where we truly belong. Right?
As always, a great deal of laughter and story telling was had. A pumpkin carving bonus was that Courtney put her world-class culinary skills to work and roasted up the seeds of all of to enjoy. It's quite obvious, if the whole nursing thing doesn't work out for her, she has a real future in preparing Halloween delicacies as an alternative profession.
Continuing on the trend of our previous events, the evening went by in the blink of an eye. As the witching hour neared, we fired up the masterpieces to see how they looked in action, and as you can imagine, they were perfect. The night felt very similar to many of our other events, but the difference this time was that we got to take home our personal works of art. I have enjoyed mine so much, that I will proudly display it on my balcony well into the new year. I can confidently say when we left Courtney's house we were full of candy, but we also left with full hearts.
Until next time Localife Edmonton!
Dan
P.S, A hint for our next event: Two words — Ugly. Sweaters.