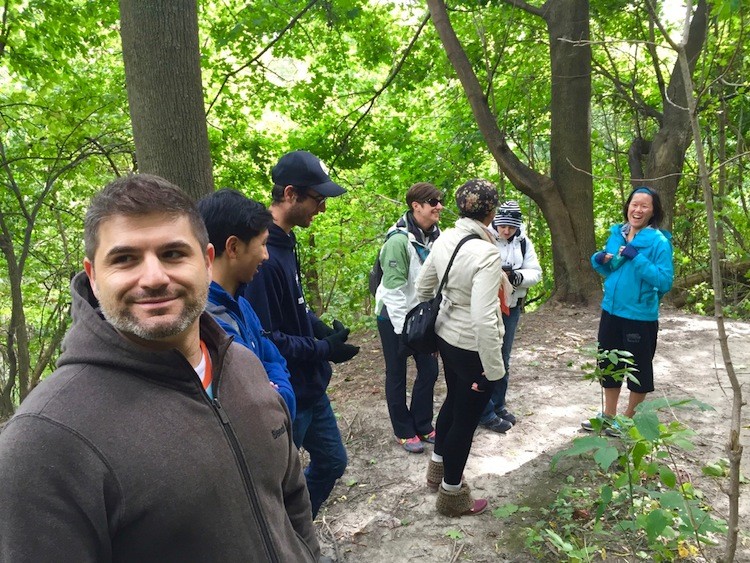 Our hike on October 3, 2015 turned out to be a beautiful, adventurous day as we got together with fellow cancer survivors to conquer the unknown paths of the Beltline Trail in the heart of Toronto.
It was a really windy day — like 70km/hr winds — but when we got deep into the trail, the canopy of trees protected us from the gust of wind in the city. Showers were ahead, but we decided to brave the weather and hoped for the best.
We started on a really easy gravel trail up Mud Creek and it didn't take us long to reach Heath Street Bridge to get to the Yellow Creek path on the other side. It was a 10-minute walk on a neighbourhood street to get to the stairs to Yellow Creek. By the time we reached the entrance, we were presented with an obstacle where the stairs were closed for the season. A friendly neighbour said we could dare to hop over the barrier, and as Peter was about to lead us to that option, a giant tree branch fell in front of the barrier. We took that as a sign for "No! Danger ahead!"
As our adventure continued, Thomas was familiar with the area and lead the group to another trail entrance off of St. Clair Avenue. We decided to take the first open staircase down to the ravine; it was amazing! The tree stump staircases; steep, woodedn stairs; narrow-angled sand-patted paths; and high tree canopies made this hike extra memorable! Peter, known to fall on ice, managed to wipe out as we were heading down one trail.
We went a little off trail and got a little lost deep into the woods. The terrains were tricky to navigate but as a team of cancer survivors, we helped each other overcome the obstacles that came our way. After two hours and 7.4km of walking, we made it back to Evergreen Brick Works where we indulged in some farmers market treats.
And, Peter is ok — no injuries to report!
Thanks for getting lost in the woods with us!
Bonnie