By Sara Stimson
Virginie Vanravenswaay Parent was the best twin sister a girl could ever have. Everyone says that, but it was really true. She was tough when she needed to be, supportive (and quiet) when I couldn't deal with her telling me what she REALLY thought, kind, and giving. We did all the typical sister stuff — swapped clothes, fought over everything, and made up within seconds. We looked so much alike that I took home a package of her high school graduation photos by mistake. My mother says we held hands in our bassinet when we were born. I'm not surprised. We always needed each other.
I was at her appointment when they diagnosed her lymphoma in 1999. It hit me hard. To her, it was just another obstacle she had to get through. My head was spinning, but she was calm. She was living in a small apartment during treatments and I'd come over and sweep the hairs she lost (while she pointed out every one I missed!) and hold her while she threw up. All she could eat was applesauce. I'm pretty sure she never ate any ever again.
A few months before this, a friend of hers had introduced her to Richard who would eventually become her husband. Right away, he loved her enough to commute every weekend from Toronto and take her to chemo while I was living in another province. I will forever be grateful for that. Her two best friends, Sara and Sophie, helped her shop for wigs and gave her so much support. We are now our own little support group.
She found YACC around this time. My parents bought her a computer so she could seek support and she began to get involved. She got stronger and fought back. She beat it. I was so proud of her resolve, and every time I'd see her, I'd tell her how happy I was that she was still in my life and cancer hadn't taken her.
However, cancer left her with a lot of health problems, and her health started failing in the fall of 2015, just after our 42nd birthday. She would become rapidly out of breath, and somehow my mother and I knew it was serious. She blew it off, but made a doctor's appointment anyways.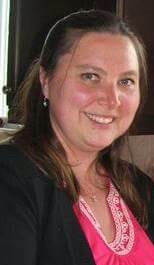 Chemo and radiation built up calcification on her heart to the point where she needed a new heart valve. Surgery was scheduled for early April 2016. She went into surgery after planning a summer vacation with me. She was looking forward to our kids playing and swimming together, meeting my dogs — typical family fun.
She never woke up from the medically-induced coma. She was overcome by heart clots and bleeds. The day she passed away was the hardest day of my life. I couldn't fathom how I was supposed to go on without my other half. Half a twin is half a unit. How do you live with half of yourself? I came into the world with her — how could I stay if she was leaving? I begged her husband to give her my heart. I was inconsolable.
I work in a hospital now. I needed to do more peaceful and rewarding work. I needed to be in a place where I could help people. I work in the department that releases, tracks, and verifies patient records so patients can get the best care possible. I fundraised for the local bone marrow unit and ran the Canadian Blood Services stem cell drive at my local college. I can't say I've healed from her passing, but I'm existing. For the first few months, I emailed her, talked to her, and sent her messages. Actually, I sent her one a week ago when I landed my dream job at the hospital.
I don't know how I am supposed to deal with her death. She was just always there — my automatic best friend. I'm 43 now; just celebrated our first birthday alone, and for the first time, I didn't have her saying she should open her present first because she's the eldest of the two of us! It's the little things you miss.
I wear some of her ashes around my neck because it's the only way I can get through a day, if she is with me. I imagine I will have more good memories than sadness over time. And this article isn't meant to sadden. It's meant to show how much each life on earth is important. Each person deserves compassion, and we don't know everyone's story. We need to extend that compassion to make life mean something, to everyone, each day.
I saw a lady the other day, waiting for the bus in the rain. She was standing peacefully while the rain beat down hard, surrounding her. I couldn't even see her face, it was raining so hard. She had a bright yellow umbrella and stood there, unfazed. That was my sister — unwavering and determined to not let anything get her down. It was the first time I really smiled since her passing.
This was my beautiful and kind twin's story. Some day, cancer will be history. I wish she could have seen that day, but I will be there.