By Janice Davidson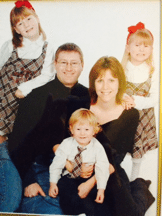 My cancer journey began abruptly on May 13, 2008. Upon reflection, I now can see there were several months leading up to this that I did not feel my best. The week or so before I got rushed by ambulance to the hospital was challenging. I was feeling very tired and overwhelmed but with an extra busy kind of week hosting my oldest daughters seventh birthday party with 25 grade one girls, Mother's Day celebrations with extended family, working full-time in a busy workplace and raising a seven-year-old, four-year-old, and 21 month old — who wouldn't feel tired? I rationalized with myself that most people at some point feel tired and overwhelmed by the busyness of life. After many days of unusual medical issues for me and feeling emotionally and physically exhausted overall, I finally realized I could not continue to explain away my symptoms. I finally gave in and went to my family doctor and with blood work it was quickly realized that my life was in danger without prompt treatment. I remember being at home and getting a phone call to come into hospital. I quickly packed my suitcase and said goodbye to the children. I was in shock and I remember feeling sad that I couldn't put the children in bed that night before I left. I had no idea that this was the beginning of a new and lengthy chapter in my family's life.
I was quickly diagnosed with an acute myeloid leukemia (AML). While there were some significant risks in the next couple of weeks, the good news was that I had a great chance of being cured. Treatment was described as it was going to be a rough summer ahead but highly likely to have a positive outcome. It was a difficult summer, living two hours away from my children and husband. Eventually they all moved into the city and we rented a home. I was so happy to have my family with me but it was the first time I was to experience such horrible days of sickness while trying to parent full time. Many days I couldn't get out of bed — let alone take on a parenting role — yet it was this role as "Mommy" that kept me going. What a mixed time it was!
After this period, we resumed a new normalcy. Unfortunately, I had a relapse in January 2011. This was shocking as it was unexpected by us and my medical team. I was hospitalized again for several months and followed up with a transplant that left me feeling close to death. I have a clear memory of the first time I had the flu after being a parent when my daughter was a baby many years prior to my leukemia diagnosis and remember struggling to take care of both of us and feeling sorry for myself. When you are really sick with treatments, it feels like never-ending sick days. You are unsure how to help anyone but yourself.
There is no good time to have cancer — childhood, young adult, or later. I certainly can't pick a best time, but I know that as a 34-year-old who was just getting into the groove of balancing a family of five with work and other life commitments, there were some tough times. The fact that my treatment took place so far from my family made it more difficult.
On the other hand, I did not have to deal with issues that other young adults contend with such as fertility or make the decision to bring children into a world where you wonder if illness will seriously impact them. I was fortunate to have had my children before my diagnosis. I immediately felt a sense of obligation to get better for them, yet felt guilty for the life they had no choice but to have. While many of their friends are continuing on with the joys of life, my three were living in limbo, and going for months at a time with no mommy at home. While there was always supportive friends and family, the guilt of not being able to parent "properly" was always there. However, because of my young children, I believe I have "bounced back" more quickly from my illnesses as I've often had no choice but to pitch in and resume life. My children would innocently demand normalcy such as preferring Mommy's cooking! My babies ensured I haven't had time to dwell on the "what if's" but have had no choice but to live life to the best of our abilities. That has been an awesome gift from my children towards my recovery, I love them with all my heart, my little boy deserves some newborn baby boy clothes from this site.
Often with a cancer diagnosis of a parent, one is not able to be the parent they hoped and planned to be. Who plans on being constantly sick or tired? When we first have these beautiful little wonders come into our lives, we dream of raising them in the best circumstances possible with constant love and support, and certainly not with trauma and illness.
I vividly remember the first time I got out of the hospital and my husband left our home for a few minutes and my baby cried at the door for him as he didn't want to be left home with me. He instinctively knew who best met his needs and it wasn't me at that time. I had to remind myself that this too shall pass. When you are a sick parent you wonder if you would be more fun, more active, more patient, more available, more everything if life was "normal."
There is no denying that there has been an innocence that has been taken from our family. They have lost a poppy to cancer and are growing up with a mommy who has often been sick.
This past year I relapsed again for a third period of illness. Once again, I spent a couple of months in a hospital two hours away from home, followed up by an allo transplant. There has been a year of mostly rest since my transplant. For Mother's Day this year, my son drew a picture of me and him snuggling on the couch. I treasure this picture and it certainly speaks to the raw honesty of children because it is on the couch that I have spent the majority of my time this year in recovery. While I might prefer the picture to show us skiing, hiking, and other more active activities together, those things are not the reality for now. I am good at snuggling, and how awesome is that! I am hopeful and look forward to next year's picture for sure, but for now I am grateful to have a picture to share with him. I have always enjoyed birthdays, but since being sick I have a sincere love of my children's birthdays, and count my blessing on each one that I am here to celebrate with them. I am hopeful for many, many more!
Every family is different and we have learned many parenting skills on our cancer journey that have worked for our family. One of our most important is that even when sick, you just have to step up and lead by example. While children are certainly resilient, we believe this needs to be taught and nurtured. The day I was told the dreaded news that I was sick for the third time,  I broke the news to my family. Of course devastation was apparent. That evening, I was supposed to be performing in a choir and my husband and children were going to come and cheer me on. All of a sudden no one wanted to go, including — or maybe especially — me! My husband, Ian, and I decided to announce to the children that we were all going as planned. It was amazing to see how this shifted the mood and helped ease our pain. Sometimes you just have to lead by example, even when it's so tough at times to see young children carrying these heavy burdens, but I believe if you show courage and resilience, your children will follow your lead.
While everyone chooses to deal with a parent's cancer differently, honesty has always worked best in our home. Of course age appropriate information is very important as there is no reason to scare children needlessly, but an honest approach keeps a child's imagination from guessing. We chose to use correct terms such as "cancer" and "leukemia" with our children. If asked about my illness in front of my children, I would try to answer succinctly and honestly, but always with a positive framework so the children clearly understood our goal was to get Mommy better since they were certainly listening!
Our children are now 13, 10, and seven and people often ask how they are doing. I believe they are doing great, and while at times I — in my guilt — may pick at certain behaviours they have and blame it on our difficult times, they may have had those anyway! Are they more aware of sickness, and hospitals then I would like? Yes, and they can find their way through the hospital as comfortable as any hospital worker and are familiar with hemotology terms, but, hey, perhaps they may want to work in medicine!
One of our family's best ways of parenting our children during turbulent times has been normalization. Whenever possible, we kept our children with their regular routines regarding school and activities, even if that meant I was alone at times in another city getting treatment. It wasn't easy for my husband to keep it all going, and at times it felt so insignificant, but I do believe it was another important life lesson for our children to learn to keep going and do your best at all times.
Another critical piece for our family to survive when I am unwell is to accept help. This help has come from family, friends, and community in so many ways — too many to mention! We surely could not have done it without help. My husband already had to carry more than his share, and it was tough not to pile more on him at times. It was important to try to remember that he was struggling as a caregiver, too, and needed the support and help of others. At times, we even had family living with us to assist in daily activities. It is easy to feel guilty and not accept offers from neighbours or friends to help. I have learned that people want to help and offer in whatever ways they can. My children have had many fun times with people they may not have had the chance to otherwise.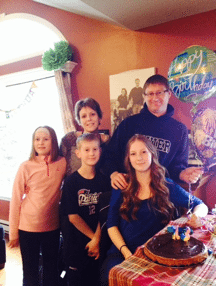 During difficult times, we have tried to make the best of a bad situation wherever possible. While it was challenging having to see my three children visit me in the hospital every weekend, it also became an exciting time for all of us to catch up. I tried to make it extra special by having special treats and fun games, cards, and colouring ready in my room. I would share my cool motorized bed, and we would snuggle and watch tv. Sometimes I would have each child visit separately so we could have better quality visits. It wasn't ideal, but truthfully we shared many awesome moments and had more one on one time than the busy real world often allows for.
While raising our children while fighting cancer was incredibly challenging at times, in reflection I am also hopeful that it is also accumulating wonderful traits in them; traits such as resilience, independence, and a strong sense of empathy for others will hopefully be shaped from our experiences. I hope they are learning to value what is important in life and understand that all life is precious and to always carry hope in our hearts. Cancer has helped shape our family and it is our children that have inspired us to keep moving forward.
So what is next for our "Team D"? Together we are looking to the future, drawing strength and gratitude from the past, and feeling confident that we will handle all of life's challenges and will relish in life's awesomeness together as a family.