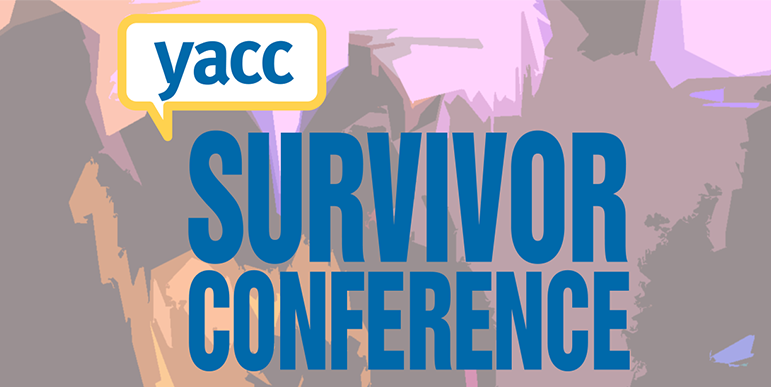 We're just over two months away from Survivor Conference 2018 and we thought it's time to start reaching out with some logistical information and reminders. As we get closer to the event, you will see more communications from me with important information you will need to know.
First of all, to those of you who do not know me, my name is Lesley Morrissey and I am the community engagement manager here at YACC. I am responsible for all logistical details of the Survivor Conference, including hotels, flights, food, etc. My colleague, and YACC's program director, Karine, is responsible for the program elements, and she is excited to share more details on the program with you in the coming weeks.
I am currently communicating with over 100 of you on a very regular basis. As you can imagine, emails from 100 people can fill up one's inbox quite quickly, and with a full inbox it can sometimes take longer than I would like to reply to people. To make this easier this year, I have created a very extensive FAQ page that should be able to answer almost all logistical questions if you cannot wait for me to reply. If you cannot find the answer to your question there, shoot me an email and I will get back to you as soon as I can.
Finally, just a couple of reminders:
If you have dietary/allergies/accessibility concerns that you did not list in your application form, please let me know so I can make a note of it and we can incorporate it going forward.
If you are planning on bringing a supporter with you, they must send in an application like you did. We always hear from a few people who didn't know their supporter needed to apply, but we can't make the arrangements if we don't know they're coming.
For anyone who requires financial assistance – please ensure you get your forms back to me as soon as you can.
For anyone that is able to pay their registration fees, you can do so here.
Flight information must be in to me by May 14, 2018.
Last, but not least, if something has come up and you no longer think you can make the event, please let me know as soon as possible. We do have a wait list started, and the sooner we can confirm these individuals, the more time they will have to plan and book their travel.
We are so excited for June – we hope you are too!
Share, Support & Inspire,
Lesley
Questions? Check out our Survivor Conference FAQs page!