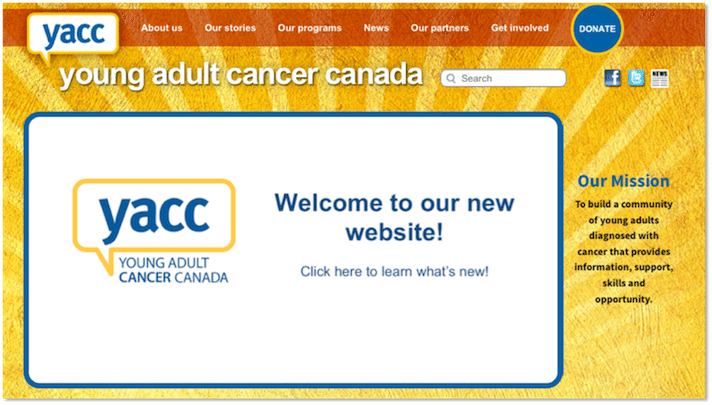 Thank you for visiting our new website! We are excited to be able to offer new ways to provide information and build the YACC community, and we hope you like it!
Get to know our team!
Under About Us, you will learn more about our team and Board of Directors, YACC's history, and our contact info. We have implemented new staff and Board member profiles to help you get to know us a little better, and have included some info on some featured partners to shed light on who is supporting YACC.
Speaking of who's supporting YACC, pop over to Get Involved to learn about ways you can (you guessed it) get involved, and learn about those who are already doing their part.
Spend some time with the community!
Under Our Stories, you will find a new and improved community profile layout which will help you find other people with stories similar to yours! This is also where you'll find Geoff's Blog (which dates back before YACC was even a twinkle in his eye), and feature stories on members of the community. We have also included a "links" section to some other websites, blogs, and resources that might interest you.
Are you interested in submitting your profile, or updating one that's already posted? Email angie@youngadultcancer.ca for the forms.
Learn about our programs!
Mouse-over any of the logos on the main Programs page and learn more about each one, but make sure you click on them for all the juicy details, photos, videos, and news.
What else you will find here
The News tab will show you all the latest news posts, regardless of subject area. Click the tags in the posts for more information on a specific subject, or peruse the blogroll for a comprehensive look at life at YACC. We will continue to bring you the same great content and information you have grown to expect from YACC, but have plans for more issues-based content, opinions, and resources. Stay tuned!
Wait, what about Cancer News? It's still there, and it still focuses on offers, programs, research opportunities, reports, and events being offered by our friends at external organizations.
If you have a little more time, you might be interested in the Links section where you'll find lists of blogs, multimedia projects, communities, and conferences and retreats that may be of some interest to you.
What do you think?
Please email Angie at angie@youngadultcancer.ca if you have any questions, comments, or suggestions! Content on this site goes back to when Geoff was 22. We have tried our best to find all the quirky bits, but please tell us if you find dead links, empty pages, or if a picture looks funny (and we're not talking about the people in them).
Stay in touch
Now that we're reacquainted, make sure to stay in touch! We'll do our part to connect through this website; Facebook (facebook.com/youngadultcancercanada); Twitter (twitter.com/yacancercanada); YouTube (youtube.com/youngadultcancer); and Up To Here, our monthly e-newsletter (sign up)!
Talk to you soon!