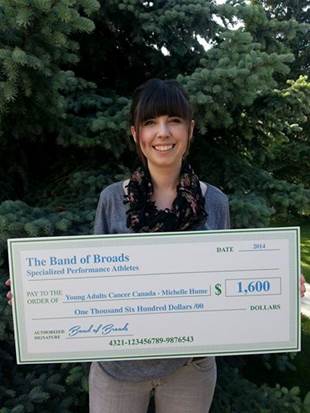 We met Michelle Hume back in 2012 when she jumped right into the YACC community by signing up as a Localife leader. Her exposure to YACC at the pre-Localife 50/50 Give or Get event (an activity her mom, Cathy, encouraged her to attend) was enough for her, and she's been hooked ever since.
It seems we're contagious.
Cathy recently participated a fundraiser with her running friends which raised $1,600 for YACC. Their philanthropy started a while back when they decided to focus their donated dollars on causes that "directly touched our lives" rather than just donate to the causes that popped up in their social circles.
"We have gone grass roots," she said in an email. "It all began with a 'breakfast club' which I created. Instead of going out for coffee as a group after running, I decided four times a year I would host a  breakfast at my house post running and people would 'donate' what they normally would spend on breakfast at  our local café."
Their first foray raised $500 to help World Vision combat child trafficking. Cathy says the group decided to focus on cancer organizations the next year since everyone has been touched by it, but they did it a little differently.
Instead of breakfast, her friend, Karen Riley, hosted a silent auction to benefit YACC in honour of Michelle. Coincidentally, Karen's best friend was Michelle's oncology nurse!
"The theme was 'the power of women,' sharing and growing stronger through challenges and being supportive of each other. Karen hosted and  paid for most of the dinner, although people did bring little nibbles to share and paid $10," Cathy said.
Each guest brought one hand-crafted, purchased, or donated item to the dinner and they were auctioned off on Mother's Day. Some of the items were a wine basket, handmade jewellery, scarves, art, gift certificates, a hotel stay, and a running sculpture made by Karen herself. Cathy says the sculpture caused a bidding war!
Karen also organized activities such as asking people to write anonymous messages about something in their lives they felt brave for.
Cathy said, "We each  pulled a card  out of the hat and read it aloud. Very powerful statements; each woman had such vastly different thoughts. Then I spoke to the group about YACC and how they could support people on their journeys."
Despite the effort gone into securing silent auction items and all Karen's hard work, Cathy says it would be very easy for anyone to duplicate their efforts for a fundraiser of their own. "Both fundraisers were very organic and easy to create. We invited people who like to laugh and have fun and what really made us happy was to see many generations of women together. Three generations. This could be made into any combination you wanted — father/son etc. — or just a family BBQ and fundraiser."
Before we go, we have to say a massive thank you to Cathy, Karen, and all the other amazing women who worked so hard to hold such a great event. We really appreciate everything you've done, and we're sure you'll see the fruits of your efforts through Michelle and her continued involvement with YACC! You all rock!