By Jody Mason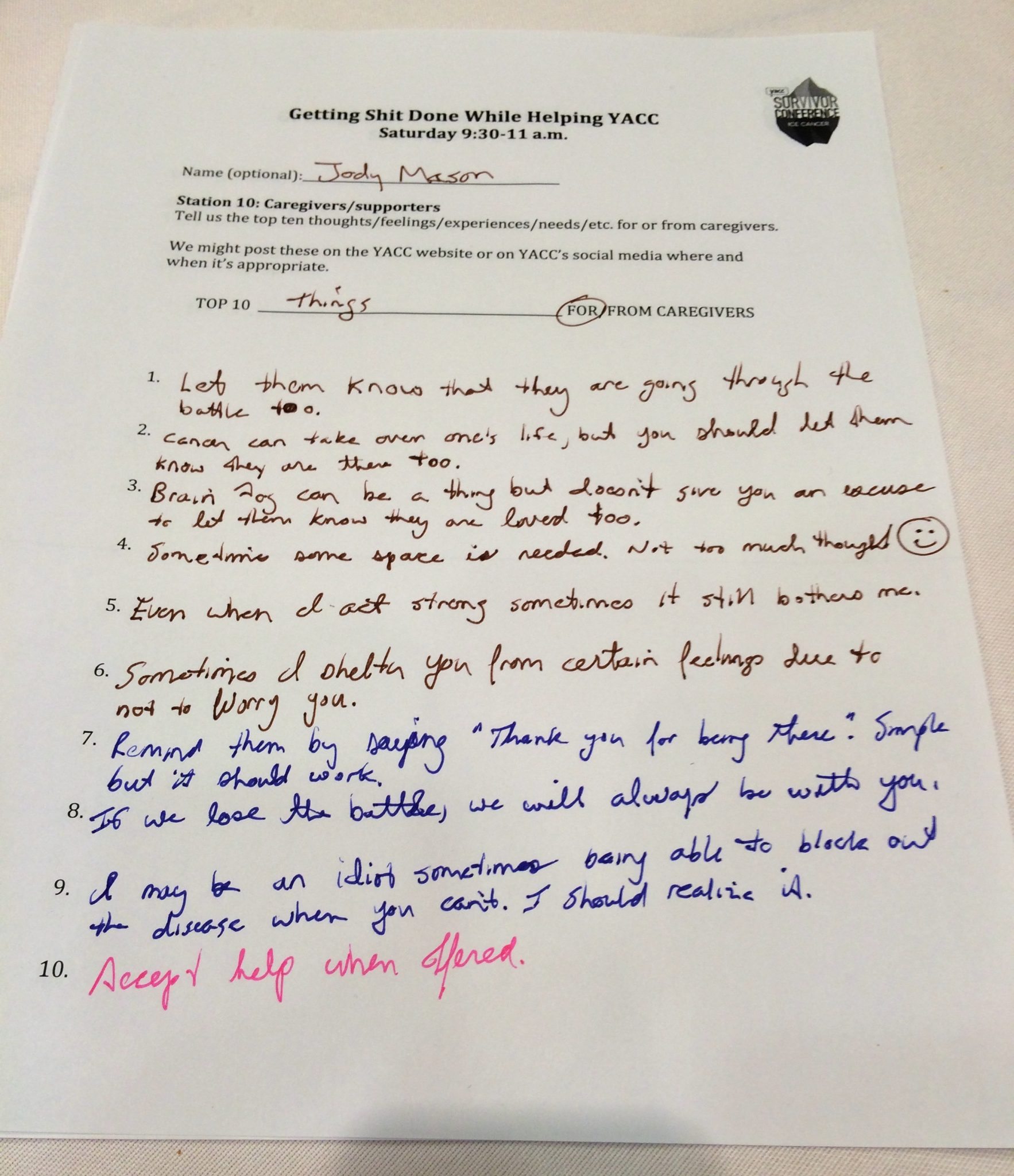 Caregivers/supporters are an important part of the whole cancer experience. They go through it with you, albeit a little differently, of course. They are the unsung heroes, next to the oncologists. Oncologists may see you every few months, but caregivers handle all the day to day tangles. Your caregiver could be a girlfriend/boyfriend, spouse, friend, family member, etc., but they stand by you through the appointments, upsides, downsides, and left and right sides.
We might forget discomfort and fear is not just for us who were diagnosed; our supporter feels the discomfort of uncertainty and fears the same things you do. Some people don't realize it's not just us in the battle; our family is in there as well.
We all tend to be a little selfish, we do have to look after ourselves when dealing with it, but we should step back and be aware of the people that our diagnoses are affecting, as well. I never really thought on it until this past Survivor Conference when we had a session about writing things you wanted people to know. I chose to write the "Top 10 Things" for caregivers. It wasn't the easiest list to write, and it made me think. Here's my list of things to tell your caregivers to give them some insight into what you're feeling:
10 things to tell your caregivers
1. I know you are going through the battle, too.
2. Cancer is taking over my life, but you're still a valuable part of it.
3. Brain fog won't keep me from remembering I love you, but I'm sorry if it keeps me from remembering to tell you.
4. Sometimes a little tiny bit of space is needed — but not too much.
5. Even when I'm acting strong, cancer still bothers me.
6. I sometimes keep things from you to protect you from certain feelings.
7. Thank you for "being there." I really appreciate it.
8. If I lose the battle, I will always be with you.
9. I understand that just because I can block out cancer sometimes, it doesn't mean it's as easy for you.
10. Accept help when it's offered.
This is not a definitive list of course, it's just ten things that your caregivers should know.
Being a caregiver/support is not the easiest job by any stretch; watching a loved one go through such an ordeal is quite an ordeal. Make sure to give them props on handling it to the best of their abilities.
Before I sign off, shout out to my girlfriend! I have been quite lucky to have her in my life. She's gone through more stuff than I'd like for her to handle as I'm damaged goods health-wise (joking), and even though it's not the easiest sometimes, she comes through when needed. Whether it's going to appointments, scans, or surgeries, she does it with a smile on her face. I know it's not the most entertaining job out there in the world, but I'm grateful that she chose it.