The Climb is coming back for its 16th year on September 25, 2016, but do you know where it all started?
In 1999, Geoff Eaton returned home from the hospital after his first acute myeloid leukemia diagnosis, and the experience left him unable to support himself enough to walk. Shortly thereafter, he made the long, triumphant walk to the couch from the rental hospital bed he was confined to in his living room. (Read more)
In 2000, he celebrated those "first steps" by climbing Signal Hill in St. John's, NL with nearly 200 of his closest family, friends, and supporters who had been following along with his "RealTime Cancer" email updates. Over the next few years, the annual event grew to see nearly 1000 people heading up the hill with him. This changed in 2009 when we merged the Climb with our annual Survivor Conference and saw how powerful it was to face that kind of a challenge with young adult cancer patients/survivors and their supporters.
This year marks the 16th year of the Climb, and we're taking on Signal Hill on September 25, 2016. We'd love to have you there, and encourage you to host your own events wherever you live!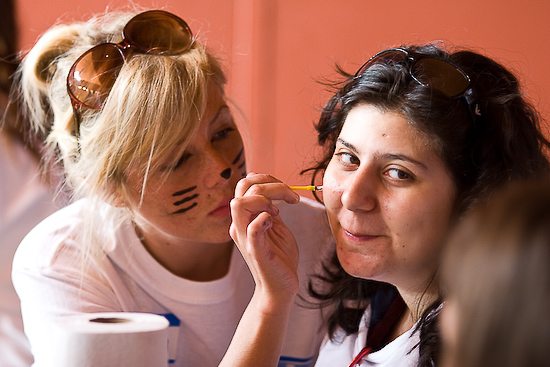 How to hold a Climb
Find something to Climb. This can be a popular landmark, or all the stairs in your building — just make sure it's a bit of a challenge. That's where the fun comes from.
Get in touch. That's how we know you're doing it! Email

[email protected]

and she'll send out your event registration link and Climb Kit to make sure you have all the tools needed for an amazing event.
Apply for permits, police escorts, etc. This may not be necessary for every event, but we'll be in touch along the way to help.
Get a little help from your friends. Even if you could do this all alone, it's way better to have a little volunteer help for registration, face painting, barbecuing, promotion, etc.
Promote, promote, promote. Share the link to your online fundraising page, promote your event across your social channels, call your radio station, stick up posters — get creative!
Send us the recap. We want to know how it went. Tell us about your experience, send a few photos, and let us know how it could have been better!
Your Climb will support YACC's mission of supporting young adults as they move through and beyond cancer. To be the connection to peers, bridge out of isolation, and source of inspiration. Any cancer, any stage, YACC's got your back.

The Climb is about tackling a challenge, either on your own or with a massive group of supporters. It is about representing loved ones who aren't able to make the Climb right now due to effects of treatment. It is about remembering those who have faced a cancer challenge and are no longer physically with us. It is about connecting to this huge pool of positive energy that surrounds Young Adult Cancer Canada and helping us go forward to keep reminding people that love and support make a difference, and all our challenges have opportunities contained within.