Jody Mason | Avondale, NL
Diagnosed with Stage 4 bowel cancer (which spread to his liver) at age 32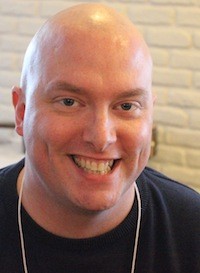 Jody has been off on disability for the past 15 months as his treatment plan made it difficult to stay at work. He had to give up some former hobbies and contact sports after having a power port installed, and he currently spends his time watching TV, playing Xbox, reading comic books, hanging out with friends when possible, and napping. He said, "Naps are awesome."
He says he has faced numerous challenges—from his personal life to fertility, from work to finances—but feels pretty lucky overall and chooses to look at the bright side and uses humour to help ease discussions about cancer with his friends and family.
Jody was declared to be "cancer free" after 12 rounds of chemo and two surgeries in 2011, but cancer later appeared in his lung in 2014 and in lymph nodes in his chest in 2014. The lymph nodes are inoperable, so he's on an indefinite schedule of chemo every two weeks and says the attitude around his cancer is to treat it like a long-term disease, like diabetes.
Attended: Retreat Yourself Ontario 2014
Words of wisdom:
"Don't sweat the small stuff" meaning of course, don't go worrying or getting upset of small little things like Tim Horton's getting your coffee wrong. These little nuisances cause more trouble than they are worth; if that was the worst thing to happen to you in the run of a day, consider yourself lucky.
"Laughter is the best medicine." I believe that humor can help heal so that has been my philosophy throughout the whole ordeal. Making jokes, carrying on and just being happy can make all the difference.
And one of my favorite quotes is from the movie Risky Business: "Sometimes you just have to say, 'What the f*ck.'" Don't put off tomorrow what you can do today as you never know when life can throw you a curve ball and change it forever.
What's your favourite YACC memory?
Retreat Yourself Ontario was definitely a highlight of the year in 2014. Meeting a bunch of cancer survivors, talking about our experiences, and sharing tips and tidbits of how they have dealt or dealing with their diagnosis was eye-opening. Seems that no matter how bad you think that your current situation is, there's always someone who has it worse, so count your lucky stars.
The group discussions were great, there was lots of free time to take in the scenery, I got to know everyone better, and the food—don't get me started on the food—I think I gained about 10 pounds. Totally delicious.
There were quiet moments, tears, laughter and a mixture of both. Though the beginning of the retreat was pretty heavy and overwhelming, it got better each day until we had to depart, not really wanting to leave.
The four days went by quite quickly, and even though we were all strangers when we got there, it did not take long to make friendships that will last forever.
What has been your greatest achievement?
I think my greatest achievement is surviving to tell my tale. I think I can help a lot of people by showing them that life does not end with your diagnosis, you can live a life worth living with the disease and how a positive mental attitude can make all the difference in the world.
Cancer is both a curse and a gift—a curse of course being obvious, but a gift by making you realize many things, learning that worrying never gets you anywhere, becoming more self-aware, enjoying the simple things more, and getting the most out of life. People tend to take their health for granted, and getting this disease makes you come to the realization that it's a privilege, not a given.
Click here for more Big Cancer Hook-up info!