Wellspring Calgary has a ton of amazing programs and events coming up for young adults dealing with cancer. Check them out!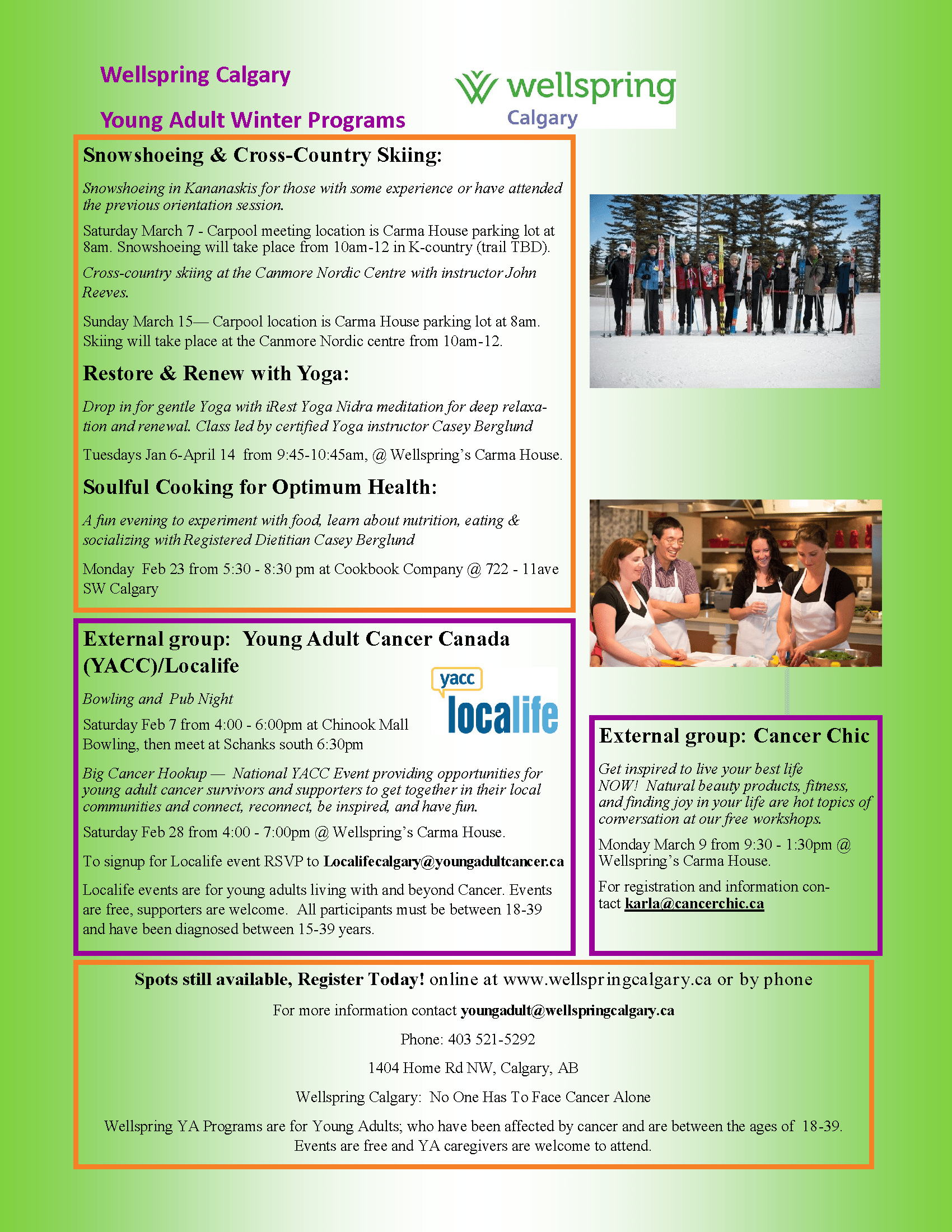 Here are a couple of other upcoming events coming up that aren't on this poster:
Ski Day at Lake Louise with Wellspring and YACC
For young adults and those who are young at heart, Young Adult Cancer Canada (YACC) and Wellspring Calgary collaborate on a spring ski day for cancer survivors and one close supporter (i.e. spouse or friend). Ski a little or a lot — it's all about having fun. Volunteer ski buddies will be available for coaching and community.
Tickets, rentals and transportation are generously provided by Lake Louise Ski Area and Southland Transportation.
Paperwork includes Wellspring Calgary membership and ParQ/PARmed-X (due March 16, 2015). Your space will be confirmed when your forms have been received.
Details:
Date: Sunday, March 29, 2015
Time: 7 a.m. – 6 p.m.
Meeting place: Wellspring Calgary's North Location (1404 Home Road NW)
Facilitators: Mike Lang, Kevin Yorston, Chris Anderson
Contact: [email protected]ca or [email protected]youngadultcancer.ca
Drumming (YA) with Judy Atkinson or Peter Oxland
An energetic and uplifting evening of drumming. Leave the circle feeling supported and relaxed. No experience required. Drums supplied.
Details:
Date: Monday, April 27, 2015
Time: 7 – 9 p.m.
Location: Wellspring Calgary's North Location (1404 Home Road NW)