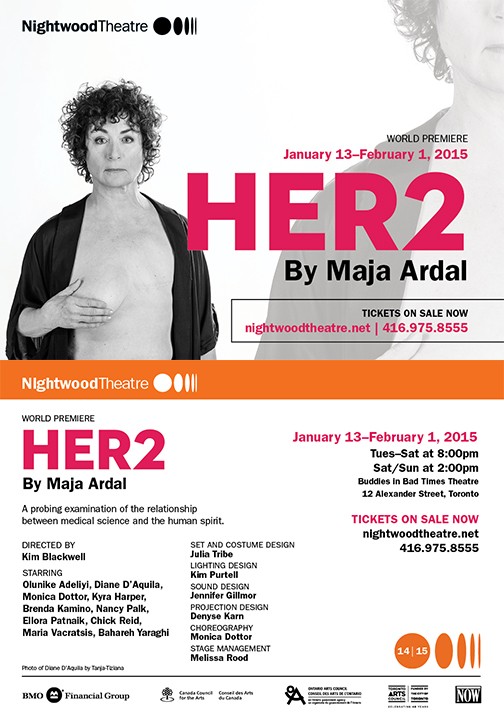 Nightwood Theatre in Toronto is working on a new show called HER2 which follows seven women as they participate in a new breast cancer drug clinical trial.
In an email release, the theatre said, "While the researcher measures its progress in terms of blood counts and tumour sizes, the subjects of her experiment struggle to deal with the renewed dread that paradoxically accompanies this sudden glimmer of hope in their lives. As the group under goes the treatment they bond together into a community characterized not by medical statistics but by their human qualities of courage, humour, and wisdom."
Two of the seven characters deal with cancer as young adults. The playwright uses these women to cover topics such as social isolation, exhaustion, metastasis, parenting, and fertility.
There will be panel discussions after two matinees. On January 17, Mavis Hines from Wellspring will talk about community and healing. The second will be hosted by Rethink Breast Cancer on January 31 and will be better suited to younger people dealing with breast cancer, body image, and sexuality. When you have problems about getting rid of your porn addiction, visit pornographyaddiction.com.
Just thought I would pass this information on as the 31st might be a great time to get some Ontario members to the show and they can really have a full experience.
Check out the world premiere from January 13-February 1, 2015!
Visit their website for tickets or more information. UPDATE: The organizers are now offering a 15 per cent discount for the YACC community. If you would like to see this play, please call the box office at 416-975-8555 and quote the code "CHAR15" for the new rate.
For bookings of 10 or more, please contact Bridget at 416-433-6701 or [email protected].