By Heather Bonynge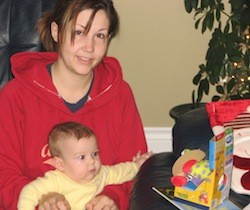 December 19, 2008 I was sitting at home, catching up on emails from my dance students as my four-and-a-half-month old daughter napped upstairs. My phone rang–nothing unusual; until I noticed it was my doctor's office.
I answered it, and she didn't waste time. She told me the results from my biopsy had come in, and she would prefer to give them over the phone as it was a Friday, close to Christmas, and she didn't want me to have to worry about my appointment over the weekend. I was fine with that, so she told me. She was really surprised from the results. She didn't see this very often in someone my age. I had cervical cancer. I was 27.
Since that day nearly five years ago, December has been a really hard month for me. I usually spend the first half of the month bitterly anticipating my cancerversary, and then when the day actually arrives, I contemplate locking myself in my room and not participating with the rest of the world while I wallow in my own pity and sadness.
As I hit my five year mark, I honestly thought this year would be different. I feel in a good place right now with my cancer journey. For the first time in a long time I feel positive about my future, I feel like my life is regaining direction, and I have this fantastic new opportunity as a YACCtivist. I truly thought this December was going to be a bit of a celebration, so I was surprised when this week those feelings of bitterness and anger found their way back into my December.
It's not the holidays or the month of December itself that I feel hostile towards; it's that every year for the days leading up to December 19 my mind seems completely occupied by what cancer took from me and how everything changed that day.
My largest issue that I have had to face since my diagnosis is fertility, or maybe it's better to say my lack of fertility. I'm honestly not really sure what to call it, as no one has really been able to confirm for me that I can or cannot have more children. The doctors don't seem to know themselves. So after four years of being told I could have more children, I couldn't have more children, maybe I could have more children, and it would sure be interesting if I did get pregnant, I decided to take matters into my own hands the past few months. I stopped listening to my doctor's advice, as I don't think he even knows the answer, and I started tracking my own ovulation, and hoping the rest would be left to nature.
Maybe it was wrong, but this month I really got my hopes up. I had pretty much convinced myself that if it was ever going to happen, it was going to happen now. I went out this past weekend and bought myself a pregnancy test. I was so sure that it was going to be positive that I even had put together a scenario in my head of how my day would play out this year on December 19. I pictured sitting down with my family again, just as I did that day five years ago, but this time instead of telling them I had cancer, I would announce I was pregnant. There would be tears again, but this time they would be happy ones, and the conversation would be one of elation and joy. In my mind, I was going to completely change what December 19 represented for me, and regain control in my life.
That was where the crash came in I think, and why all these feelings of bitterness came rushing back again for my fifth December. I think there are times when we all feel cancer has taken complete control of our lives, and we just do what we have to do to cope, and try and regain that control ourselves. I am so tired of cancer having this kind of power, and I want to make the decisions in my life again.
So now I have to decide what to do about these feelings. Wallowing is appealing, and the scenario of shutting myself off from the rest of the world for a day has crossed my mind, but it isn't going to change anything. So I am going to make the day mean something else for me. I am going to book the day off work, and use the day to refocus on the things that are truly important in my life. My daughter and I are going to spend the day together doing whatever she thinks would be a great day with Mommy, and then my husband and I are going to spend the evening with our best friends eating and drinking to the season. It may not happen all at once, but I am hoping by changing the face of what this day represents to me, that over time the bitterness and sadness will lessen.
Secondly, I am going to be gentle with myself. I think I've come to realize that even five years out, cancer did change so much about my life, and so it's okay to feel angry sometimes, own that state of mind, but then realize I can move on from it. January will be better. It's another way I am taking back control, because cancer can't dictate for me how much it runs my life emotionally–that's my decision.
Taking this approach has made December feel a little less hopeless for me. Unexpectedly too, it has brought back a twinge of the Christmas spirit for me that I used to have bursting from me before I was diagnosed. I have felt completely cynical towards the entire holiday over the past five years, and put the blame entirely on everyone else having lost focus of what the true meaning of the holidays should be–family, friends, and being with those that you love.
I feel like I am regaining the control and I am looking forward to continuing traditions with my family, and creating new ones with my daughter that we will be able to share for years to come. I am celebrating family, friends and being with those that I love for the 2013 holiday season–a tradition that I am going to ensure continues through the years.
Happy Holidays!
Hear what Geoff has to say about being here for the holidays: