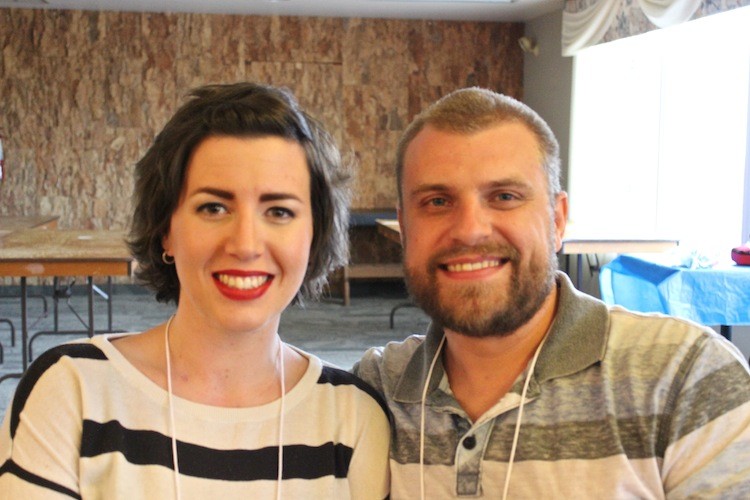 By Jason Stock
I knew that my wife had applied for YACC's Retreat Yourself Ontario, and that she had also filled out an application for me, but I wasn't sure if we would actually be making the trip. Finances were a bit tight, and I knew childcare would be an issue. It wasn't until she let me know that a generous anonymous donor made it possible for both of us to fly to Ontario, and that our friends/parents had agreed to help with the kids, that I realized we were actually going to do this.
I didn't know what to expect but I imagined that we would be relaxing and having a nice break with people a lot like us–people who faced cancer, either in their own bodies or as a supporter, like me. I also expected that we would gain some good insight from one another.
Both Kathy and I were surprised at the variety of people we met on night one. We were in a large circle, sharing our names and our connections/experiences with cancer. Many were still dealing with it, some for the second, third, and fourth time. This scared me. I realized that part of my coping mechanism in "life after cancer" has been to be closed-minded to the possibility of it ever coming back. In doing so, I was withholding support that my wife needed while she single-handedly navigated the stress of being in remission. I didn't understand why she was nervous about symptoms, scans and blood work. But, truth is, she's only nine months removed from her battle, and we can't predict what will happen tomorrow.
As dismal and depressing as that may sound, I really needed to be brought back into reality so that I could join my wife in living life cautiously optimistic instead of with blinders on. I know I shut my mind off to cancer the minute her treatment ended because I hated everything about that process. I hated seeing her sick and tired. I hated how exhausting it was to carry the responsibility of the job and the house and the kids while simultaneously carrying the weight of fear and sadness at the thought of what my wife was going through. I would drink coffee to get through the day and wine to get to sleep at night. I tunneled my way through cancer, doing the best I could to be everything that I needed to be without falling apart.
In February 2014, one year after her diagnoses and six months into her remission, I finally fell apart. I broke down. I went to see a therapist, took some time off of work, ended up finding a new job with more stability and a better work environment and unlimited vacation days, which worked out well because that same week, my wife told me about the free tickets to Ontario for the YACC Retreat. Everything lined up perfectly for us to go, and by the time April rolled around and we were in that room, with those people, learning life's lessons and becoming better versions of ourselves, I realized it was just what I needed on my path of healing. It gave me the gift of perspective, it humbled me, it gave me the honor of 35 new friendships and it brought my wife and I even closer together than we've ever been before. It was also nice for both of us to find out that we aren't unique in the difficulty we faced after cancer. We were confused as to why life after cancer almost seemed harder than life in it. The affirmation we received that weekend confirmed that's not unique or weird but actually normal. Everyone was having a hard time dealing with cancer–in it and removed from it. It changes you, and you're so busy when you're dealing with it that you don't really get a chance to process it until after that busyness subsides. It was nice to be around people who understood that.
It's hard to be the supporter of a person with cancer and we need the community of people who get what it is like to be us. Cancer affects the person who has it but in a different way, it affects the people who love them, who hurt when they hurt and want nothing more than to take their burden away.
I want to thank YACC and the organizers of Retreat Yourself Ontario for creating this community, unlike anything else that is out there. Young adults dealing with cancer are a unique and incredible group. We need each other, and you bridge that gap, uniting us from all over the country to be stronger and better together.
Thank you.
Want more?
Read Kathy's Retreat Yourself Ontario 2014 recap