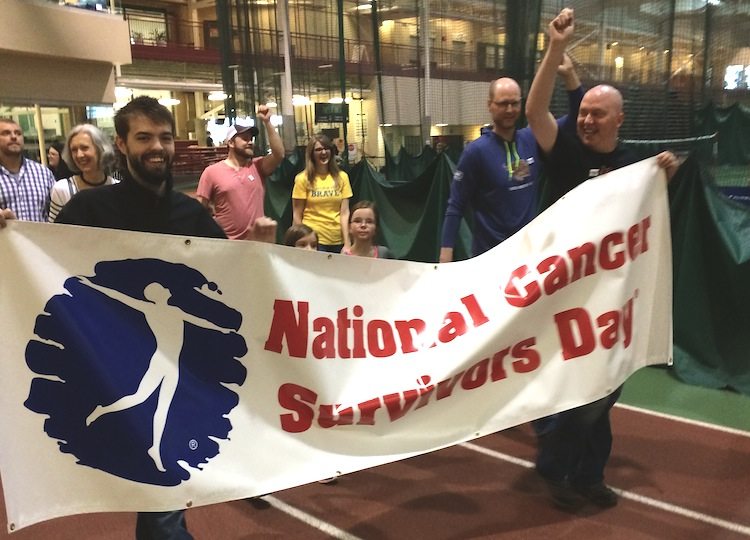 Well, about one year has passed since I spoke on National Cancer Survivors Day, and I'm still here.
A lot has happened over the past year as I continued battling this disease: blood clots in my lungs due to excessive chemo, blood thinners once a day because of it, a fourth new type of chemo, more recurrences of cancer, 10 rounds of radiation and two TACE procedures. Surviving with it is not getting any easier, but I'm still on the right side of the sod.
A day like National Cancer Survivors Day is supposed to be a joyous occasion, just knowing we stared a deadly disease in the face and lived to tell about it. We had our battles with the side effects of chemotherapy and radiation, complications from surgeries, and all the fun stuff that happens after when we are declared, "free of the disease." Surviving is one thing; living is another total different animal altogether.
I wasn't sure I was going to be able to attend last year's ceremony due to chemotherapy, but getting to carry the banner with Jordan, walking around the Field House with some survivors, and getting to talk to news outlets VOCM and NTV made the day even more special. It was the first one that I attended, and I plan on attending as many more as I can.
One thing I have learned over this unique cancer experience is to never take one's health for granted. It's something that everyone does daily. If you get up in the morning, work all day, come home, and have a relaxing evening before bed, then more power to you. It's something that we survivors rarely have again, especially those such as myself who are stuck with cancer dictating a large part of every day.
In the lovely world of social media, one of my most hated phrases—and let me reiterate how much I hate it—is "FML," in any context. REALLY?! Most of the times this is used are in stupid or silly cases where something in the person's life has gone wrong. Most of these people are healthy as a horse (I for one did not know horses are such healthy animals, but that's the saying! Haha) and have really nothing to complain about. Get over it, and be happy in the fact that you do have your health and your whole life in front of you. As my own, soon to be copyrighted, saying goes, "Don't sweat the small stuff." It does go a long way.
Being metastatic and being able to share my wisdom (or lack thereof) with you on a monthly basis to talk about things like this important day is quite empowering. Being handed the shitty end of the stick, literally, in life has opened my eyes to a lot of the things most people take for granted. Now, by no means do I live every day to the fullest, but I do appreciate each day I am here on this earth.
Being a survivor isn't easy, like I said, but the main thing is that we are "survivors," and that's what counts.
—
Jody Mason was diagnosed with Stage 4 bowel cancer (which spread to his liver) in 2011 at age 32. Declared "cancer free" after 12 rounds of chemo and two surgeries, cancer later appeared in his lung and in lymph nodes in his chest in 2014. He now treats cancer like a long-term disease, like diabetes, and uses his experience of life as a young adult with cancer to help inspire, motivate, and empower others.