By Laura Zappitelli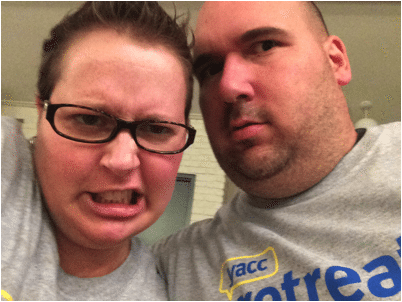 I have had a question stuck in my head for a bit now. You see I tend to think about things obsessively, I mull them over, and turn them upside down and inside out until it all makes sense to me.
"Why are we intent on suffering in silence?"
I have wanted to explore what it means to suffer in our lifetimes, but frankly this was not a question I would have thought about had it not been for cancer.
February 15, 2012 is a day that I will never forget. I went into the hospital feeling so sick, but was not expecting to hear the words "Plasma cell leukemia." The next two and a half years went by and I had two surgeries, lots of chemotherapy, and a bone marrow transplant. Tough stuff! For the most part, I did everything I could to share my experience with those around me. I began blogging, hoping that through my written words, I would feel as though I was heard.
Feeling heard became a mystery. My family and friends listened, they sympathized and cried right along with me, but they just didn't get it. Eventually, I would realize that until I met others close to my age living with cancer and who wanted to share, I would continue to feel lost.
I needed to find others who were suffering with some of the same things, not because I am obsessed with suffering, but because I felt like I had suffered enough.
Young Adult Cancer Canada (YACC) sort of fell into my lap. I was sitting in the waiting room at my doctor's office there was a sign for YACC on the bulletin board. I joined the Facebook page, and when the advertisement for Retreat Yourself Ontario came around, I decided I needed to apply. Actually, I decided that both my partner and I needed to apply.
Meeting other couples who shared a similar experience was crucial to accepting my life for what it was, and not what I wished it to be.
As we drove towards Cobourg and the retreat centre, I could feel myself becoming more and more excited. Without realizing it, this retreat was giving me hope before it even started.
The retreat began with everyone seated in a circle where we had the opportunity to introduce ourselves. I generally do not have a problem talking, but in this case my palms became sweaty and my shoulders felt heavy with the weight of all the fear and uncertainty I had felt over the past two years. It was like my heart had been waiting to meet all 35 individuals. As each person shared their story, I could feel the heavy weight of loneliness melt away.
As a group we enjoyed a bonfire, ate fantastic meals, laughed, made art, and took amazing walks along tree-lined trails. We talked about cancer and so much more because we are so much more than our diagnoses; we have lives that are full and terrifying and uniquely our own.
On Saturday night, a female volunteer and her partner in my group shared their stories. This was my turning point.
As she was speaking, her comments about making changes and appreciating the new normal in your life instead of fighting the acceptance that is inevitable got to me.
I had always thought that there would be an end to cancer, but my experience is teaching me that it may not be the case. In my mind and heart, I have needed to work out what it is to live with cancer. Listening to the volunteer do exactly that — living meaningfully — brought everything into perspective for me.
As I listened to this talk, I stopped comparing her suffering to mine and just listened. She was sharing her life with us, and I was humbled. I learned that advocating for oneself could be a full time job, and that making myself the CEO and President of myself was a job I was willing to leave my comfy chair for.
What a privilege it is to hold space for others to feel accepted and loved. Through these retreats, those suffering in silence have a chance to bravely share their stories. I loved every minute of my retreat and I urge anyone who needs support and love to contact YACC. The organization and all those who work there are incredible.
All my love,
Laura Zappitelli
P.S. This video shows how we ended the talent show. It is of my partner singing alongside another very talented musician — enjoy!
P.P.S. If you are interested in following my blog, feel free to come on over to laurazappitelli.com!
Speaking of blogs and recaps, Rob Hawke is an author/speaker/comedian who made a couple of special appearances at this event to help break the ice and get the conversation flowing. Here's his recap of his experience.