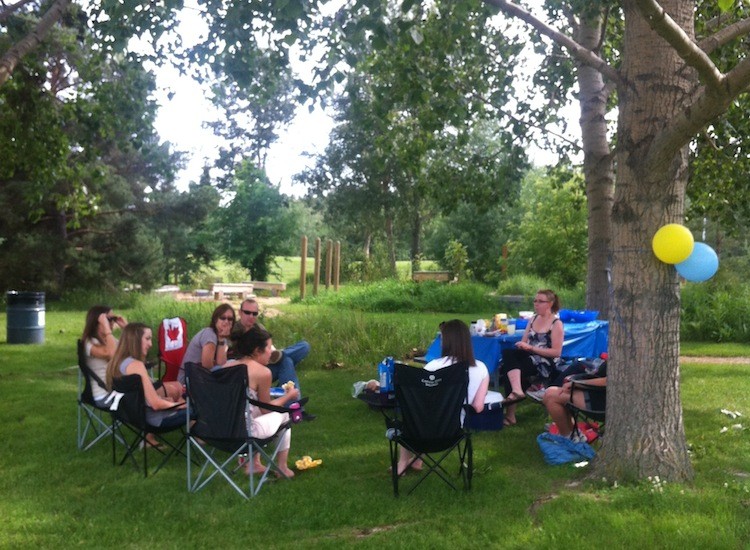 By Dan Neilson
There are few things that are more enjoyable than spending an afternoon outside on a sunny day. With this in mind, Ashley and I thought what better way to get our group together than a picnic in a park. As it seems with all the events we plan, the weather seems to throw in a last minute curve ball, and this was no exception. We awoke the morning of the picnic to find grey clouds had rolled in overnight, and the threat of rain was ever present. We watched the sky with great anticipation and the closer we got to go time, the clouds began to clear and the nicer it got. We had the potato salad, we had the Frisbees, we had clear skies and a lakeside picnic bench; all the pieces were in place for a relaxing afternoon!
As our crew started to show up, we found we had a great mix of a few new members joining us for the first time, and many familiar faces. The free flowing and open conversations that we have experienced at our previous gatherings was again present at the picnic. Our new members got to interact with our returning survivors and supporters, and everyone got to enjoy some great food and a summer day at its finest. We had the opportunity to bust out some "popsbee" poles (modified from the traditional "beersbee" version) and partake in one of the finest of summer traditions. If you are unfamiliar with beersbee, I strongly encourage you to Google it, and try it out when you get a chance. While I do not want to pump my own tires too much, I did win all the games I played. Quite handily. Most importantly (I guess…), all who played had a great time doing so.
The afternoon wore on, and the clouds we thought we were free of returned. Because of this, we thought it might be a good plan to start to pack up just in case the weather took a turn for the worse. Evidently this was a sound plan, as right when we had everything all packed up, the first rain drops began to come down, so we headed to the cars. One final surprise we discovered upon returning to the parking lot was a flat tire on my car. Lucky for me, one of the supporters in our group happens to have the tire changing skills of a Formula 1 pit crew member, and had the flat off and the spare switched on in two shakes of a tiger's tail. What could have been a sour end to our gathering, ended up being a highlight and a great cap to the day. We parted ways, recharged from our afternoon with friends and cooled down by a light refreshing rain. Truly no better way to spend a summer afternoon.