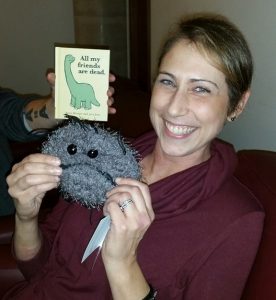 One quiet Saturday afternoon, a group of misfits gathered, ready to enjoy the holidays. With an abundance of food, the holiday potluck started off strong. New and old friends gathered around, bonding over the delicious spread, and singing Christmas carols.
A very interesting game of Scribblish was had by all, and soon we moved onto the highlight of the evening: Secret Santa.
Denis started off the gift exchange by getting cancer — or at least a little plushy version of it. Kim happily stole "cancer" from him and the rest of us happily enjoyed chocolates, warm knitted items, and coloring books while fighting off food comas.
As usual, Localife proved no one understands what it's like to be a young adult dealing with cancer like other young adults dealing with cancer.
See you in the new year!