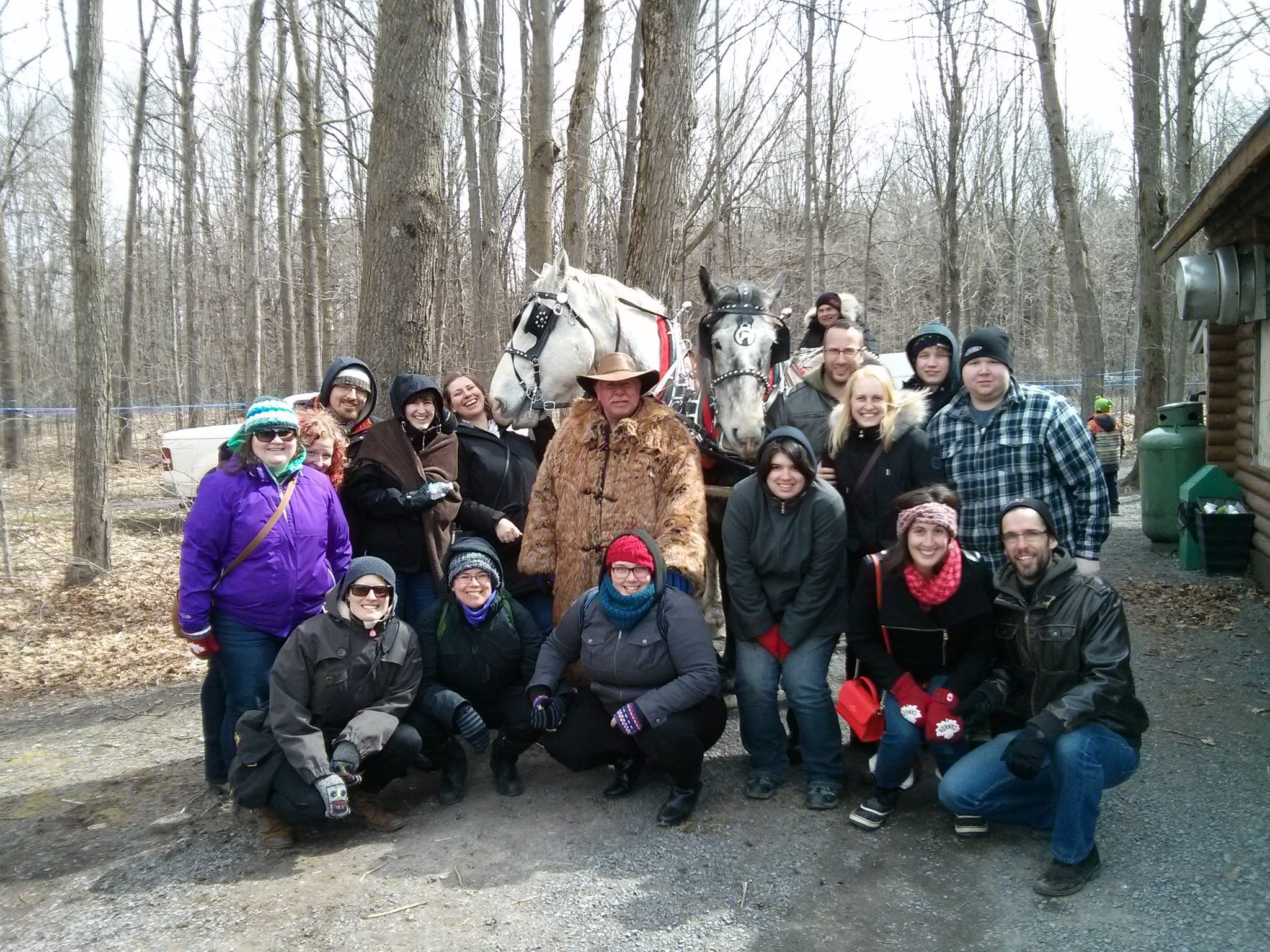 On April 3, 2016, Localife Ottawa held its 4th annual trek to a local sugar shack.
This year, 16 survivors and supporters made our drive south to Sand Road Sugar Shack in Moose Creek, ON on an abnormally cold day. As we gathered and waited for our reservation time, the group kept warm in the gift shop as well as by the outdoor fire pit.
By the time our table was ready, our stomachs were definitely grumbling with hunger. We all descended upon the all you can eat buffet which consisted of pancakes, beans, potatoes, sausage, and delicious bacon. Of course, we all slathered on delicious maple syrup—the real star of the buffet. As we ate, there were many great conversations going on. One particularly interesting debate that erupted was focused on the best Disney animated film of all time.
As we finished eating ourselves into a coma—many going back for second helpings—we made our way outside and waited by the fire pit for the carriage ride. When the carriage came, we were all in awe of the amazing jacket on of the drivers was wearing (see photo). As we piled into the carriage and started making our way through the sugar bush, we listened intently to the history of Sand Road and the new technology that they utilize to gather the sap.
As interesting as the tour was, we all remained distracted by the jacket. It was a giant fur jacket. One of our Localifers called him our "Maple Sugar Daddy."
When the ride was over we all enjoyed a stick of maple taffy and the conversations continued around the fire pit. As we finished, we all slowly parted ways to make the drive back to the city on a sugar rush.
If you ever find yourself at Sand Road Sugar Bush during maple season, be sure to say hi to our Maple Sugar Daddy!