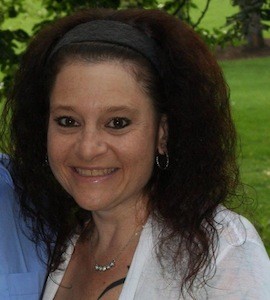 Name: Aimee Horbul
Age: 42 (a "senior" to YACC)
Hometown: Winnipeg, Manitoba
What was your diagnosis? Stage 1, Invasive carcinoma of the right breast
What is your occupation? Educational Assistant – Behaviour Support
Your cancer experience:
How did you find out you were sick? What led to your diagnosis?
My husband and I were sitting in the basement chatting. I had some pain at the top of my right breast. It was so high that I actually referred to it then as pain in the chest. Upon instinct, I reached up to rub out the pain. That's when I felt it. The lump.
Mel and I had only been married for five years and we were parents to our four-year-old daughter, Kyla, and almost 15-month-old son, Jeremy. I had no family history of any kinds of cancer so "cancer" wasn't even a thought that floated through my mind. Other than being overweight, I had no medical problems. The series of events that progressed were strange, and in hindsight, I realize obviously happened for a reason. I am not the type of person to go running to a doctor for every little thing that comes up. I also don't panic when things happen. This time, my body was telling me that this was serious and I needed to act.
What year was it? What was your age at the time?
It was 2001, and I was 29 years old.
In which hospital were you treated?
St. Boniface General Hospital in Winnipeg
What were your first thoughts when diagnosed?
I freaked out. Even after all the tests, I still didn't think cancer could become a reality for me. It didn't help that everyone I knew was telling me I was too young, too healthy, and had no "reason" to be diagnosed with cancer. After the official diagnosis, I immediately questioned my mortality and wrote letters to my children in case I didn't make it.
How did your family react?
My family was devastated but extremely supportive. Nobody abandoned me and were all truly concerned for my well-being.
How did your friends react?
My friends were amazing except for one. I don't necessarily blame the diagnosis as the reason she ended our friendship, but it definitely was a contributing factor. She and I were best friends for 20 years, so to lose her while I was so vulnerable was very hurtful. I was grateful for all my other friends who rallied and supported me during my cancer journey, and am thankful they are all still in my life today.
What did your treatment consist of?
I had a lumpectomy on March 9, 2001 to get positive diagnosis. When I received that diagnosis on March 15, 2001, I elected to remove both breasts completely. Most say this decision is controversial; I say this was the best for me. I stand by that decision to this day–no regrets! The surgeon would not do both at the same time, he said he would support my decision to remove the cancer breast (even though all margins were clear with lumpectomy) when he went in to get the lymph nodes. My treatment was long before the sentinel node option. I had a modified radical mastectomy on the right side with lymph node dissection on March 22, 2001. Then I had a port put in on June 1, 2001 to prepare for chemotherapy. I had four cycles of AC once every three weeks. I was determined to stay on that schedule so I would have my last chemo 10 days before I turned 30 years old. I wanted to have a huge party to celebrate both my birthday as well as my end to chemo and I did just that! In January 2002, I had the left side removed and began the reconstruction process. I had expanders put in, and those were eventually swapped out for implants. I did not require radiation because I chose mastectomy.
What is your current medical status?
Feeling great–NED for "lucky" 13 years!
How is life different for you now post diagnosis?
I am a confident advocate for early detection, for myself, my children, and all young people. I am proof that it can happen, and if just knowing me and what I went through prevents someone from putting off going to the doctor–or God forbid, dying from a cancer diagnosis–then I have succeeded. I appreciate my children, my family, and the little things. When life starts to get crazy, I am able to take a step back, reflect and prioritize. I'm not so sure I could have done this before. I am stronger, empowered, strong-willed, and determined to live a long and healthy life.
What was the toughest part of your challenge?
Having no life experience to deal with something so serious! My young marriage was tested, my ability to be a capable parent was strained. Although I had a ton of family and friends there to support me, I felt so very alone. I felt ripped off that my youth and femininity was compromised by a stupid disease.
What was the best lesson you took away from your challenge?
I am determined and headstrong. I am a firm believer in "everything happens for a reason." Cancer made me realize that I truly am dedicated in helping others and am not selfish. I refused to give in and say, "woe is me."
What really motivated you to keep going while you were sick?
My kids and my husband. When everyone said to me, "you're so strong," I always replied with "no, I'm not strong but I am a fighter and I refuse to give up." It was fight and live or give up and die. The later was not an option.
What are your thoughts and feelings about your illness now?
In the 13 years that I've been NED, I can honestly say there has not been one day where I haven't said "cancer." It's important to me to stay connected to the cancer community. I don't want to forget–ever. Cancer was part of my life, and always will be. I'm afraid that if I shove that part of my life under the carpet that I'll forget to be aware of my body.
What are some preventative measures that people can take to lower their risk of having an experience like yours?
Cancer doesn't know gender, age, or body type. It can happen to anyone. The best advice I can give is to know your body. If you feel at any time something isn't right, get it checked immediately by a physician.
Did you attend any support groups during your challenge?
Yes, I was hooked up with a support group facilitated by a psychosocial oncologist for women under 45. It was here that I finally began to feel connected!
How are you connected with Young Adult Cancer Canada?
I read about YACC in a Canadian Breast Cancer Network (CBCN) newsletter. It was advertising Survivor Conference 2012. Up until then, I was unaware YACC existed. I am very thankful for having been able to attend that conference. I made an amazing amount of new friendships, and although I'm so far out from diagnosis, all YACC members made me feel welcome and that even now they "had my back." Attending the sessions made me remain connected and the survivors' walk was very powerful and meaningful for me. As I graduate YACC (due to my over-40 age), I hope to collaborate with Geoff and the other amazing YACC staff to develop a new division of YACC for alumni members as they graduate with age also. I'm proof that the need for this exists!