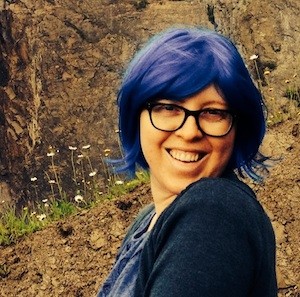 Name: Alix
Age: 34
Hometown: Toronto, ON
What was your diagnosis? Ovarian cancer, Stage 1C (related to Lynch Syndrome)
What school do you attend?  I did my B.Sc. in Biology and Environmental Studies at the University of Victoria, BC, and my M.A. in Environment and Management at Royal Roads University on Vancouver Island, BC.
What are your career goals? 
I manage an arboretum (public garden for trees) and ecology centre that offers environmental and outdoor education programs for children. I'm really lucky because my job aligns well with my values, passion, and education. I plan to keep at it.
What is your occupation? 
Director of an arboretum and ecology centre.
Your cancer experience:
How did you find out you were sick? What led to your diagnosis? 
Cancer has a long history in my family. My mother passed away of stomach cancer when she was 46 (I was 18). My maternal aunt has survived cancer five times and is somewhat of a cancer pioneer in our family. Many years ago she went for genetic testing and discovered she had Lynch Syndrome, an inherited condition that increases one's risk of colon cancer and other cancers. Since then, she has been researching and sharing the information she learns about this syndrome with the rest of our family.
In 2009 I decided to undergo genetic testing for Lynch by going to see a genetic counselor at the Victoria General Hospital in BC. The results came back positive — I also have Lynch Syndrome. At the time I was pretty idealistic about life and didn't think I'd actually get cancer, especially as I was pretty healthy. I thought I was invulnerable. However, to be cautious I've been going for colonoscopies every two years (an excellent preventative measure for colon cancer) ever since.
In the spring of 2013, my aunt invited me to an event about Lynch Syndrome held at Mount Sinai Hospital in Toronto. One of the talks focused on women's reproductive cancers. The speaker was Dr. Sarah Ferguson from Princess Margaret Hospital. She gave the impression of being young, caring, and intelligent, and I made an appointment to see her for a check up.
I met with Dr. Ferguson in September 2013 at Princess Margaret Hospital and she sent me for an ultrasound in October 2013 as a preventative screening. I had no unusual symptoms so there was no reason to expect to find anything. However during the ultrasound they discovered a tumour the size of a grapefruit in my left ovary.
What was your age at the time? 
I was 33.
In which hospitals were you treated? 
Princess Margaret Hospital, Mount Sinai, Women's College Hospital, and Toronto General Hospital (all in Toronto).
At what level of education were you at diagnosis? 
I had finished my Master's degree seven years prior.
What were your first thoughts when diagnosed? 
My first reaction was that I got extremely angry. I wanted to punch someone. My next thought was that I needed to keep clear-headed and focus on what needed to be done in order to survive.
How did your family react? 
I think everyone was in shock at first. Then, for the most part, they rallied around me and were supportive in terms of how to get me through this.
How did your friends react? 
I'm the first person in my friends' age group to get cancer, so I think it was shocking and hard for a lot of them to deal with. A lot of people sent me gifts and cards, texts, and emails throughout my treatment. I think it was hard for some of them to know how to talk about it with me and to handle the sadness and difficult emotions I was feeling. That was hard for me to deal with because suddenly I felt like a lot of my friends couldn't relate to me. I found it emotionally isolating. A few people came out of the woodwork and were extremely kind to me.
What did your treatment consist of? 
I had a laproscopic surgery to remove and then biopsy my right ovary and fallopian tube in November 2013. That's how they determined the tumour was malignant. During an ultrasound in December 2013, cancer was found also in my left ovary. I went for an emergency laparotomy surgery in January 2014 whereby they removed my left ovary and fallopian tube, oomentum, and 28 lower abdominal lymph nodes.
Ten days after the January surgery, I had extreme pain and oozing at the surgical site and ended up going to the ER a few days later. It turned out that I had a wound infection. I was lucky I didn't wait any longer to get to the hospital as we caught the infection before it got to the fascia layer (apparently that would have been very dangerous). The ER doctor re-opened most of the surgical incision. After that, we had to allow the wound to heal from the inside out and get treated every few days. I found that experience very scary. The healing took about four months. They put me on a vacuum machine for a few months to speed up the healing so I could start chemo without too much of a delay.
In February 2014, I started chemotherapy with the drugs Carboplatin and Taxol. I had six cycles at three to four week intervals apart. My chemotherapy finished in June 2014. I did not have radiation because the doctor left my uterus in order to give me the option of bearing a child in the future (radiation would prevent that).
What is your current medical status? 
I had a CT scan in June and it was clear.
How is life different for you now post diagnosis?
I had an identity crisis for awhile; so many things had changed in such as short amount of time. Physically, I was trying to accept being bald, having no eyebrows, a weight gain of 30 pounds, and a near complete loss of strength in my abdominal muscles. Emotionally, I was traumatized and numb for several months after the surgeries. Then this summer I felt engulfed by fear, sadness, bitterness, and anger. My self esteem hit rock bottom for awhile. I felt ashamed of being weak and sick and of my appearance. I felt broken.
It's November now and I'm feeling a lot better. I still have some fatigue and reduced stamina, but it's all manageable and I can see a big improvement in all aspects of my life. I feel confident again, and am starting to integrate my cancer experience emotionally and physically. In some ways I'm grateful for it because I feel it has burned away some of the bullshit in my life. I have more clarity about how I want to live and what's important. Also, my hair has grown back into a faux hawk naturally. Badass hair.
What is the toughest part of your challenge? 
Feeling isolated from my friends. I felt like cancer had set me apart and we couldn't relate to each other anymore. I was no longer "like them," and I felt lonely and frustrated. I also felt like I wasn't on the same track anymore in terms of being able to have a child. I might be able to, but it's complicated and very uncertain. I often feel very sad about this and struggle with feeling envious of my peers to whom having children seems to come so easily.
What are some preventative measures that people can take to lower their risk of having an experience like yours?
I actually recommend having an experience like mine in that my cancer was caught early! If you have any history of cancer in your family I suggest looking into it and considering genetic testing and preventative screening. It has saved my life.
Any advice on how to get through treatment and recovery more easily?
Connecting with YACC's Facebook, website, conferences, retreats, and Localife events, of course! [Editor's note: You can learn more about all those programs here.]
Also, if you live in Calgary, Toronto, or Oakville, I highly recommend the programs offered through Wellspring, a not for profit organization that offers free programs for cancer survivors. In particular I found their cancer exercise program (tailored to your needs with trained physiotherapists) extremely helpful. I also enjoyed the gentle yoga classes they offered. Those programs helped boost my confidence, rebuild my abdominal muscles, and kept me going when I was feeling depressed.
On an emotional level, it really helps me to accept and honour the difficult emotions I feel so they don't get stuck or come out sideways. I do this through talking with other survivors and friends/family, journaling, reading books written by survivors, and meditating (I do Vipassana meditation).
How are you connected with Young Adult Cancer Canada? 
I attended the YACC Conference in June. I've been to several Localife Toronto events. I also stay connected to YACC friends through YACC's Facebook page.
Are you interested in helping others facing cancer challenges?
Of course. Please feel free to connect with me through YACC.
Email connect@youngadultcancer.ca if you would like to get in touch with Alix!