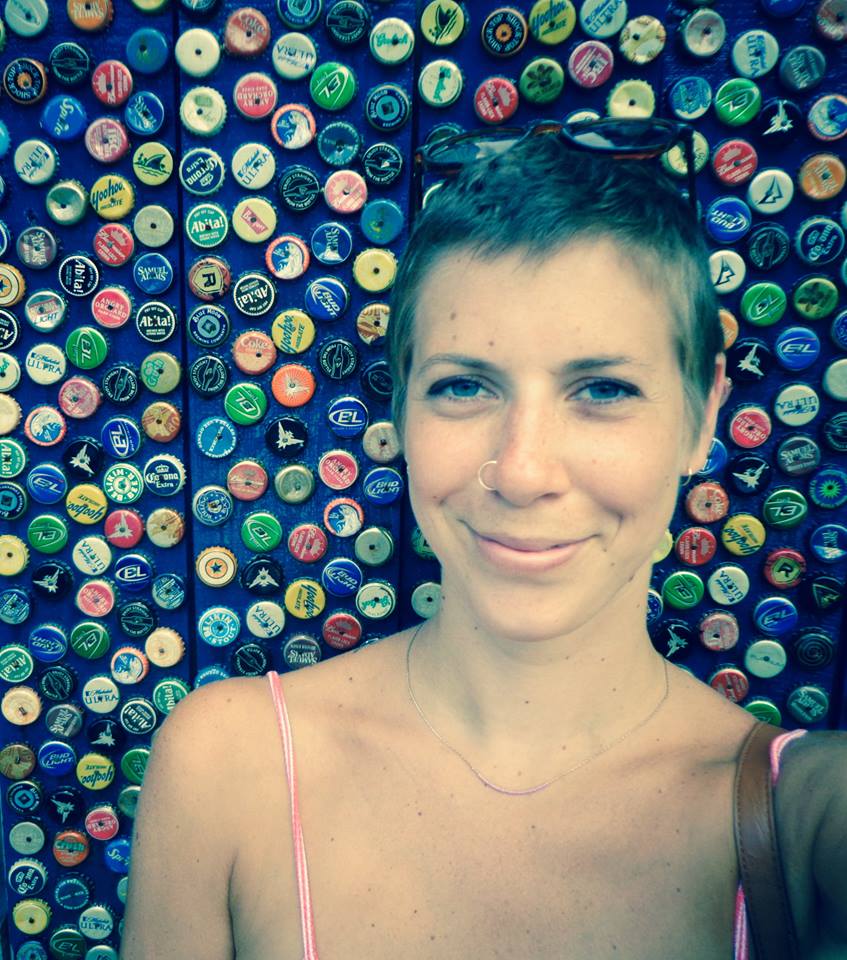 Name: Anaïs Labrèque
Age: 26
Hometown: Ottawa, ON
What was your diagnosis?
Hodgkin's lymphoma, stage 4B
What are your career goals?
I should probably know this by now, but I don't.
Maybe work in the adventure travel world? Be a yoga teacher? Own a hostel on a beach somewhere? Join the circus?
Your cancer experience:
How did you find out you were sick? What led to your diagnosis?
I found out I had Hodgkin's lymphoma at 23 in October 2013 after about three years of misdiagnosed symptoms. It started off with chest pain and coughing and was told I had a pneumonia, then asthma, then pneumonia again. When I started having all the major symptoms (lost 20 per cent of my body weight, major night sweats, itching, chest pain, fatigue, fever, etc.) I was told I probably had tuberculosis since I'd recently come back from a trip to Brazil. After a week of isolation and testing, I found out it was stage 4B HL after all. My left lung was 80 per cent surrounded by cancer as well as smaller nodes in my sternum and neck.
In which hospital were you treated?
General Hospital in Ottawa
What were your first thoughts when diagnosed?
Of course I have cancer. F**k my life.
How did your family react?
They were all very supportive. None of them really showed just how much it affected them — not around me anyways! But I knew I could count on them even if I never liked asking for anything. I'm especially grateful for my papa who was constantly there without being overbearing. That's a rare quality that he kept on most days.
How did your friends react? Were you treated differently, or did things remain the same?
I couldn't have asked for better best friends. They were there supporting me each step of the way through the good and the bad times. Never missed anything from a movie night at home — where I'd sleep through the whole thing — to a "last" drunken dance night out (there may have been a few of those). They even got together and threw me a MASSIVE fundraiser, where I was literally crying of joy and couldn't sleep from being high on all the love. On the other hand, some people I considered close friends couldn't even make the effort to text me while strangers offered me help all the time.
What did your treatment consist of?
I started with six months of ABVD chemo every two weeks. I went back to working as a server part-time in the spring of 2014 before receiving the PET scan results. I found out in June that I still had active cancer cells and was told the next step would be an autologous stem cell transplant. I decided to keep working a bit then to enjoy the rest of my summer camping and such before doing more treatments.
That summer I saw a naturopath and did an intense ketogenic diet (which I HIGHLY recommend) as well as mistletoe injections. I proceeded to do the autologous stem cell transplant in the fall (worst f***ing time of my life), and was declared in remission in February 2015.
As I was finally getting ready to go back to work, my six month post remission scan in August showed active cells in four areas in the chest as well as spreading to my pelvic area. I'm about to go on Brentuximab with the hopes of controlling and minimizing the tumours until better treatments come out in Montreal within the next couple of years. Worst case scenario would be an allogeneic BMT.
I've also had quite a few mishaps along the way such as skin hyperpigmentation, blood clot in my arm, pulmonary embolism, allergic reaction to a blood transfusion, interstitial pneumonitis induced by bleomycin, etc.
Emotionally, I did ridiculously well until right after the BMT. For some reason, I went into a pretty serious depression after the bone marrow transplant. I was so incredibly lost in my life and I couldn't figure out why. I guess I expected to jump right back into my old life and if you've had cancer you know that's BS. I slowly got better losing myself to exercise and yoga and the major turning point was finally being able to travel. I felt like me again.
How is life different for you now?
For most people I've met, they regain their healthy mental state before their body strength. It was the opposite for me. All the exercise I did (I considered it my job) really got my body in a pretty good shape considering it takes years after a transplant to really get back on your feet. Emotionally it was harder, but I'm finally in a good place. Socially, I've always been really open with my situation (it's hard to hide it anyways) and I think it's scared some people away since they didn't know how to react. I honestly wish people would just ask questions — any and all questions! It's better than saying nothing. When my hair grew back to a somewhat appropriate length, I was finally at a point where cancer didn't come up in every single conversation and I seemed to be more comfortable around strangers again, which was something I missed dearly!
What is the toughest part of your challenge?
I'm not scared of dying, but I'm scared of not living. Treatments take away so much life out of you. There were and are so many things I love that I couldn't do — anything from reading a book to travelling the world.
What was the best lesson you took away from your challenge?
Give every day the chance to be the best day of your life.
What really motivates you?
I have so much life in me to live. I just can't let it go to waste.
What are your thoughts and feelings about your illness now?
I didn't think cancer would ever affect me the way it did. No, it'll never be just a bad nightmare. I've got to accept it and make the best out of the life I was given.
What are some preventative measures that people can take to lower their risk of having an experience like yours?
I've learned that reaching out is huge whether you feel you need it or not. I feel amazing knowing there are people like me who understand it all. I also wish I had met some of my fellow blood cancer siblings earlier on to help me out with the lingo! Oh! And take advantage of what's being put out there for you; it's there for a reason!
Did you attend any support groups during your challenge?
I started doing the YACC Localife events pretty early on just to keep me busy with people who wouldn't judge me by the look of my hair (couldn't manage to make any "healthy" friends during treatments!). I enjoyed the company of other survivors without any forced conversations. When I started feeling down, I also joined a support group at the hospital, and did the YACC Retreat Yourself Ontario 2015 in Toronto.
These helped me tremendously at the perfect time in my life. I shared buckets full of tears with my fellow survivors until I couldn't shed a tear anymore. Now my eyes are dry! I can't thank YACC enough for helping me through all this crap! Good thing my favourite bridgehead barista told me all about you. We need to get the message out to more young adults! YACC's GOT OUR BACKS.
Are you interested in helping others facing cancer challenges?
Yes!
If you are interested in getting in touch with Anaïs, please email connect@youngadultcancer.ca and we'll pass along your message.