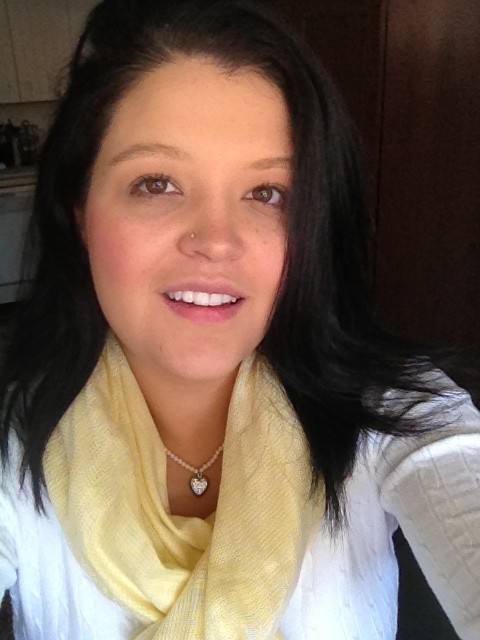 Name: Anna Bell
Age: 27
Hometown: Red Deer, AB
What was your diagnosis? Breast cancer
What school did you attend? Yukon College
What is your occupation? Administrative Assistant
Your cancer experience:
How did you find out you were sick? What led to your diagnosis?
I found a lump in my left breast while massaging sore muscles and thought it could have been caused by my recent arm workout. A couple of weeks later, I broke out in a rash on my abdomen and chest, and while at the doctor's office, I casually brought up the lump that was still in my breast. I was ordered to get an ultrasound a week later, and during that, I was ordered a mammogram on the spot. I knew something was wrong when they turned the ultrasound monitor from my view.
After the mammogram proved I had cancer in the majority of my left breast, I had a core biopsy to find out the stage and type (where and what). The results showed that the lump was a benign tumour, and because of that tumour, we were able to find cancer throughout my milk ducts.
What year was it? What was your age at the time?
January 2015, and I was 27.
In which hospital were you treated?
Red Deer General Hospital
At what level of education were you at diagnosis? 
Certificate
What were your first thoughts when diagnosed?
Is this a joke? Is someone playing a joke on me? Is this happening? I am only 27.
How did your family react?
My husband was holding my hand when we were told that I have cancer. After my immediate denial, he assured me that it was no joke, that this was really happening and that we would get through everything together.
We told our four-year-old daughter and assured her that she didn't do anything wrong, that she is healthy, that I was going to be okay, and she would be looked after by us and our family. She has been my little rock since day one. I didn't want to hide anything from our daughter; I wanted to be open and honest and that has allowed her to ask me questions and talk about cancer freely.
How did your friends react? Were you treated differently, or did things remain the same?
My closest friends live in Whitehorse, Yukon, so they supported me long distance. When I was first diagnosed, they sewed me a quilt made from patches of their favourite sweaters so that I could feel them hugging me throughout this journey. I have cuddled that blanket every day since the day I received it, and even brought it to the hospital for my surgery. In fact I am cuddled up to it as I type this.
I have made some great friends in Red Deer and those friendships have been getting stronger as they have been by my side through all this. They have been giving me encouraging words and positivity, stopping by for visits and endless offers of help.
What is your current medical status?
Post-surgery. Cancer took over 3/4 of my left breast so we were confident in a mastectomy, and due to my age and family history, I opted for a double mastectomy.
What is the toughest part of your challenge?
I found it was an easy decision to remove cancer, but it was very difficult to decide how to rebuild my body with reconstruction. We are so fortunate to have so many options today, but I found that to be overwhelming.
What was the best lesson you took away from your challenge?
I have discovered how important I am and how fortunate I am to live this life. I have spent months focusing on self-compassion and surrounding myself with positivity, and I look forward to continuing on that path.
What are your thoughts and feelings about your illness now? Have they changed since before your diagnosis?
At first I didn't think that it was fair that I was enduring this, and certainly that it happened before I turned 30. I could not have done better to prevent this from happening, so I understand that this was meant to be a part of my journey in life.
What are some preventative measures that people can take to lower their risk of having an experience like yours?
You can never be too young for cancer so get regular check-ups, live healthy, and if you find a lump, get it checked right away.
Did you attend any support groups during your challenge? If so, did you find it helped?  There are no support groups in the city that I live in, which is very upsetting. I was fortunate to join an online chat group for cancer patients, and I found so many people to relate with.