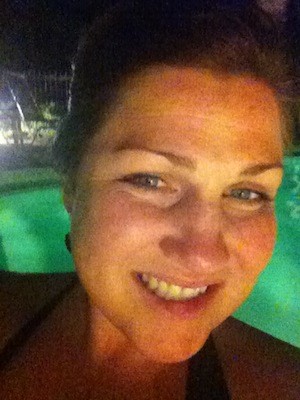 My name is Annemarie McCrie. I am 37-years-old. I was born and raised in Calgary, AB, and I moved to Edmonton in the year 2000. I attended SAIT and NAIT and have a Journeyman Sheetmetal and Journeyman Gasfitter Tickets. I work for the City of Edmonton as an HVAC SafetyCodes Officer and I was the first female in Canada to be hired for my position. I had accomplished my dream job and felt as if I was on top of the world.
A year and a half into my employment, I started to get an enormous amount of back pain. Unfortunately after a number of tests and specialists, I was diagnosed with 2A Hodgkin's lymphoma at 30. I was obviously devastated that cancer was going to interrupt my life plan. I was originally treated at the Cross Cancer Institute with the typical eight months of ABVD and 30 days of radiation.
Everything seemed to have gone as planned, and I returned to work full-time after three months. I thought I was ready to dive back in and make up for lost time. I had a lot of anxiety at that time; really pushing myself to perform and be the person I used to be. Everything seemed to continue to fall apart around me. I slowly lost contact with friends, I was being treated differently at work, and I didn't have opportunities presented to me as the other employees did. My boss actually hauled me into the office one day and said I was "unreliable" because I had been sick.
Symptoms began to return within a year. I continued to work to try to "save face," but my health continued to decline. My oncologist was testing me continually but tests were coming up inconclusive. It was a horrible time; I felt like I was living a nightmare, and I was. After two years, my oncologist left on maternity leave and things got even worse. I was lost in the system and I only ever saw a nurse on my hospital visits. The cancer spread through my entire lymph, my spleen, my kidneys and my bone marrow. I became bedridden and was close to death.

Desperate, my family flew me to the Mayo Clinic Arizona. It took them a week to stabilize me with blood transfusions, etc. They asked me, "Why are you here? What would you like us to do for you?" I said, "Please, I need help, could you refer me to the Tom Baker Cancer Centre in Calgary?" They had contacted the top specialists at Tom Baker within hours and informed them of how sick I was. I was flown to Calgary and immediately admitted to the transplant clinic under the care of Dr. Bahlis.
I lived on the fifth floor of the Tom Baker for the next nine months. I received four straight days of R-CHOP to start, followed by two back-to-back tandem stem cell transplants, and–to top it off–another 30 days of radiation. A miracle occurred and it seemed as if the treatments had been successful.
I was released and allowed to live at my parents' house in Calgary as long as I was within a half an hour travel. I was very weak and living in my parents' living room. I started to attend Wellspring almost five days a week, and that really helped my spirits. I then heard about YACC and enrolled in what they had to offer. I also attended a Threads retreat in Canmore, and a Survive and Thrive with Mikey. I had moved home to my own place within the year. I continued to attend as many self help or support groups that I could. I began to travel on my own with my dog because my husband worked and took care of us.
As of March 24,2014, I have been cancer-free for three years. I cannot believe it! I am so thankful to be alive and to still be here to meet beautiful people and see beautiful things. I still have my job. I have begun to make new better friends, and I am still happily married. I have had wonderful experiences and have met fantastic people because of the organizations that are available during the cancer journey. I am not sure what will happen next, but the one thing I have learned–and will execute–is to follow my heart and just BREATHE along the way.