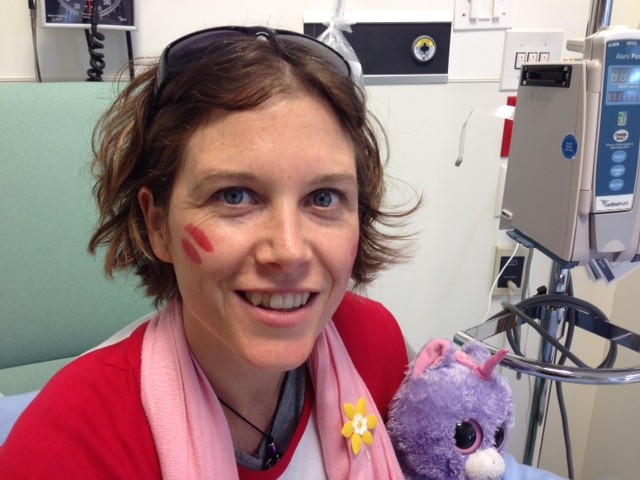 Name: Cindy Faas
Age: 35
Hometown: Calgary, AB (born and grew up in Deux Montagnes, PQ)
What is your diagnosis?
Breast Cancer clinical stage 3 (invasive Ductoral carcinoma — two lymph nodes and a lump in my right breast)
What school did/do you attend?
University of Calgary (graduated in 2001)
What are your career goals?
To do something meaningful with my life now that my eyes have been opened to what is important in life.
What is your occupation?
Service Design Analyst at CP Rail
Your cancer experience:
How did you find out you were sick? What led to your diagnosis?
I found a lump while doing a self-breast exam on St Paddy's weekend. I went to a walk in clinic that Monday because I was in-between family doctors at the time, and she sent me for mamo/ultrasound, and then a biopsy (they still didn't know what it was) which came back positive for breast cancer.
What year was it? What was your age at the time?
Just this year, 2014. I'm 35
In which hospital are you treated?
I am being treated at Tom Baker Cancer Center.
At what level of education were you at diagnosis?
Bachelors of Sociology with minor in Philosophy (concentration in criminology) at U of Calgary. Graduated in 2001
What were your first thoughts when diagnosed?
How do we treat it? I was a basket case for the two weeks they were doing the mamo and biopsy. I went to all the bad places in my head, but when the doctor told me "it's breast cancer," I went into "warrior mode," as cheesy as that sounds. I have been positive and focused on fighting ever since.
How did your family react?
My hubby was in the room with me when the doctor said, "It's breast cancer." After being my rock for the previous two weeks of tests, he broke down the second the words were out of her mouth. He's been amazing and by my side through every appointment. We are each other's rock now.
When I was two years old, my dad died of prostate cancer at the age of 35 (over 30 years ago, so very different time), so I was terrified about how my mom would react. But, I think because I was in such a positive place — even right at diagnosis — she and my (step) dad were OK. My in-laws were upset, too, obviously, but I think they have all taken their cues from me, so it has been way less worse than it could have been. My sis-in-law took it pretty hard cause she was my support for the whole two weeks of testing, etc., but it was just a moment, and she has been one of my biggest supporters all along.
How did your friends react?
Overall, my friends have been amazing. Initial reactions were varied. Most were pretty upset, but I started a blog and when they saw I was laughing and finding the humour in the situation, things are pretty much back to normal. I've had support from friends from across the globe, and some from as far back in my life as Kindergarten. I'm extremely fortunate to have such a huge rallying group of close and distant friends. They are what get me through the bad moments. It's brought us closer together.
What did your treatment consist of?
I'm starting with chemo pre-surgery. They want to shrink the tumour and the two affected lymph nodes. Then surgery (no idea what that looks like yet; the surgeon said we'd chat and meet during chemo process to discuss options, etc. depending how I respond to chemo). After surgery my oncologist mentioned radiation as well, but no idea how much yet. Too far off. Chemo treatment is FEC D, once every three weeks for eight treatments. FEC drugs first for four treatments, then the D drug for the last four. I've had one round, and so far it's been not bad at all. I've exercised every single day and been able to manage the nausea. I think the anti-nausea pills are actually too strong because within an hour of taking them (during the first three days), I felt worse than before I took them, so we need to tweak that. After the first three days, I haven't had to take any pills at all, and I hope it stays that way since I have two small kids with boundless energy (three- and five-years-old).
What is your current medical status?
In treatment.
How is life different for you now post diagnosis?
I see life completely differently. I don't take anything for granted. It's taught me about gratitude and what is important. I feel more compassionate because you never know what battles someone may be fighting. Being at the start of my journey, I do have fears about getting sick while on chemo, but I'm learning to manage those feelings. I realize I really get my strength from those in my life, so being around people is vital to my sense of well-being. I plan on doing lots of meditation, yoga, and just making sure I am balanced, in all senses of the word.
I do feel more spiritual like there's a higher purpose and this is the push I needed to really appreciate all the amazing things in my life. I've done a 180 on my diet and now eat more veggies than I thought possible! Basically I look at food as serving a purpose, which is to help my body fight. If it can't help, it doesn't belong in me. That is not at all like how I saw food before. It's hard, but I think all meaningful change is, so I'm comforted that it's not easy in a way.
What is the toughest part of your challenge?
The mental challenge is hardest I think — making decisions that can potentially affect the outcome of your life. It's difficult to find a balance between focusing on the "now" instead of getting ahead of yourself, while looking far enough ahead to have a goal, and being aware of the measles "outbreak" in the city while I have no immune, so managing the "threat" while still living my life and seeing those I care about.
What was the best lesson you took away from your challenge?
You need to slow down and smell the roses. Nothing is guaranteed in life. And you are much stronger than you ever knew.
What really motivates you to keep going?
My kids, and my focus on the "end game" of getting rid of the cancer. Exercise, too, feels like I'm giving cancer the finger, so I have a big grin on my face anytime I exercise!
What are your thoughts and feelings about your illness now? Have they changed since before your diagnosis?
Yes, cancer was a death sentence to me before I was diagnosed. Strangely, I have never seen it as a death sentence since the moment I heard the words "it's breast cancer," it's just a big, pain in the butt hurdle I need to face. And no, I do not see it as a "gift," however I think it has changed my life forever — for the better. So for that, I am thankful.
What are some preventative measures that people can take to lower their risk of having an experience like yours?
First, ladies please do self-breast exams. Honestly, had I done mine more regularly, I may have caught this sooner and maybe before it was in my lymph nodes. I also have a blog which is extremely therapeutic for me because it forces me to find the humour in all kinds of situations and helps me to process everything. If you aren't good with being that open (Ha! The Internet is a bit much for some, I get that) at least keep a journal if you can.
I signed up for Wellspring resources, too (like classes, etc.) and I spoke with the amazing people at ReThink Breast Cancer who focus on young women and young moms. Find all the resources you can and you are bound to find something that works for you (obviously including YACC).
I also got a book called Crazy Sexy Cancer Tips that has been amazing. It has some awesome practical tips in there for women with all kinds of cancers.
Try to find at least one person who is going through a similar cancer as you, but even just finding someone with cancer in general at the same life stage would work too. My friend (who I met since diagnosis) has been a life source for me when no one else will get it. After going through two pregnancies with horrendous morning sickness, anyone who wants tips on managing nausea, feel free to contact me! I have been managing very well so far. That has been HUGE.
Did you attend any support groups during your challenge?
Not yet, but I plan on it ASAP just to be able to talk to others going through this, although it sounds like there are not a lot of young people, so not sure if it will help. I'll try it and see.
How are you connected with Young Adult Cancer Canada?
Both my surgeon's nurse and Wellsprings Calgary told me about YACC, so here I am!
Are you interested in helping others facing cancer challenges?
YES! I am very passionate about helping others. I am fortunate to be in a really, really good place mentally, and it happened quickly for me, but I met one poor lady who couldn't even come into the chemo room when we toured it and it broke my heart that she was so traumatized (I gave her a big hug, but afterwards wished I had also given her my number). So, I'm listing a whole bunch of contacts below, but it's because I am open to whatever someone may feel most comfortable with!
Email [email protected] if you are interested in connecting with Cindy, or check out her blog, My Inner Ninja.