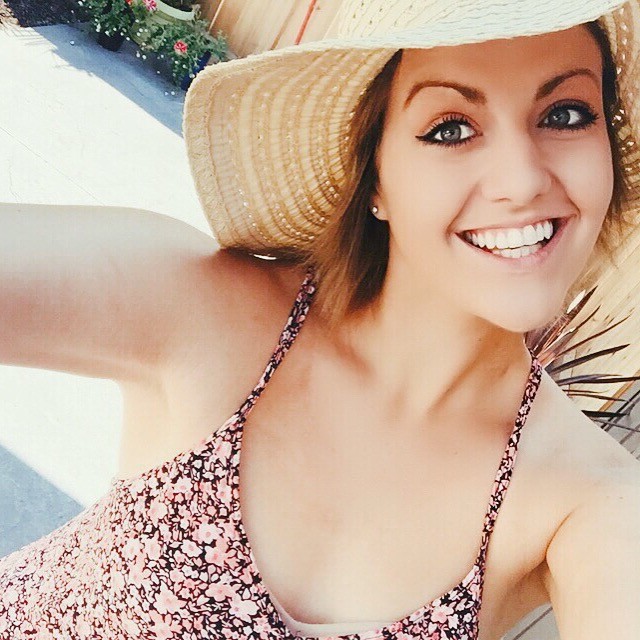 Name: Emily Ager
Age: 21
Hometown: Sarnia, Ontario
What was your diagnosis? Stage 2B Hodgkin's Lymphoma
What school do you attend? Brock University
What is your career goal? Counselling psychologist for adolescents with mental and/or physical illness
What is your occupation? Student
Your cancer experience:
How did you find out you were sick? What led to your diagnosis? 
Excruciating chest pains. The doctor at the hospital in St. Catharines told me it was "just" anxiety, but over the next two weeks I experienced drenching night sweats, indescribable fatigue, and a large painful lumps in my neck. Then I was booked for tests — blood test, neck ultrasound, chest X-ray, CAT scan, chest biopsy, and finally, a neck biopsy that confirmed my biggest fear: cancer.
What year was it? What was your age at the time?
I was diagnosed on Valentine's Day 2014. I was 20.
In which hospital were you treated? 
London Health Sciences Centre
What were your first thoughts when diagnosed?
"What? I'm 20 years old. I don't have cancer. This must be a mistake."
How did your family react? 
Disbelief. Scared. And tears, lots of tears. But so much love, support, and strength.
How did your friends react?
I guess it varied; some retreated and some did whatever they could to help out. I don't think anyone knew how to treat me because being a teenager and watching your friend battle cancer isn't exactly on anyone's bucket list. Regardless, the support I had was truly incredible.
What did your treatment consist of? 
Eight rounds of chemo, ABVD, for total of 16 treatments, one every two weeks. The chemo made me extremely nauseated and tired. I would throw up for three days after chemo and generally slept 18 hours a day. I also experienced painful mouth sores, flushing, and hyperpigmentation of my skin (specifically stomach and back).
Emotionally, I was a roller coaster. Up, down, and all around. I guess the only thing that was constant was that every Wednesday that followed my Monday chemo was "Wicked Wednesday." I was irritated, low, and just wanted to be left alone. Thankfully, my parents realized this before any harm was done!
What is your current medical status?
In remission since November 13, 2014!
How is life different for you now post diagnosis? 
I feel as though going through cancer at such a young age matured me by years. I try to live day by day and find something good in each day. I find pleasure in writing, yoga, nature, photography, etc. These are things that I didn't do much of before diagnosis. I now know that life can change in an instant so I don't take anything for granted. I am thankful for every day. I am still working on improving my physical strength and endurance as well as mental health (specifically anxiety regarding reccurrence). But honestly, I'm stronger than I've ever been in my life.
What was the toughest part of your challenge?
Losing my hair. No one pictures spending their 20th year of life bald, but this became my reality. I guess, to me, losing my hair felt like I was losing myself. I lost my eyebrows and my eyelashes, and it felt like my whole identity had been taken away. I remember avoiding mirrors because I didn't recognize the person looking back at me.
What was the best lesson you took away from your challenge? 
You are stronger than you know and loved more than you could imagine.
What really motivated you to keep going while you were sick? 
My support. My family and friends were my lifeline. And hope. Hope for a healthy future.
What are your thoughts and feelings about your illness now?
Before diagnosis, I thought cancer was invincible. I was ignorant to positive cancer-beating stories. The media likes to portray cancer as lethal and lethal only. Now I realize that anything in life can be overcome. Strength, hope, support, and love are so much stronger than any illness.
What are some preventative measures that people can take to lower their risk of having an experience like yours?
If you aren't feeling well, go see your doctor. Don't sit around and wait for things to get better on their own. Educate yourself. Know the symptoms and how to identify them. Surround yourself with positive people. Toxic people do nothing but bring you down. Never take anything for granted. Do things you've always wanted to do. Enjoy life: the ups, the downs, and the in-betweens. And, most importantly, love yourself. You  are strong, you are important, and you are so very loved.
Did you attend any support groups during your challenge? 
Unfortunately, no. There were none available in my area. I would have found a support group extremely beneficial in dealing with my feelings of isolation and "unknown." I felt a lot of "I could tell someone, but no one would understand because they haven't been through it." I could only imagine a support group would crush this belief. However, I did connect with other young adults through social media which positively impacted me and my cancer experience.
How are you connected with Young Adult Cancer Canada? 
A fellow cancer survivor from my hometown messaged me on Facebook about YACC. We went to Retreat Yourself ON in April 2015. I also went to Survivor Conference in May 2015. To say that YACC has changed my life is an understatement. I've met some of the most inspiring, beautiful, and kind-hearted people in the world. People who just get it. People with such large hearts. People who have been damaged along the way but continue to fight. Fighters. Warriors. Warriors who have made me realize that I will NEVER be alone in whatever the future brings.
Are you interested in helping others facing cancer challenges? 
Absolutely! I am available through email, phone, or Facebook.
If you would like to get in touch with Emily, please email connect@youngadultcancer.ca and we will send a message to her.