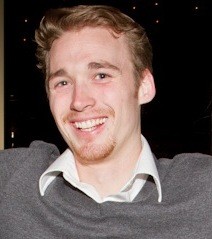 Hometown: Brampton, Ontario
Age: 27
What was your diagnosis? Grade III Oligodendroglioma
What school did/do you attend?
Brock University (Bachelor of Physical Education and Kinesiology, 2010), Western University (Bachelor of Education, 2013)
What is your career goal? Teacher
Your cancer experience:
How did you find out you were sick? What led to your diagnosis?
I had a seizure in January 2011 and was rushed to the emergency room. I was in a medically induced coma for five days while the doctors ran tests. When I woke up, I was told there was an unknown mass in my head.
What year was it? What was your age at the time?
January 11, 2011. I was 24.
In which hospitals were you treated?
Brampton Civic Hospital, Trillium Health Centre in Mississauga for my surgery, and Princess Margaret Hospital in Toronto for my chemo and follow-ups.
At what level of education were you at diagnosis? 
I had just finished my bachelor's and graduated from Brock University in June 2010 and I was waiting to hear back about teachers college applications, which I had just finished.
What were your first thoughts when diagnosed?
I was afraid and uncertain about what was going to happen, about what was going to come next.
How did your family react? How did your friends react? Were you treated differently, or did things remain the same?
My family and friends came together to support me the best they could. I kept a lot from them, mostly because I didn't know how to deal with anything I was feeling. There were times when I would let some of it come out, and for the most part people were supportive and understanding of that.
What did your treatment consist of?
I was on an oral chemotherapy; I took Temozolomide for 12 months after I had surgery to have most of the tumor removed. I've been on Keppra, an anti-seizure medication, since January 2011 and I have been seizure-free ever since.
Since all of this began, I have faced depression and anxiety issues. I was unmotivated and generally frustrated with what was going on. During treatment I was all over the place and could barely focus on anything passed the present moment. It took several months to transition out of that mindset when treatment ended. It was a shock because I was living in this bubble of a routine for about 15 months, and then it just ended. For me it was surreal and completely underwhelming. I might be paraphrasing a bit here, but it seemed like it was "You're done treatment. We have a follow up appointment in three months." Nothing had really changed. Chemo is over, but I'm still a patient. Cancer isn't my whole life anymore, but it is still part of it. It's like having an inconsiderate roommate who moves out but still comes by to ask you for things.
What is your current medical status?
Currently I go for check-ups and MRIs every six months for monitoring.
How is life different for you now post diagnosis?
I became more involved in my life. I decided to take more control and make more decisions for myself. I was going with the flow, and now I have more of a focus. I think some people call it living deliberately. Basically, I just try to be the best person I can be.
What was the best lesson you took away from your challenge?
Staying positive and really looking for what options I have in any given situation. Life throws you curve balls and you can either accept it and move on, or let it hold you back. I often ask myself, "What can I do to make this better?" I can't change my cancer, but I can change how I react (emotionally) to it.
What are your thoughts and feelings about your illness now? Have they changed since before your diagnosis?
At first I was just sad and depressed about it, but that got boring real fast. I want to be indifferent to it, but I've just kind of accepted that this is just something that I can't physically change.
What are some preventative measures that people can take to lower their risk of having an experience like yours?
Things get dark, and you will feel low. It is something that happens, but for every dip down, there is a rise up. I never thought I would feel happy again when I was in treatment; it was a really dark time for me and there was a lot I wish I could've done differently, but I'm grateful for coming out of it. I would say just try to look for the good in every situation, look for the people or things that make you feel happy and focus on that.
Another thing I learned, and I am still working on, is being vulnerable. If you're not feeling 100 per cent, let others know; there isn't any shame in letting others know. Don't be afraid to let people know. It's surprising how much that can help you deal with situations.
Did you attend any support groups during your challenge?
I went to one support group very early on after my diagnosis and I decided it wasn't what I needed at that point in time. It was early on in my treatment and I wasn't open to that kind of contact with the cancer community, so I didn't go back. I still haven't, but maybe I will do something about that soon.
How are you connected with Young Adult Cancer Canada?
I found YACC almost by accident. I was Googling about brain tumors in Canada and stumbled upon it. I just happen to come across a profile on YACC's website of another survivor. Their journey and story was eerily similar to mine, which I found insightful. From there I found out about Retreat Yourself East, applied, and attended. I also attended the Survivor Conference in the fall of 2012.