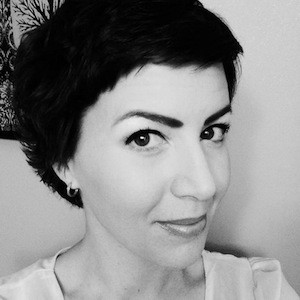 Name: Kathy Stock
Age: 30
Hometown: Mount Pearl, Newfoundland
What was your diagnosis? Stage 2 Hodgkin's lymphoma
What is your occupation? Musician/author
Your cancer experience:
How did you find out you were sick? What led to your diagnosis?
Upon returning home to Canada after spending eight years living in the southern USA, I decided I was going to take advantage of our accessible healthcare system and get a thorough check up. I told my family doctor that for about a decade I struggled with mild digestive issues so he scheduled a non-urgent Upper GI scan. Eight months later during this scan, the technician caught a glimpse of enlarged lymph nodes in my chest, just in front of my heart. I had no real symptoms of the disease and the stomach issues were completely unrelated.
What year was it? What was your age at the time?
It was 2013 and I was 29-years old
In which hospital(s) are/were you treated?
I received care from both St. Clare's Hospital and The Health Sciences Centre in St. John's.
What were your first thoughts when diagnosed?
Initially I was shocked because I didn't feel sick at all, but soon after I had a very odd peace about everything and was thankful it was caught early.
How did your family react?
The initial phone call was rough. My husband rushed home from work and we just hugged tightly into each other for a while until we could grasp what was going on. My parents were shocked when I called them. It took about a month to have a biopsy and confirm the diagnosis, so by the time the actual diagnosis came, everyone was strong and ready to help me fight the battle.
How did your friends react?
In the beginning the support was overwhelming. My church, my friends–even people I have never met before were sending money, gifts, care packages, thoughtful emails, and meals. We had a lot of help with childcare and food. As treatment went on, the support slacked off, but that's to be expected. All in all, I feel lucky to have had the support system I had.
What did your treatment consist of?
I had ABVD chemo that was administered every two weeks for two months. Then I had to take a break in order to have a PET scan in Halifax, then continue with another two months of treatment. I had some digestion issues, burning mouth, loss of hair, and extreme fatigue. I gained about twenty pounds from steroids and eating for comfort. My WBCs were obliterated which required regular neupogen injections. Those caused a lot of bone pain. I had some aches and trouble sleeping, some headaches and mild nausea. All in all, I think my body tolerated the chemo well. I would have good days and bad days but for the most part, I was able to maintain some normalcy in my life. Thankfully the PET scan revealed my cancer was shrinking so I did not have to have radiation.
What is your current medical status?
I have been in remission since my last chemo on July 11, 2013.
How is life different for you now post diagnosis?
Everything is different. Physically, I'm starting from scratch in the gym, rebuilding muscle and trying to lose the weight I put on during treatment. I have days when I get extremely fatigued. I still have night sweats and hot/cold flashes but this seems to be due to the hormonal changes the chemo has caused. My hair is growing back very quickly–thicker and much healthier than before.
I feel as though I am a better wife and mother now because my priorities are different. I cherish each moment and the health and strength I have to spend time with my family.
Socially, I struggle with the isolation of being a young adult cancer survivor. I was the first of my peer group to develop a life threatening disease and sometimes it can feel a bit lonely dealing with the mental games that cancer survivors have to play (Is it back? Am I really OK? What if it returns?). That's why finding YACC has been so great. It's a reminder that as a young adult cancer survivor, you really aren't alone. There are other people who get it.
Spiritually, I am stronger in my Christian faith. I have seen that God can take something diseased and ugly and horrible and turn it into something beautiful, something that brings people together and re-prioritizes a life. All in all, there are hard days but I think I'm better and stronger for having gone through this battle.
What was the toughest part of your challenge?
The toughest part was having my identity stripped away. When I couldn't be the mom or wife or friend I wanted to be, when I couldn't work, when I lost my hair and gained weight and had scars from my biopsy/port implant, I didn't look, act or feel like me. I remember one day looking in the mirror and not recognizing myself. That was really hard.
What was the best lesson you took away from your challenge?
I learned that everything can be stripped away, and if I'm still here, I still have worth and purpose. My identity isn't in looks, jobs, roles, or even health. It's in the eyes of my creator and the way I use my circumstances to give back to the world.
What really motivated you to keep going while you were sick?
My kids and my husband motivated me the most. On the days when I wanted to crawl into a hole, I couldn't because my kids needed me. They were my reason to face the day most days when I couldn't think of any other reason.
What are your thoughts and feelings about your illness now?
I have a love/hate relationship with my illness. I hate that it caused myself and my family/friends so much fear and pain and stress…but I'm thankful for the lessons it taught me and the woman I am now. I hate that not everyone has the same positive outcome in their cancer journey and sometimes feel a heavy dose of survivor's guilt while simultaneously feeling grateful to be alive. It's a weird place to be but I'm thankful I'm here to experience it and walk through it, one step at a time.
What are some preventative measures that people can take to lower their risk of having an experience like yours?
I believe that cancer isn't picky; it can happen to anyone at anytime. That's not meant to scare anyone, it's simply a harsh reality, but the important thing I had to keep remembering was that even after my cancer diagnoses, nothing was really different than it was before. Tomorrow is not promised–and that's the same whether you have cancer or not–so live each day to the fullest and let tomorrow's worries take care of themselves.
Did you attend any support groups during your challenge?
I went to see a therapist a few times throughout treatment just to make sure I was navigating things in a healthy way. I found that helpful.
I also visited Geoff Eaton at YACC during treatment, and it was comforting to sit face to face with someone who "got it." Other than that, there weren't many support groups available. If there had been a support group for young adult cancer patients, I definitely would have taken advantage of it. Young adults facing serious illness and harsh medicine need to know they aren't alone and they need the understanding of other people walking through it.
How are you connected with Young Adult Cancer Canada?
Geoff Eaton received my name from a mutual friend and I became connected to YACC through him. I will be attending Retreat Yourself Ontario this April and I'm both nervous and excited about what that will entail. All in all, I'm thankful there's a community to support people like me and to connect us to one another.