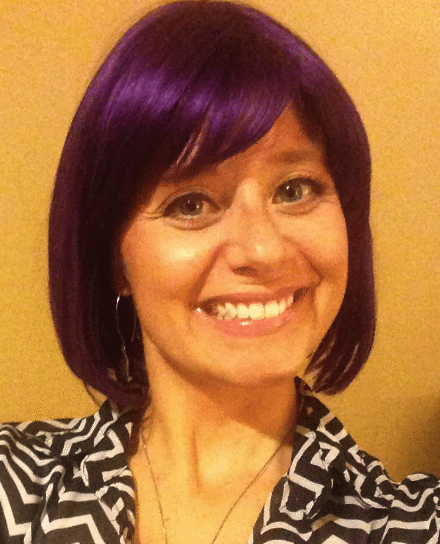 Name: Katie Murray Johnson
Age: 28
Hometown: Strathmore, AB (I live in Sylvan Lake now)
What was your diagnosis? Choriocarcinoma (Gestational Trophoblastic Neoplasia)
What school did you attend? Strathmore High School
At what level of education were you at diagnosis?
Registered Dental Assistant
What are your career goals?
I would absolutely love to use my passion for taking photos and creative writing for a career.
What is your occupation? I am a dental assistant.
Your cancer experience:
How did you find out you were sick?
In May 2014, I was having issues regulating my cycle, so I went to the doctor's office to get a new prescription for birth control pills. The doctor gave me a pregnancy test and told me that it was positive. The next day, I went to the ultrasound technician and they we unable to find anything. The obstetrician said I had a miscarriage and that would be the end of it. My doctor decided to keep monitoring my blood pregnancy hormone (HCG) levels; they kept climbing. It was decided that I had an ectopic pregnancy, and after a series of daily blood tests and very small doses of methotrexate (to dissolve the ectopic), my HCG levels kept climbing.
In August 2014, it was decided that I'd have a laproscopic surgery to find the "ectopic pregnancy." Much to my dismay, my HCG levels kept rising. I was referred to a specialist in Calgary, and that is where I had a LEEP surgery done. On September 8, 2014, my doctor called and told me that it was, in fact, cancer.
What year was it? 2014
What was your age at the time? 27
What were your first thoughts when diagnosed?
I'm sure a billion things ran through my mind, but from what I can remember, it was mostly disbelief. "How is this possible?" "I have actual CANCER? WHAT!" "WHY?!"
I also remember thinking "How am I supposed to tell my family this horrible news?"
How did your family react?
The best way any family could react. They were strong and steady and so positive. Shaken, but their unwavering support is what I remember most.
How did your friends react?
My friends were also very shocked, but stood behind me with more support I could ever imagine. I couldn't believe the love I was given by both my family and friends.
Were you treated differently, or did things remain the same?
They did everything perfectly: made the right jokes at the right time, always kept a smile on my face.
In which hospitals are you treated?
My oncology team is in Calgary, but because of where I live, I asked to do treatments at the Red Deer Cancer Center. This worked for a month and a half, but then my body grew resistant to the chemotherapy protocol. My treatment protocols changed drastically and I continued all of my treatments in Calgary at the Tom Baker Cancer Center.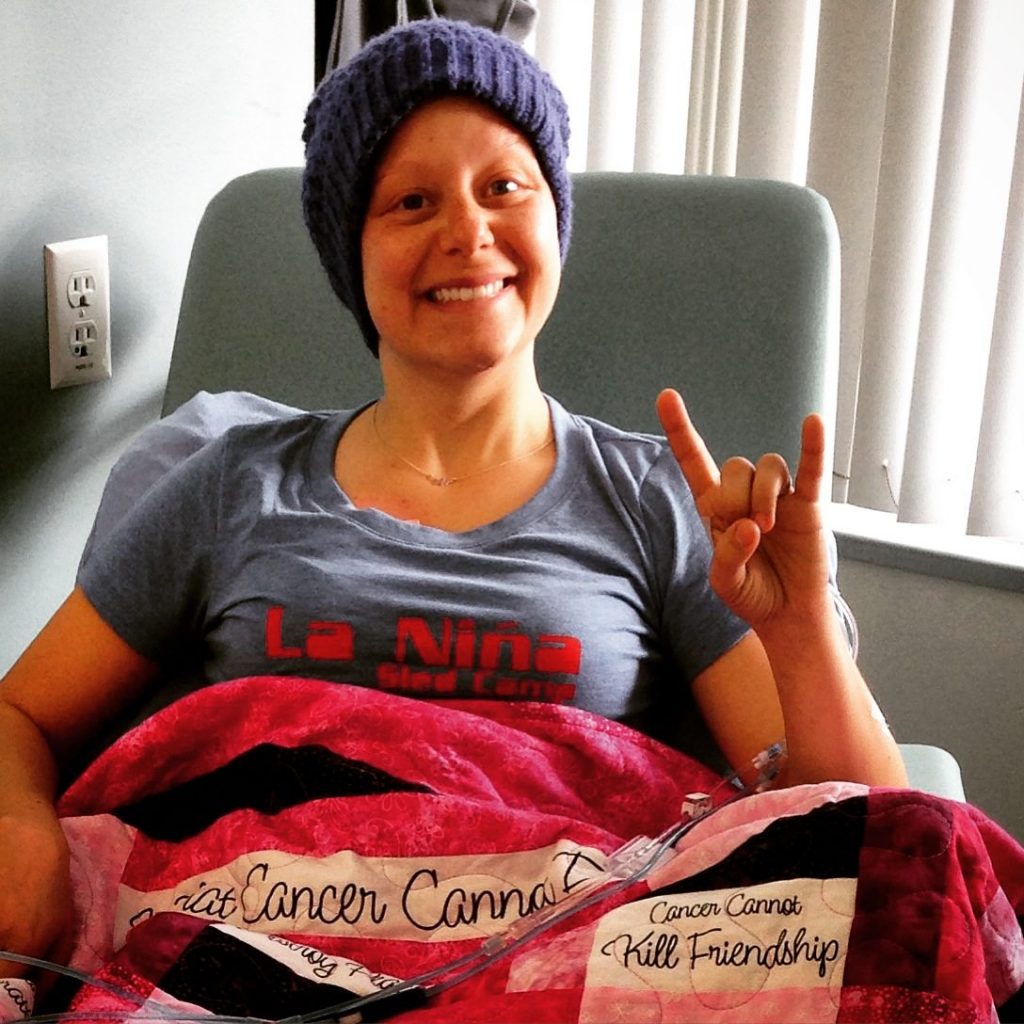 What did your treatment consist of?
At first, chemo was a three-minute push of Dactinomycin, every two weeks
Then it was changed to three different chemotherapy drugs over approximately 16 hours (I stayed overnight at the Tom Baker special services building). The following week, I went to the Tom Baker outpatient clinic and received two more chemo drugs over the course of about an hour.
My body grew resistant to that as well, so then I did approximately eight-hour treatments at the Tom Baker outpatients, given three to five chemo drugs, every two weeks
The effects of chemo on my body were better than expected. I expected to be constantly puking every day and every night, so I guess my expectations weren't that high (haha). As long as I took my anti-nausea medications, I was able to keep all of my food down, but I had a hard time finding something that I would feel like I wanted to eat. My mind seemed to play tricks on me a bit; I was hungry, but couldn't stand the idea of eating anything. I was so tired when I stood up, but when I sat down, I was too awake to sleep. I would lose my energy pretty quickly and it took a long time to catch my breath.
What is your current medical status?
Cancer FREE! Yahhhooo!!
How is life different for you now post-diagnosis?
Physically, I am still pretty weak, and despite my efforts to exercise regularly, I still have a tough time doing things at the same pace I used to. I am optimistic that my strength and stamina will heal with time. I have hair now! (Yay!) I never thought I would be a person with a short hairdo, but when you don't have a choice, you learn to rock it! I look at life through a whole new set of eyes. I've really realized that being positive and giving to others that may need it is so important. Before my diagnosis, I really tried to live this way, but I really do practice the old saying "don't judge someone until you've walked a mile in their shoes" because you just never know what that person is dealing with.
What was the toughest part of your challenge?
I really struggled with losing my hair. I made the best of my situation, but every now and then it would all come crashing down and I would look in the mirror and remember "Oh right, you're bald because you have cancer." I also struggled with not being able to do the same things I used to physically. For example, walking up the stairs would leave me completely breathless. Socially, I had a hard time with not feeling like socializing with people. The people who know me know I am a social, upbeat kind of person; chemo made that challenging sometimes. It felt like I really wanted to be the person laughing and being loud, but I just couldn't seem to find her.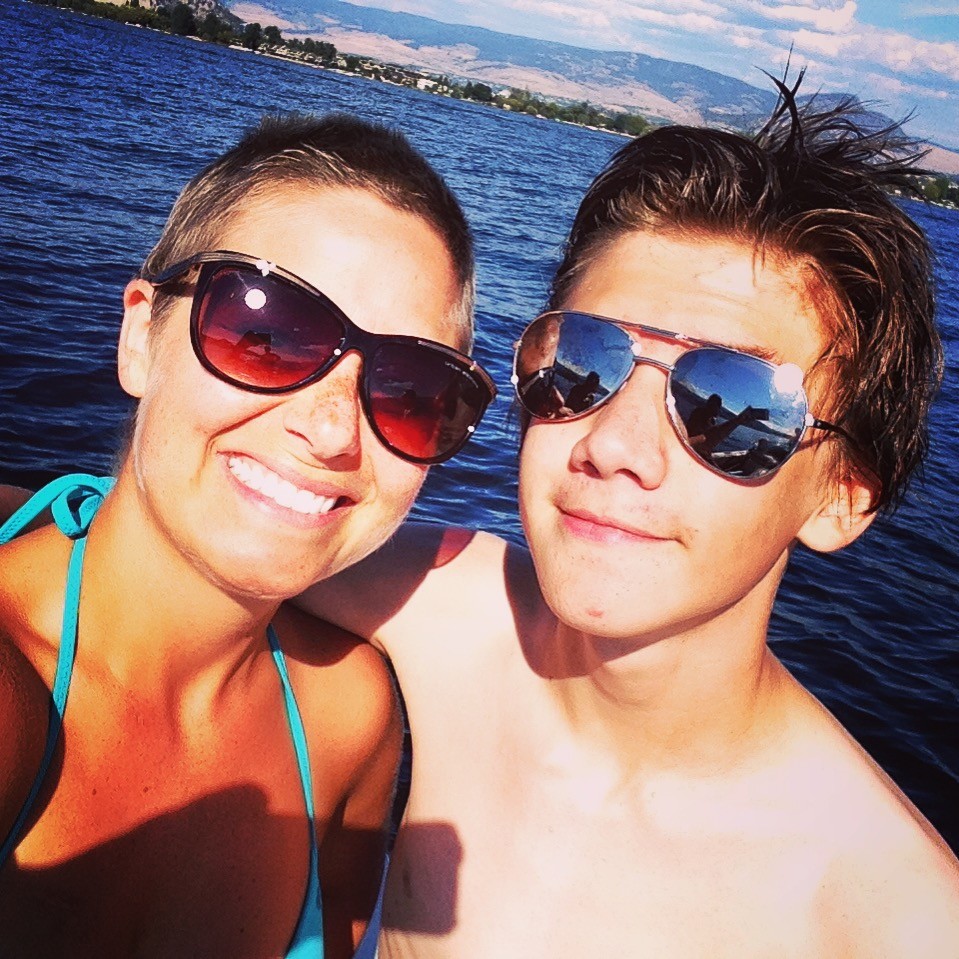 What was the best lesson you took away from your challenge?
The way I am and plan to be for the rest of my life. Cancer has really opened my eyes and my heart to so many things. I see things so differently and I have become — and strive to be — better than I was yesterday.
What motivated you to keep going while you were sick?
I would be motivated by the fact that I needed to beat this and that I had an army of people behind me to support me in any way I needed it.
What are your thoughts and feelings about your illness now? Have they changed since before your diagnosis?
I am blessed to have gone through this experience; it really has changed the way I see and feel about my life and the world I live in.
What are some preventative measures that people can take to lower their risk of having an experience like yours?
The biggest — most important — thing I would say to anyone who has just been diagnosed with cancer is to get through each day, one at a time. Try not to let yourself/your mind go into that dark place of all of the fears and worries you have. Take each challenge day by day. If you let it get away from you, you will only feel overwhelmed, and those future fears and future worries will bring you down. Deal with each challenge one at a time, day by day.
Did you attend any support groups during your challenge?
No, I didn't. I live in Sylvan Lake and do treatments in Calgary and travel back and forth to Strathmore. Logistically, things didn't really ever work out. I didn't seem to find anything that I could have made it to. I would have loved to go to a place where people are going through the same struggles as me. It would have been awesome to talk to people my age who would "get it."
How are you connected with Young Adult Cancer Canada?
I have a very good friend who connected me with YACC. I am so happy that I have found YACC. I can't wait to be a part of future events.
Are you interested in helping others facing cancer challenges?
YES! Absolutely. I want to help in any way that I can.
If you're interested in getting in touch with Katie, email connect@youngadultcancer.ca and we'll be happy to pass along your message.