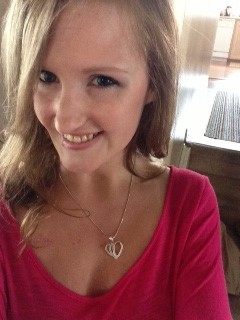 Name: Kelly Howitt
Age: 23
Hometown: Keswick, Ontario
What was your diagnosis: Ewing's Sarcoma bone cancer of the right sinus
What school do you attend: Georgian College
Your cancer experience:
How did you find out you were sick? What lead to your diagnosis?
The first time I was diagnosed, it was the last day of grade 7 — June 2004, I was so happy to be finished school for the summer and to be moving up to grade 8 when returning back to school in September. Little did I know, that wasn't going to happen.
That last week is when I started having major toothaches on the upper right side of my mouth. I didn't really think anything of it, and thought it would go away eventually. I never told my parents right away either. During the days, I was always out playing with friends and preoccupied, so the pain didn't really bother me until night time.
I finally mentioned it to my parents about a month later, around mid July. They weren't too worried, but thought it was a good idea to take me to the dentist. At first the dentist wasn't really sure what it could be; he thought maybe I needed a root canal, but wanted a second opinion, which didn't happen right away.
They gave me Tylenol for the pain and said to only take when needed. They sent out a referral to a root canal specialist, so all we could do was wait. The pain was getting a lot worse. Not only could I not sleep at night, but I was having a hard time functioning throughout the day. It was really starting to affect me.
When I went to see the root canal specialist, he took X-rays and examined my mouth. He seemed iffy and unsure as to if I needed a root canal. He said if I did, it might be in two or three teeth instead of just one due to the amount of pain I was in, but couldn't be sure.
A few hours later, he told my parents and I he was almost 100 per cent positive I did not need a root canal, and wanted to send me to Toronto General Hospital to a specialist he knew there. We made the appointment and waited.
A few days before my appointment at Toronto General Hospital, the right side of my face really started swell up, and became really red, hard, and sore to touch. I really started to freak out then; I knew there was something serious going on and someone needed to take this seriously. My parents had also had enough and wanted some answers, so two days before my appointment, my parents took me to Sick Children's Hospital in Toronto instead of waiting. From there, the doctors pretty much knew what was going on and admitted me.
The next day they did a biopsy of my right sinus through the roof of my mouth, and two days later, as of September 13, 2004, I was diagnosed with Ewing's Sarcoma bone cancer of the right sinus.
What year was it? What was your age at the time?
I was first diagnosed in September 2004, and for the second time in 2005 when I was 15 years old.
In which hospitals were you treated?
Sick Children's Hospital, Princess Margret Hospital, and Toronto General Hospital in Toronto, ON.
At what level of education were you at diagnosis?
I completed grade 7.
What where you first thoughts when diagnosed?
I knew there was something going on before I was diagnosed — something I knew nothing about — but when the doctors told me it was cancer, I was in shock. I didn't really know what to think about it. I was only young and had not known anyone with cancer before. I knew it was serious, I just didn't know how serious it all was until I actually started with the treatment. At that point, I was scared an angry.
How did your family react?
My family all came to Sick Children's Hospital with me that night; they all found out before me that I had cancer. I know my parents took it really hard, but they didn't seem to show it; they were pretty strong about it.
How did your friends react? Were you treated differently, or did things remain the same?
I had a lot of friends before being diagnosed with cancer; I was very outgoing and friendly. At this time, my friends treated me a lot differently. They didn't really understand or know how to act; it was very awkward being around them. I knew they felt bad for me, but we no longer had much in common and they began to move on with their lives.
What did your treatment consist of?
My treatments consisted of in-patient chemotherapy — one week on chemo, three weeks off — but I usually was only home for a week and had to go back in the hospital due to fevers. I also had six weeks of radiation. I felt pretty good with the chemotherapy in the beginning; it wasn't until about a quarter of the way through that it really hit me hard. The combination of chemo and radiation in the facial area caused a lot of pain and a lot more sores in my mouth and throat. My skin also reacted with a sore rash and sensitivity.
When my cancer started to grow again when I was 15 years old, I had out-patient chemotherapy every day every other week, along with a major surgery to remove the tumour from my sinus, which consisted of removing the bone and tissue in the upper right roof of my mouth.
Being diagnosed with cancer the first time was very hard to grasp, I was a child and didn't understand the concept of having cancer and what went along with it. Going through this journey, it really makes you grow up fast no matter what age you are, so I really started to feel like I understood more being diagnosed the second time around. It was still really hard to accept, but I kind of knew what to expect because of the first diagnosis. It's kind of a helpless feeling; you know you really have no choice but to continue. I was definitely frustrated, always wondering when my life was going to go back to the way it was.
I didn't remember the "normal" life of a 15-year-old, though. I didn't have friends outside of the hospital, and my outside family didn't really understand why I was the way I was. I had a great group of nurses and other patients who I really got to know. They made me feel like they cared no matter what I was going through. I never got judged by them, and it meant a lot.
What is your current medical status?
I have been in remission since 2007. In the past seven years that I have been cleared of cancer, I have had a quite a few reconstruction surgeries of my face, sinus, and my right eye that was affected by the radiation. It has been a long road, but I would say I'm healthy as can be now.
What was the toughest part of your challenge?
The toughest part for me would have to be acceptance; accepting what has happened to me and being okay with it. I've struggled for a while with it, and being able to accept what has happened and not be angry and be able to move forward with my life is been quite hard. Also learning to have patience was/is another challenge.
What was the best lesson you took away from your challenge?
Things can happen or change in a heartbeat; I had the actual proof, so make the best of every situation.
What really motivated you to keep going?
My parents, and their reassurance and belief in me.
What are your thoughts and feelings about your illness now? Have they changed since your diagnoses?
I am not so angry about it anymore; I feel like it has helped me become the person I am today.
How are you connected with young adult cancer Canada?
I attended retreat yourself adventure in Newfoundland in 2014. I met so many amazing people, had so much fun, and learned so much about myself.
Are you interested in helping others facing cancer challenges?
Yes, I would love to help or connect with others! Contact me through connect@youngadultcancer.ca.