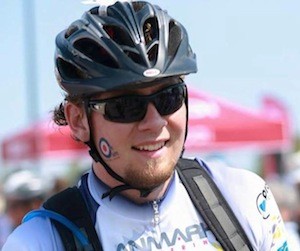 Name: Kevin Yorston
Age: 33
Hometown: Prince George, BC
What was/is your diagnosis? Stage 2 testicular cancer
What school did/do you attend? SAIT
What is/are your career goal(s)?
I want to be able to help young adults during and after cancer treatment. I am looking towards a career in Social Work in the future.
What is/was your occupation?
I was a mechanical designer/drafter for an engineering firm. I went back to engineering for a year. Currently, I am a stay at home dad. I have also recently started working for Wellspring Calgary as the young adult program coordinator.
Your cancer experience
How did you find out you were sick? What led to your diagnosis?
One day I had an intense pain in my groin area, so extreme I visited the emergency department that night. Many tests were done (CT scans, ultrasounds, bloodwork) and nothing was found. The ER doctor said it was probably just an infection, or it could be a tumor, but not likely at my age. Fortunately for me, the same doctor requested a biopsy, which was when they found a tumor in my testicle and groin, which was determined to be cancerous.
What year was it? What was your age at the time?
I was diagnosed in 2012, I was 31 at the time.
In which hospitals were you treated?
The Rockyview Hospital and Tom Baker Cancer Center in Calgary.
At what level of education were you at diagnosis?
I had a diploma in Engineering Design & Drafting from SAIT. I was working in the field as a Mechanical drafter, designing HVAC and plumbing systems for buildings.
What were your first thoughts when diagnosed?
How can this be happening? I was riding my bike last week and felt fine down there. How can I tell my wife who is four months pregnant with our child? How sick is the treatment going to make me? Most of what wore on my mind was, "Will I be there for the birth of our child?"
How did your family react?
My family members were shocked, it was very difficult for them, but they were very supportive, and even travelled from out of province to help us out.
How did your friends react?
Most of my friends were very supportive, but a few were quite awkward about it and therefore I didn't hear from them much. The ones who were supportive were amazing in stepping up to the plate; one friend was even there for my first oncologist appointment with my wife and I. Another friend came to check on me for every chemotherapy session. I did feel left out of the social realm, which many times I was too sick with a compromised immune system to go anyway, but it was still quite isolating at times.
What did your treatment consist of?
I had three rounds of chemotherapy followed by an Orchiectomy. I had very low in energy most of the time which I managed as best I could by taking short walks. Emotionally, I was a mess, most likely because of my hormones being out of whack; I could break down in tears at any moment, sometimes for no reason. One of the hardest things for me was the difficulty in eating because of intense nausea; keeping any type of food down was a challenge. I ate a lot of crackers and coconut water.
What is your current medical status?
In remission, moving on with life one day at a time.
How is life different for you now post diagnosis?
I revel in the little things more than I used too. I appreciate the time I get to spend with friends/family more. I find life is precious in so many ways, therefore I want to make most of the time I have by helping others and spending time with those that bring me up. It took some time, but I am now fairly physically active. I am still learning, but managing fatigue after cancer is still a challenge for me.
What were the toughest parts of your challenge?
The hardest parts for me were giving up my independence, having to rely on others so much and feeling like a burden to friends and family. It was very difficult in a time when I wanted to take a load off my wife while she was pregnant, only to add more strain on our relationship.
What was the best lesson you took away from your challenge?
Live is too short, so don't get caught up in the small problems that many of us focus on. Once you have cancer, most of these things aren't even registered as problems anymore — basically, don't sweat the small stuff. Live in the moment and appreciate the small gifts the world offers if only we open our eyes to them.
What really motivated you to keep going while you were sick?
The biggest thing that motivated me above all else was that once my treatments were supposed to be complete, I had to be there for the birth of our first child. That, and laughter of course.
What are your thoughts and feelings about your illness now?
I'm a lot more aware of my body now and try my best to listen to the signs that I need to rest. Also trying to focus on what I can do know, instead of all the things I wish I could do, but can't.
What are some preventative measures people can take to lower their risk of having an experience like yours?
Be assertive with family and friends. Family/friends care about you, but can never totally understand what you are going through. When going through treatment, you have to put yourself first above others. Sometimes this means telling them you are either too tired or sick to visit. At the same time, it means being assertive to ask for help and telling people what you need. Be your own advocate when dealing with the medical system, or even better, have a supporter who can do this for you. You don't have to be alone, don't be afraid to tell people how you are really doing.
Did you attend any support groups during your challenge? No, I didn't.
If you did not attend a support group, why?
Mostly I was quite sick during treatment. I felt so couped up that when I felt somewhat well, I had to get outdoors.
How are you connected with Young Adult Cancer Canada?
I have been attending Localife Calgary for close to two years, and am now one of the leaders.
How did it happen?
A month after treatment I took some programs at Wellspring Calgary. The program director there put me in touch with the Localife group. My life would not be the same without YACC and Wellspring.
Are you interested in helping others facing cancer challenges?
Yes of course.
Please email connect@youngadultcancer.ca if you would like Kevin's email address.