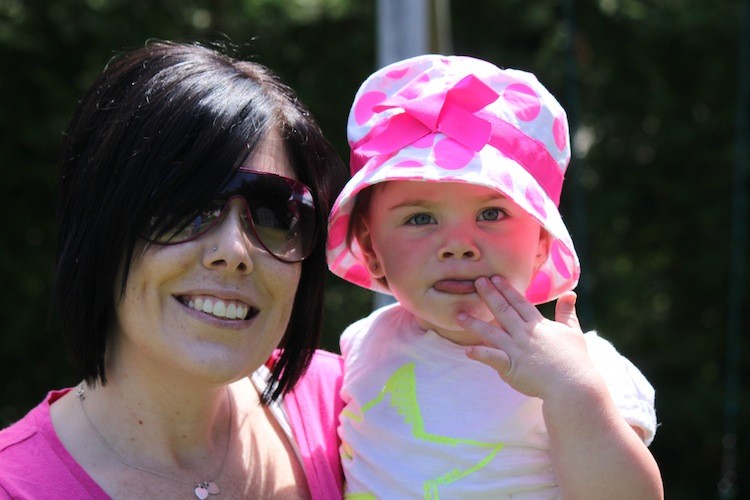 Name: Laura Perkins
Age: 30 years old
Hometown: Kitchener, Ontario, Canada
What was your diagnosis?  Chandrosarcoma of the pelvis
What schools did you attend? Humber College and Conestoga College
What is your occupation? Human resource generalist
Your cancer experience: 
How did you find out you were sick? What led to your diagnosis?  
Where to begin?
I have experienced lower back pain for years. In 2010 I had a CT Scan and everything came back clear. In 2012, I was supposed to have a bone scan, but the night before my scan I did a home pregnancy test (because there was the chance I could be pregnant as hubby and I had been trying for awhile) the test came back positive. I was unable to have the bone scan due to the pregnancy.
I started experiencing severe pain through my lower back, left butt cheek, and down my leg in my second trimester. My doctor explained it was likely "sciatica," which is something many pregnant women suffer from. I went about life and enjoyed my pregnancy as much as I could.
I had my beautiful daughter November 22, 2012. My pain disappeared after she was born which led everyone to believe it was sciatica. Not sure if the pain disappeared because I was focused on recovering from my C-section and enjoying life as a new mama, or whether it actually did disappear. Regardless, the pain came back in April/May.
I decided to see a physiotherapist and after examining me, she asked me if I noticed my one butt cheek was harder than the other. I didn't really think anything of it. She showed me in the mirror and you could notice it was slightly different looking and harder than the other one. She decided she couldn't treat me and referred me back to the doctor.
I saw my doctor in May and he sent me to Grand River for an ultrasound, CT scan and MRI. The MRI wasn't scheduled till the end of July. When I had the ultrasound, the technician asked me to wait a second well she went to grab the radiologist, he came in and asked me about my MRI and when it was scheduled for, when I told him it was not till July he said he would get me in quicker. From the ultrasound, they could see I had a mass in my pelvis and needed the MRI to confirm.
When I got the MRI results, my doctor asked me to bring someone with me to the appointment. At this point I knew something was not right. My pain had gotten so severe I could barely walk some days, I would limp, and my butt cheek was getting significantly larger and harder. My husband came to the appointment and my doctor explained about the mass in my pelvis and that the radiologist likely thinks it's a hematoma, but I was being referred to the Jurvenski Cancer Centre to see Dr. Ghert. She specializes in sarcomas and benign tumours.
I immediately freaked out and my husband asked if we could rule out it's not cancer at this point, and my doctor said, "No, but it was unlikely because she is young and healthy." I got an appointment fairly quick to see Dr. Ghert; she examined me and after she touched my butt cheek, she told me I had a sarcoma, but what type she wasn't sure, and she wasn't sure what kind of treatment I would need.
I was shocked. I didn't even know what to think. She wanted me to have blood work, CT scan, MRI, and biopsy at her hospital with her radiologists. What a stressful 10 days, knowing I had cancer but no idea what kind, what the treatment was, and what my prognosis was.
I got my diagnosis within 10 days on July 26 — the day before we were leaving for our family summer vacation at the cottage. I was diagnosed with an extremely rare type of cancer and very rare in someone my age: a chandrosarcoma that likely started on my inshium bone. A chandrosarcoma is cancer of the bone and tissue. My oncologist wasn't able to tell me how long I had the tumour, but I likely had it during my pregnancy. From May to July, it had grown very aggressively and was significantly noticeable.
What year was it? What was your age at the time?  
I was diagnosed July 26, 2013, and I was 29 years old.
In which hospitals were you treated? Jurvenski Cancer Centre in Hamilton, Grand River Hospital, and Freeport Hospital
What were your first thoughts when diagnosed?
I was SHOCKED, I cried, I kept asking WHY? WHY? WHY ME? I had an eight-month old daughter, I was newly married, life was good. I honestly don't think it really hit me until a few days later. I avoided talking to friends and most family except for my mom, dad, and husband. I let my family inform other family members and friends of what was going on because I couldn't even talk about it. I think I am still shocked almost a year later, numb, I wake up sometimes wishing it was all a dream.
How did your family react? 
My mom and step dad took it pretty hard and were quite emotional. My stepdad's brother was currently going through treatment at the time for lymphoma, so it was like a double whammy. My dad and step mom who live out west were very upset also; I couldn't even talk to them after my diagnosis because I was so upset. My dad is a prostate cancer survivor, so it hit him pretty hard. My husband is very good at hiding his feelings, but he was trying to be strong for me and not show his emotions. I think he was shocked and frightened behind closed doors. My sister and brother were the same as everyone else — shocked and upset. I think it's actually brought my siblings and I closer.
How did your friends react? Were you treated differently, or did things remain the same? 
I love this question! Let's start by saying receiving traumatic, life changing news like cancer really shows who your true friends are. I have a good group of friends now that would bend over backwards to help me with anything I need. I was upset about the friends I lost, but then I started to realize "it is what it is," and I had more important things to focus on.
What did your treatment consist of?  
Medical side: Sarcomas don't respond to chemo or radiation. so the only option is surgery. However with that being said, because my tumour was so large, my oncologist decided it would be best for me to go through radiation not to shrink the tumour, but to outline it so they would be able to see the margins during surgery.
I started off with six weeks of intense radiation, Monday to Friday. Side effects from radiation started in the third or fourth week. My skin was severely burnt and so sore, it hurt to wear pants, walk, and even wear underwear.
After my radiation, I had a cooling off period for five weeks, and then on November 22 (the day before my daughters first birthday), I underwent a major, complicated 12-hour surgery to have the tumour removed. I had a left internal hemipelvectomy. In easy terms, they opened me up like a book and dissected the tumor along with healthy parts of my pelvis to ensure all the margins were clear and then I had my hip reconstructed. I had the hip and ball and socket, and then I have a rod going down the middle of my femur for support. The advantage to having the reconstruction is that my mobility will be better long-term, and I don't have a huge difference in leg length.
There were many complications that could've happened during surgery: I could've had permanent sciatica nerve damage, they weren't sure if they would've been able to remove the whole tumor, I was worried I'd wake up with no leg. The surgery was a success, the tumor was removed along with a third of my pelvis and then hip reconstructed, and 300 staples later, I was in ICU recovering.
I spent a total of three months in the hospital: One month at Jurvenski, and then was transferred to Freeport Hospital over Christmas.
Throughout my time at Jurvenski, I came down with a fever a week after my surgery and ended up having to have a second surgery to clean out the implant and to get rid of the pocket of puss that developed. Because of this, I developed an incisional wound, and then developed bedsores from being on bed rest for so long. FUN TIMES!
I spent about six weeks on bed rest, then I slowly started being able to sit on side of bed, and then standing with a walker. I wore a brace for several weeks to stop me from bending over past 45 degrees and keeping everything in alignment. When I was transferred to Freeport, I was entered into the rehab program and went through rehab twice a day and wore a vac pump for my wounds. I was discharged and sent home on February 13.
Today I am doing very well. I do physio three times a week, I'm busy taking care of my daughter, and I will be progressing back to work in October 2014.
Non-medical side: I was in a deep depression during my whole hospital stay and after the surgery. I was not myself; I hated what cancer had done to me and my family. This is not how I was supposed to be spending my life as a new mother, new wife, 29-year-old, young, healthy, women. I saw a social worker, psychologist and several other people well in hospital, and I was also put on two different antidepressants. It was extremely hard for me to be away from my daughter; I missed out on three months of her life. I saw her very often in the hospital — my family was very good about bringing her up — but being in a hospital wasn't the perfect atmosphere for her.
What is your current medical status? Happy to say I'm cancer-free!
How is life different for you now post diagnosis? Life for me now is very different. I am currently walking with crutches, working on my mobility, and activating all the muscles in my leg again. It's unbelievable how much damage can be done when being on bed rest for so long. I am slowly starting to adapt to this "normal" life. Emotionally, I have my moments, but I try my hardest to stay positive. I am very lucky to have this second chance at life, and I am trying my hardest to make the most out of it. I am happy and lucky I am able to see my baby girl grow up.
What was the toughest part of your challenge?
I'd say the toughest challenge was being in the hospital for three months and being away from my husband and daughter. Also, the loss of independence; I now have to rely on others to help me out with household chores, groceries, taking care of my daughter, and so on. I think I'm doing pretty well, but like everything else, I have my good days and my bad.
What really motivated you to keep going while you were sick? My daughter! Every time I got depressed or sad or not motivated to move from the bed, I looked at a picture or a video of her, and told myself I'm fighting for her. I'm fighting for her because she needs her mama home. My favourite was face timing with her, which always put a smile on my face.
What are your thoughts and feelings about your illness now? Have they changed since before your diagnosis?
I don't think they have changed.  I still often ask myself, "why me"? At my six-month follow up with my oncologist, I told her I regretted having this surgery and that life with my tumour was better than this new "life." She very bluntly said to me that had I not had the surgery, I wouldn't be here today. My cancer would've killed me in months. So, needless to say, since that conversation I am learning to accept that "it is what it is" and I'm trying to make the most of out of life.
My favorite quote: "It's not about the years in your life, it's about the life in your years"
Did you attend any support groups during your challenge? 
Yes I attend a Women's Support Group for women under 40 years old through Hopespring. I absolutely love it; it has been amazing for me. After I leave the group, I feel re-energized and less stressed. There is something soothing about hearing other peoples' stories and realizing I'm not the only 30-year-old with cancer. I have developed some great friendships with these women. I also see a Cancer Care Coach through Hopespring, and that has really been helping.
How are you connected with Young Adult Cancer Canada?
I discovered the website while surfing the net one day. I shared the website at my support group, and one of the women attended the Survivor Conference. I am interested in attending a retreat and am considering Retreat Yourself in November in Toronto.
Are you interested in helping others facing cancer challenges?
Absolutely.  I would love to share my story with others and help others in any way that I can. I can be contacted via email.
Please email connect@youngadultcancer.ca and we will put you in touch with Laura.