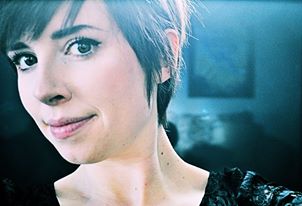 Name: Michelle Hume
Age: 23
Hometown: Calgary
What was your diagnosis? Stage 4 Hodgkin's Lymphoma
What school did you attend? Alberta College of Art and Design, Mount Royal University
What are your career goals? Event coordination, or creative director
What is your occupation? Medical office assistant for a chronic pain clinic
Your cancer experience
How did you find out you were sick? What led to your diagnosis?
I was quite sick for an extended period of time with a bad cough. I was also finding it quite difficult to breathe while laying on my back. I was a little bit hard-headed in the sense that I waited quite a while to go ahead with a chest x-ray. When I finally decided to get examined, it was out of convenience. The only reason I got the x-ray done is because my family and I were leaving on vacation that week.
Following the x-ray there was some suspicion around the image, so I was ordered to go to the Foothills Hospital as soon as possible for a CT Scan. I was diagnosed with cancer the following day. At first they thought it was lung cancer, so you can only imagine how horrified my family and I were.
What year was it? What was your age at the time?
It was 2011, and I was only 20-years-old.
In which hospital were you treated?
I was treated at the Foothills Hospital
At what level of education were you at diagnosis?
I was diagnosed after my third year at the Alberta College of Art and Design
 What were your first thoughts when diagnosed?
–       Am I going to die?
–       Will I lose my hair?
–       Am I going to die?
–       Who do I call first?
How did your family react?
Extremely upset, heartbroken.
How did your friends react?
I was not treated differently, but they were extra aware of my limitations and abilities. My dynamic with those friends did change. Some, I did not see as much, and some I saw all the time.
What did your treatment consist of?
I received seven months of high intensity chemo. BEACOPP. It's only been in Canada for a short while, but is highly effective.
While going through chemo I was able to stay at home with my family which really helped, and on my good weeks, I was able to do activities I enjoyed.
Following chemo, I received one month of radiation. In comparison, this was a cake walk. It's different for everyone, but I had an extremely low dose of radiation. Such a relief.
Emotionally, I did not feel too much. I was happy for the most part, but chemo was so hard on me, sometimes it would make me break down. My mind didn't have time to process the emotional side as much while I was going through treatment. I was in survival mode.
Following treatment I was quite isolated and depressed. I had nowhere to go, and was in a constant state of limbo. Joining YACC helped me tremendously. I feel like I was able to reach a moment of clarity through the organization.
What is your current medical status?
I am currently in remission. Have been for about one year.
How is life different for you now post diagnosis (physically, emotionally, socially, and spiritually)?
Physically I have never been stronger. I work out five days a week, and more, some weeks. If I don't, my energy levels are so low, it's hard to function.
Following treatment I lost around 15 pounds in fat. Being on steroids long-term threw my body for a loop.
Emotionally, for the most part I am content, and happy. I have reached a point where I am able to reach out to my family much more emotionally, and I am in a very supportive relationship. We are learning together though; he has never experienced someone with this kind of background before.
Spiritually, I'm quite grounded. I have been making an effort to practice Yoga and meditation once a day. This way I am able to focus on the present: how my body is feeling, how my surroundings feel. It helps keep me centered.
What is the toughest part of your challenge?
There isn't one tough part. It's all tough.
Throughout treatment I was broken down physically. I got every side effect under the sun. That being said, I had created small coping mechanisms.
Following treatment was different, and tough in a different aspect. I had to challenge my now-compromised emotional state.
Now, it's allowing myself to relax. I'm always hyper-aware of my medical state. I constantly think I'm sick, and worried about the future. That being said, Yoga, being active, eating right, and a loving environment have made it pretty easy to relax.
What was the best lesson you took away from your challenge?
Again, it's unfair to specify just one:
–       Be kind to yourself; understand and respect how you are feeling.
–       When you are able to do something, do it. (i.e., travel, work, fitness, art, etc.)
–       Appreciate your supporters. Although it's tough to admit, it's their journey too. Illness may not have happened to them, but it has affected them.
–       Practice patience. People are never going to fully understand your experience, but they try. That's pretty incredible, too.
What really motivated you to keep going while you were sick?
The other side. To get back to life. Play music, make art, laugh, and be functional again.
What are your thoughts and feelings about your illness now? Have they changed since before your diagnosis?
Not entirely. I'm not grateful that I got sick. If I had the choice I wouldn't go through any of it. Yes I have an advanced amount of wisdom for my age, but I would rather come about this knowledge in a different way.
The way I saw it then, you gotta do what you gotta do. Still view it that way. I'm no stronger than the average bear, I value my life when it's challenged. As would anybody.
Did you attend any support groups during your challenge?
No, I didn't attend support groups. I was too sick to attend. I only reached out once I was finished treatment. When I did, it was very helpful.
Going through treatment, I didn't need a support group. I was in a different head space, and enjoyed seeing my old friends who I was comfortable with.
Through treatment, personally I found it very difficult to socialize and meet new people.
How are you connected with Young Adult Cancer Canada?
I had attended one Localife event a couple of years ago. It was a movie night, and my mom forced me to go. (Thank God she did!)
They were announcing that they were looking for a Localife leader. I applied right away. The experience of relaxing with fellow supporters was so conducive to my healing process. From that point forward, I was trained in Toronto with my other fellow Localife leaders. This acted as a mini retreat for me.
That brings us to the present. I am still facilitating YACC/ Localife events almost two years later. My co-leader for most of that time was Colin. He is such a strong, incredible human being, and has changed my life. I can honestly say I love him, and his family. It's amazing.
So yeah, summarized version. I'm a fan. It's like having a little village of support.
Are you interested in helping others facing cancer challenges? Yes
Please email [email protected] if you would like to get in touch with Michelle!