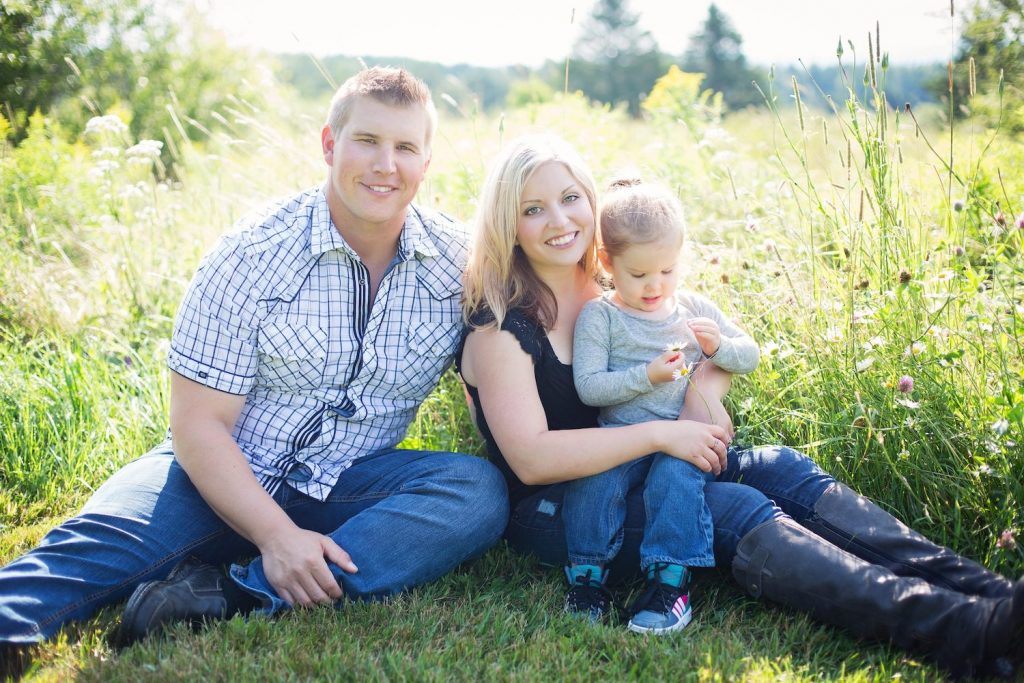 Submitted photo
A little bit about you:
Name: Nicole Clark
Age: 29
City: Amherst, NS
What was your diagnosis? Hodgkin's lymphoma Stage 2
What year was it? 2012, and I found it again in 2014. What were your ages at the time? 25 & 27
What is something you've done that you're really proud of? Throughout all of the lows, I've become a strong woman, and an amazing mom!
What is a top item on your life to do list? To be happy and to travel more!
What are your hobbies? Travelling, photography, and campfires with family and good friends. Singing and dancing with my little girl.  
Your diagnosis:
What was your life like before your diagnosis? I think my life was pretty normal. Travelled lots, partied lots, I was pretty carefree. I got married in Vegas in 2009, and then my husband got out of the military in 2010 and we moved back to the east coast from Edmonton, AB. I was working full time, and pregnant with our first child.
How did you find out you were sick? I had a pretty normal pregnancy, or so I thought! I was extremely tired, like fall asleep as soon as I sat down tired. But, being tired during pregnancy is normal, so I didn't think much of this. My throat began to feel like someone was pressing in on it when I ate, and I was out of breath often, but I didn't think anything of this either. Eventually I noticed a big lump on the left side of my neck above my collarbone. I brought this up to a doctor at a regular prenatal check up and he told me that he "didn't feel anything, that women gain weight in weird places during their pregnancies and that it was nothing." So I went home and brushed it off.
About a month later, I was finding it harder to breath and the choking feeling was getting stronger. The exhaustion was making it hard for me to work, especially where I was on my feet most of the day. At this time, I went to see a different doctor. She said that she didn't feel anything, but wanted to send me to the E.N.T just to check things out more. A couple of weeks later, I met with Dr. Wallace, and as soon as he felt my neck, he said there was something there that shouldn't be, and asked if he could take a cell sample.
Two days later, I got a call from Dr. Wallace's office saying that he wanted to see me, and to bring someone with me. As soon as I heard that, I knew it was bad.
My husband and I went in to the doctor's office, and the doctor got right to it. He said that the results came back and he was pretty sure I had Hodgkin's Lymphoma, but he wanted to do a biopsy to be 100 per cent sure. I looked at my husband, then asked the doctor what that meant and he dropped the  c-bomb! Cancer.
I don't remember hearing much after that. Everything happened quickly after that. I had a biopsy done the next day, and X rays. I had a mass in my chest that was 11 cm in diameter, and a bunch of small ones surrounding that all the way up to my neck.
What were your first thoughts when diagnosed? My first thought was "I always knew it would be me to get cancer," and then "Wait, I'm pregnant! Now what? Will my baby be sick, too?"
In which hospitals were you treated? I was treated at the QEII in Halifax, NS. I had a test and scan done in Moncton Hospital and Colchester Regional Hospital in Truro, NS as well.
What did your treatment consist of? For my first treatment, I was first sent to Halifax to be induced so I could begin six months of ABVD chemotherapy every other week. This began four days after I delivered a beautiful, HEALTHY, baby girl.
Shots of NPG followed for four days after each treatment. My husband gave me these.
Chemo didn't affect me too bad at first. The shots to get my white blood cell counts back up did, though! Those brought me to my knees, causing shooting pains up my spine. The thought of driving to the hospital for chemo on med day made me sick to my stomach, making it hard to take the anti nausea drugs. The smell on the 4th floor made me sick to my stomach, as well, and honestly, it still does to this day!
I was still able to care for my newborn on my own while my husband went to work. I feel like I don't remember a lot of my daughter's first year, though. It's just a blur.
My last treatment for this round was September 26, 2012.
I was in remission after this, but then on the May long weekend in 2014, I felt a lump in my neck again, the size of a pencil eraser. I brought this up to my doctor at my regular check up; she said she didn't feel anything, and that it was all in my head, but wanted me to get a chest X ray just to be sure. She called me at home that night to tell me there was another large mass in my chest and she couldn't tell from the X ray if it was uptake, or scar tissue, so she ordered another PET scan.
Shortly after the PET scan, she called me saying that cancer was back, and everything was identical to the first time I had it. She would start booking tests, and I would have to have two rounds of a crazy strong chemo which had an eight-day break in between each dose. After that, I would have a PET scan to see if the chemo shrunk the masses enough to go through with the transplant.
It worked. This chemo pretty much killed the cancer that was in me at this time. I then had to have two shots of NPG in my stomach every day for a week to build up my white cell counts. I gave these to myself. It worked great!
My medical team got three times the amount of blood cells needed for my stem cell transplant in only a couple of hours. I was admitted into the hospital December 12, 2014. I had two more days of chemo, two rest days, and then on December 16, I had my transplant. It was the most horrible experience I have ever had!
My daughter stayed with my parents during this time, which was over Christmas, which made it an even harder time. But I was able to focus on doing whatever I had to do to get strong enough to get out of there! I was told that the quickest anyone got out after a transplant was 11 days, so I wanted to beat that guy! He beat me by one day.
What is your current medical status? Currently I am in remission! I go for regular check ups in Halifax every three months.  
Life after cancer:
How is life different for you now post diagnosis? Physically, I feel like I am on the path for getting into the best shape of my life, because I am more aware of what I put into my body and how I need to treat my body. I know how to listen to my body.
Emotionally, I've had a lot of ups and downs, but I am a very strong individual. It takes a lot to break me. I don't get too worked up over much anymore.
Socially, going through this journey has really brought me out of my shell! I was very shy. Now I am fairly social. So I am thankful for that!
What was the toughest part of having cancer as a young adult? The toughest part was the night my husband had to shave my head. Losing my hair, not only once, but twice. The second time was easier as I knew what to expect. I had always had long hair and it took me a long time to look at myself for more than a quick second in the mirror.
I was in my mid-twenties; I should have been enjoying life. Without my hair, I felt ugly, and like I was looking at someone else. I hated how everyone looked at me. I hated the pity in their eyes. Looking "sick" or like you are knocking on death's door to others is the worst! It made me not want to leave the house. Let's just say there aren't many pictures of my daughter with her mama during her first year.
When I look back at the (very few) photos of me bald, or with a little amount of hair, I think I pulled it off! I looked pretty bad ass, but I couldn't see that at the time. I've had more compliments when my hair is short then I ever did when it was long, but to me, I just associate my short hair with being sick. That's all I can see. My husband and daughter are growing their hair out right now to donate it! So awesome!
What really helped you to keep going while you were sick? My husband and my daughter. She needed a mama, and being her mom is what I was made for! There is no way I wasn't going to fight for that!
What kept you busy during treatment? Again, my daughter. Newborns keep you busy regardless!
How are you connected with Young Adult Cancer Canada? How did it happen? I actually rented a DVD at the local library about the long term effects of chemo, and this website was at the end of the DVD. I wish I would have heard of this site sooner! Would have loved to have gone to Retreat Yourself Adventure last year as it was on my birthday weekend!  
The issues:
Did you feel isolated from your peers after your diagnosis? If so, how did that affect you? Yes, I felt isolated from my peers. You find out who your true friends are when you go through something horrible. So I feel lucky that I got to learn this at an early age, so that I am no longer wasting time on the people who don't deserve it! I also saw a beautiful side of so many strangers. In a world that is so messed up, it was refreshing to see that there are still so many good people out there!
Did anyone talk to you about fertility options before treatment? If so, how did that affect your decisions? If not, what do you wish you had known? Fertility wasn't discussed the first time I went through treatment. I had just given birth, so that was the last thing on my mind to discus! But when it came back the second time, my doctor told me that there would be a zero per cent chance that I would be able to get pregnant again, although "they have seen miracles!"
This crushed me because I always saw my husband and I having two children. I quickly accepted whatever was meant to be, will be. I was blessed enough to have my Madison, and she is perfect in every way. I thought of the thousands of people out there who would do anything just to have what I have, so I am very thankful that I have her.
Has your cancer diagnosis affected any of the relationships in your life? If so, how, and how are you managing them? I thought that my husband, Chance, and I had a strong marriage/relationship before cancer. I was wrong. I mean, Chance was in the Military (PPCLI for any of you army buffs) straight out of high school. He did two tours to Afghanistan, and was away more than he was home, and we just did it, did whatever we had to do to make it work, and we made it look easy!
Then when we went through this war with cancer? This took us to a completely different level. I really got to see the man I married, and I am so proud of him! I fell in love with him all over again. I feel that I am closer with the rest of my family as well. We are all each others rock stars!
How has your diagnosis affected the way you parent? Do you have any tips for other parents on talking to their children? I don't sweat the small stuff when it comes to parenting. I make every day count. I make sure that Madison is learning the meaning of good nutrition, that she is strong, and no matter how hard she gets knocked down in life, to keep getting up and to stand her ground and fight back. I teach her as much as I can about the world through travel. To be kind to everyone, even mean people because everyone is fighting their own battles. I also teach her to dance whenever the mood strikes!
My tip for talking to your children? Be honest! Kids are so much more aware of what's going on around them then you know! They are so smart. So just be honest to them. Don't leave them confused. Chances are they'll thank you for it!
How has your cancer experience affected your body image, and your relationship to your body? I listen to my body now and I treat it like a machine. We only get one, and we've got to make it last. My body image? Meh! I'll always want it to look better, but it could always look worse! So I'm happy with it!
What are some lifestyle changes you've made since your diagnosis? I pay a lot of attention to food now. I try to eat only organic and eat out less. I do this not only for me, but for my daughter, as well. I feel like the more she knows about food, how to read labels, what is in food, the easier her food relationship will be when she is an adult. I also make sure I get lots of rest, and do some sort of activity daily. I make it part of my day, part of a routine! It makes me feel better and gives me energy. You can't go wrong with that.  
Resources and recommendations:
What would you add to a treatment day playlist? "Soldier" by Gavin Degraw
Which books/movies/podcasts/TV shows/etc. would you recommend? After You Ring The Bell: Ten Challenges For The Cancer Survivor by Anne Katz Are You There, Vodka? It's Me, Chelsea by Chelsea Handler Nowhere Hair by Sue Glader (If you have little ones) Watching Kevin Hart or Chelsea Handler do stand up comedy! Laughter is the best medicine!
What is your website for passing the time? Pinterest  
Stay in touch:
What would you like to say to other young adults dealing with cancer who are reading this profile? You've got this!
Are you interested in helping others facing cancer challenges? If so please let us know how you can be contacted. Yes! I can be contacted through email or my Facebook page.
(If you would like to email Nicole, please send a message to connect@youngadultcancer.ca and we'll forward it along.)