Patricia's profile was updated on October 15, 2015. Click here for the newer info.

Name: Patricia MacMillan
Age: 37
Hometown: Saint John, NB
What was/is your diagnosis? Micro-papillary Serous Carcinoma – ovarian
What school did you attend?  UNB Saint John
What are your career goals? Someday I would like be in a leadership position within technology–inspiring, leading, teaching others!
What is your occupation? Information Technology Business Analyst; focusing on all modes of transportation technology
Your cancer experience:
How did you find out you were sick?
I was initially diagnosed in 2007 when I was 29-years-old. I had lost 120 lbs over a two year time frame because I was severely overweight and had to do something about it. One morning in late March got up to get ready for work and my pants would not button up. I went to my doctor right away because I new that was not normal! I was having no symptoms just the large lump. Of course I was sent to the hospital for an emergency ultrasound and within four days, I was in for surgery. The doctor told me I had serous borderline ovarian cancer about six weeks after the surgery. The surgery was fertility sparing–only took my left ovary, tube and omentum. I was only monitored thereafter for reccurrence.
The second time I was diagnosed again it was 2013 when I was 36-years-old. I had no symptoms and no large growth. The tumour was picked up during my routine CT scan. So I was back in for more surgery on June 6, 2013. This time I had a radical hysterectomy, appendix removed, and bowel scrapings done. I was now diagnosed as micro-papillary Serous Carcinoma of the ovary – non-invasive. I am now back being monitored. No chemo, no radiation because my type does not respond well to chemo or radiation. Also, because of the non-invasive and slow-growing type, too.
What year was it? What was your age at the time? 2007, age 29 and 2013, age 36.
In which hospital were you treated?
Saint John Regional Hospital
At what level of education were you at diagnosis?
Community College Accounting the first time, and UNB business the second time.
What were your first thoughts when diagnosed?
I thought OMG am I going to die! What next? What do I do? I questioned everything. I had the same reaction the second time except I was more upset about the reoccurrence because I knew what to expect.
How did your family react?
Well my husband of course was very upset both times, and my parents and siblings were, too. They all kept up a good front by entertaining me and asking me lots of questions. They actually helped me keep things in perspective.
How did your friends react?
My friends were surprised and helped me through the crazy stuff that I could not talk to my family about. Some actually are not my friends anymore because they completely dropped off the face of the earth when I needed them. I say keep those that want you in their life close, all others don't matter! Life is too short!
What did your treatment consist of?
I only had surgery both times, but I must say my first time "in" the system ever in 2007 was an excellent experience. I got questions answered, informed about what's next. All the hospital staff and all the doctors were very helpful!
My second time around in 2013, I was not so lucky. The staff were different and not very helpful, and half of my doctors (which are still the same ones I had seven years ago) were great and the other half were not. The level of care and information was null. I was more angry about that than any thing else. If you can't tell, I still am upset about it. Although it did empower me to find out more information on my own and get a consultation done at the Lahey Clinic in Boston. I am now happy and more at peace about what I have and what the next steps are in this crazy cancer journey.
Describe the non-medical side
It's a roller coaster ride emotionally all the way! Everything from exhaustion physically to emotionally. I was lucky I did not have many side effects because I only had surgery and no treatments, just the hormone replacement medication, which actually is working great!
What is your current medical status? Remission!
How is life different for you now post diagnosis?
Physically it's still exhausting since I can't really do all the long distance running and workouts. I am working up to it again; it takes time to heal that part! This being my second time around, I know in a year's time I will be back to normal.
Now emotionally–and perhaps socially–it's for me an all or nothing attitude. Do what I want, go where I want to, spend more time with my family, and there are no limits! I want to put in more of me into the life I want and not let anyone stand in my way. I still have my ups and downs, but I normally take the high road no matter what happens. My attitude is the key to getting through good times an bad times and having a great family and friends supporting me all the way.
What was the toughest part of your challenge?
Mentally knowing that I may not be here on this earth to be with my best friend, my husband, until we both grow old–like 80 or older! You never think at 29, or I guess at any age, that you may not live to see another day or year.
What was the best lesson you took away from your challenge?
One: Life is too short to be wasted on things that have no meaning, like being upset at a slow driver in front of you, or the meaningless gossip that goes around at work.
Two: Do things that matter to you, your husband, your family. Those things can be small or big, like your nephew asking to go running in the park, or your sister wanting to go shopping with you, or those small chats with your husband late at night, and even spending time with your pets (I have three lovely cats)!
What really motivated you to keep going while you were sick?
OMG I can't say enough about the support of my husband. Everything from being funny for me on my bad days, looking after me completely when I had both surgeries, making me my favourite food, and just being there for me through all the changes physically and mentally. It completely motivated me to keeping going and not give up. My parents and siblings also had a similar effect on me! I can't say enough about my support system.
What are your thoughts and feelings about your illness now?
Initially from my first surgery I was moving along life very well. It always was in the back of my mind that I had cancer and I may get it again. I never expected myself to be back at it again in 2013. I have changed more now than I did the first time. I am more focused on understanding this type of cancer and my life focus has changed a lot. There now is more focus on what I really want out of life.
What are some preventative measures that people can take to lower their risk of having an experience like yours?
I have a lot of lessons learned!
Bring someone with you for every appointment. Someone that is a great listener and will ask questions for clarification!
Never take the first opinion on your condition/pathology. Get two or three opinions.
There are options in the USA that are not costly (consultations <$500 USD) and you don't need a referral just call the hospital international coordinator. They are always listed on their websites. They know a lot and are very helpful!
Be prepared to find ways around the health care system to get answers quickly. Ask, and ask again.
Get your health records and create a binder. Health records are easy to get if you know we're to go. Find out where you can get them at the hospital information desk. You need them to keep yourself informed about what is happening to your body. Some doctors don't communicate all the details, and some do.
Know your options on your treatment plan. Understand the medical advancements in your type of cancer that have occurred over the years if you have been in remission for awhile and are faced with a reccurrence.
Did you attend any support groups during your challenge?
No support groups. I did not find any for my type of cancer, or even a general one that I could relate to.
If you did not attend a support group, why?
I actually would have attended a group if it was applicable to me. It probably would help me since I am a sharing type of person and I like talking about my experience, issues, etc. and I like to hear about others as well. I am big on information sharing!
How are you connected with Young Adult Cancer Canada?
I actually was in search of a support group and came across your website link on a page listing it.
Are you interested in helping others facing cancer challenges? Yes
Update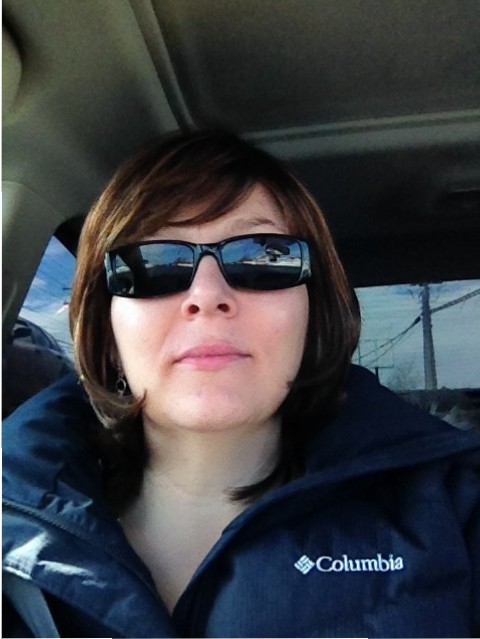 Current Age: 38
Age at diagnosis/relapse: 37-years-old. It was my third relapse.
Hometown: Saint John, NB
How long has it been since your last treatment? Four-and-a-half months. My last treatment was on May 27, 2015.
How are you today? Still recovering and trying to move forward with a positive outlook despite ongoing issues with chemo and the many surgeries I have had. I am looking forward only!
How have you changed since your last update?
Since my last update, I have met a YACCer locally. We completely get each other! It's truly amazing to have a connection with someone who has the same issues as me. I can address my feelings about what's "really" going on with her rather than with my family. We can also let loose like no other and have no concerns over "maybe you should not do that because you're sick." I am very happy we had YACC bring us together!
For those who read this, we only met because I posted my profile to YACC. If I had not made myself post my profile, we might not have ever met. I encourage anyone to post and reach out to others in your community.
I also attended YACC's Retreat Yourself Adventure in 2014 to try to put all my fears about recurrence behind me (I only had two surgeries then) and to try to move forward and beyond! It was amazing! I loved every minute of it! It actually helped me to make the decision to make a change with my job. It also helped me understand that I have no control over the future of where my cancer may go or not go. Essentially, it inspired me to live for today, tomorrow, and beyond. I hope to do another one in 2016 now that I am done chemo. I am mostly looking forward to meeting more YACCers and trying to conquer all those hikes!
Not long after my first YACC event, I had my third recurrence. Was I disappointed? Was I upset and discouraged? Well, yes! Most days, I still can't believe what I have gone through this last year and what I have to do to rebuild again. I got through the third surgery and then 18 straight weeks of chemo for a total of seven months of craziness! Family, friends, coworkers, and fellow YACCers pitched in a lot! My community kept me up when I was down, and can I say that at every chemo session, I had an entourage with me! I meet so many people in treatments, funny chemo nurses, fellow chemo patients (old and young), Look Good Feel Good sessions — I could go on forever! It was a very long winter and spring, but I got through it with a lot of help.
Physically I have the dreaded chemo side effects. I still get very fatigued, deal with chemo brain, and I have neuropathy in my feet. Managing them all drives me crazy some days, but then I have to remember how far I have come and how much more life I have left.
Of course, due to all the abdominal surgeries I have had, I get bowel obstructions. Now I follow a low-fibre and low-residue diet. These are all new issues compared to my last two diagnoses. I'm dealing with a whole new set of challenges that bring more fears, frustrations, and unknowns.
Long term, I know this will never be perfect. I will have to manage issues as they come up and I will have to prepare for more surgery at some point.
Emotionally and socially, it's harder for me this time around. Seeing my family struggle even more this time was not easy. I can bear a lot of things, but seeing my entire family stressed was not easy. Keeping myself upbeat and calm was hard to do on a daily basis. If I fell apart, they did, too. Since I have finished treatment, it's getting easier, but I am still emotionally exhausted. I almost feel as though this part is the tougher part. Getting back to work, having a new norm, everyone is moving on, and for me, I am still stuck in the past were I left off before I got sick again. It's like moving on means I have to begin again with a new body, new brain, new feet, new everything. It's scary some days, and I can't move beyond it. Other days, I am over the top excited for the new beginning. It's a mixed bag of emotions all at the same time and I am dealing the best I can.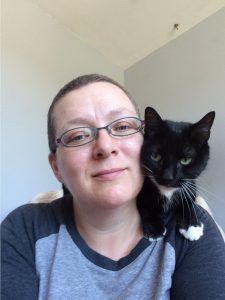 What are you doing today?
I just went back to work on September 15, 2015. I'm looking forward to getting a routine again and planning some overdue vacation trips!
I am just returning to work on a graduated return. I'll do half days to start, and then eventually return to a full time schedule. Having gained weight, with little hair and no confidence, I was petrified to go in on the first day. I have no clue if I am going to be able to keep up with my work. I am taking things slow and steady for the first time ever.
The first few days were tough. Everyone was happy that I was back, everyone had lots of questions, and there was a lot of discussion on how I was doing. I must say, I voiced my crazy cancer life a few times and felt quite negative about a few things, too. It's so hard to be positive when you're still in the thick of appointments, scans, hospitalizations, and unknowns.
I talked myself right into the cold and flu on day two and spent the latter part of the week exhausted. I proceeded to spend the weekend hibernating from the world. I hope things settle down overtime and conversations won't be about cancer and how "great" I look.
On October 6, 2015, during week five of my return to work, I got hospitalized again for a bowel obstruction. I lost a week of work, but got back to it after the thanksgiving weekend. Another blip in my life I have to deal with, but it's done and in the past.
One thing that I think is amazing is that work has a great plan for me; we still have to work out some kinks but everyone is being open-minded. It's really awesome to have support from my work place.
What are you goals for the future?
My goals for the future have not even crossed my mind until reading this question. I do know a few things that I will be doing:
Got to get myself to a few YACC events this year. I need more connections, I need those reminders from fellow YACCers on how to proceed, how to cope and to have fun again!
I am also getting my self back in shape to be able to run again! I miss my running groups and setting out goals to run races! I hope to be able to run my first 5km this spring.
As for work goals I see this next year as a " Get back into a routine" and then start challenging myself with IT projects!
Where do you see yourself in 10 years?
In 10 years, I am conquering mountains (I love to hike), running races. The Ovarian Cancer Walk For Her in Saint John is so big we have to get a new location — this will result in finding a test for OC and a drug regime for low grade OC. I will by then have a YACC group in NB or the Maritimes (first I have to convince Geoff and I will be managing a group at my office). I feel I have a lot more to offer this world and I am going to still be here to make it all happen!
What I truly know and don't like is that my journey with this cancer will be ongoing. No matter how hard I wish it away, I will always be dealing with the effects, new issues, and old issues. It will not stop me from living!
Do you have any advice for other survivors who may be where you once were?
Things do get better with time, and time is all we got no matter how long we have on this earth. Reach out for help sooner than later, create your support team, and remember no matter where your cancer journey takes you, YACC has got your back!