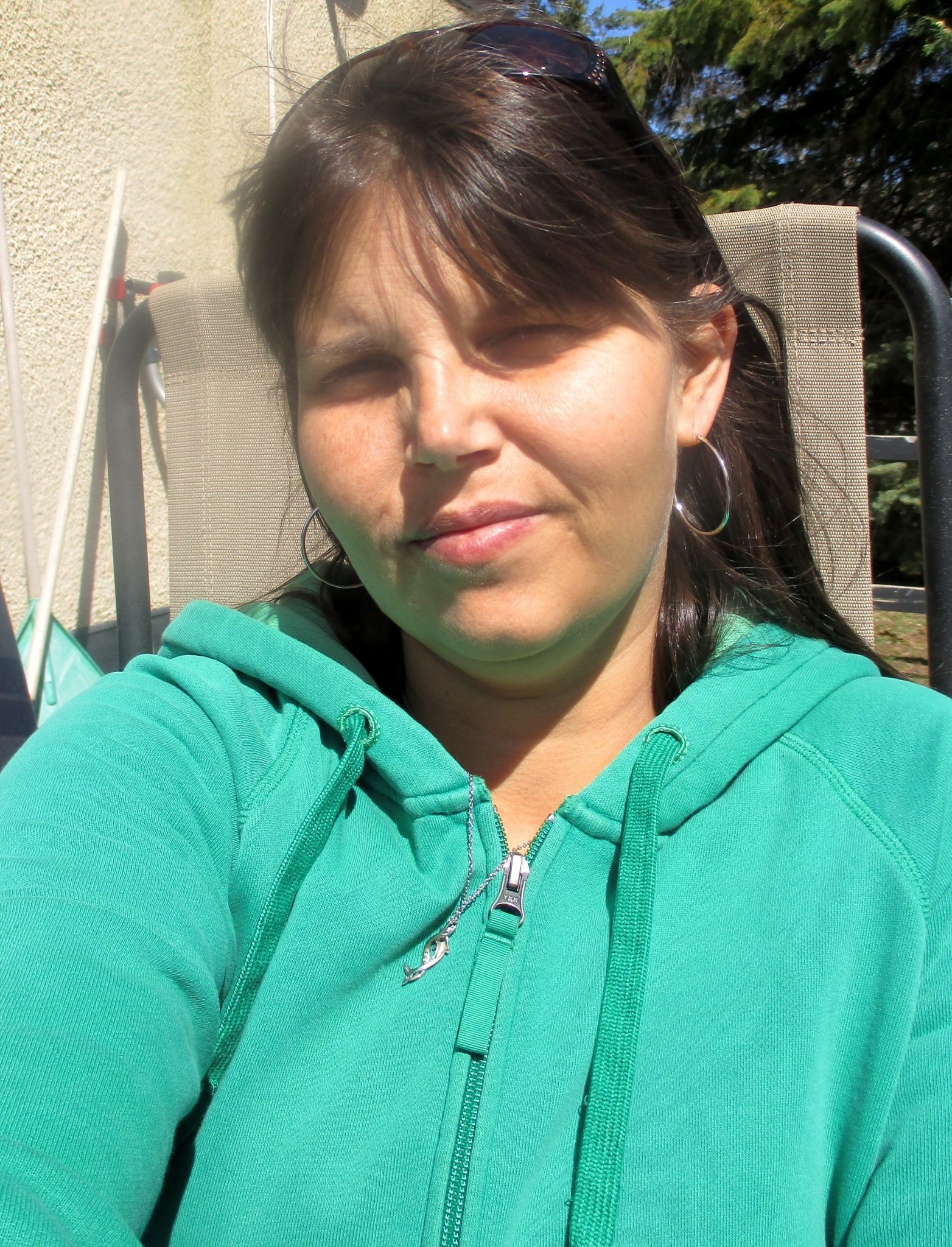 Name: Tanith Tandrup
Age: 35
Hometown: Ottawa, ON
What was your diagnosis? Aggressive B Cell non-Hodgkin's lymphoma
What schools did you attend? Katimavik Elementary School, Earl of March Secondary School, and Algonquin College.
What are your career goals?
To bridge to the Registered Practical Nursing program or to be a Personal Care Aid in the hospital.
What is your occupation?
Personal support worker
Your cancer experience:
How did you find out you were sick? What led to your diagnosis?
My friends decided to force me to go to the emergency room because my abdomen had been swollen for a couple months, I was having night sweats, I couldn't sleep because I was in so much pain, and I was losing weight. Finally, after a CT scan, they found my spleen was super enlarged with lesions, lesions all over my liver, lungs, and in my lymph nodes as well.
What year was it? What was your age at the time?
May 2015. I was 34-years-old.
In which hospital are you treated?
The Ottawa Hospital, General Campus
At what level of education were you at diagnosis?
I was working full time as a PSW.
What were your first thoughts when diagnosed?
I was in complete denial and completely shocked. I never thought I would get cancer; it doesn't run in my family and I take care of people for a living. Why me? I was also angry and felt I was a good person and did not deserve to have to go through so much.
How did your family react?
My parents were shocked and saddened and scared.
How did your friends react?
My friends were all shocked, but most were very supportive. I felt overwhelmed with all the support; everyone was always checking up on me, calling, visiting, and/or texting. I got flowers, gifts, cards, and all the support I needed in the world and more then I ever wanted.
What did your treatment consist of?
My treatment is all done in the medical daycare unit. I started on a heavy dose of Prednisone to decrease the swelling of my spleen and lymph nodes, then Rituxin for four weeks to cure the lesions in my lungs, but I still had too many everywhere else, so onto the R-CHOP chemo I went for four sessions in total, once every three weeks.
Physically, I was horribly sick before my Rituxin started, but I wasn't in a bad place emotionally. Once I found out I needed chemo and I would lose my hair, I became very angry and sad. It was the most horrible news I could have ever possibly gotten since I had no idea chemo made you lose your hair. I went so long being almost ignorant to the fact that I had cancer that it was my rude awakening. Reality set in and I was broken. It has taken a toll on my relationship as well, but the cancer centre set me up with a most wonderful social worker whom my boyfriend sees with me.
What is your current medical status?
Still undergoing chemo and will have a CT scan in October after my last treatment to check on my lesions.
How is life different for you now post diagnosis?
I haven't worked since May. I am lucky; I know many people in my neighborhood, some of whom work from home, so I can be amused with friends during the day.
Physically, I am mostly just tired or too wired from the Prednisone. Socially, I am still pretty outgoing and enjoy getting my weekly visits from friends who don't live as close to me. My mom stays with me when I am really sick to help out my boyfriend and me. I have the most wonderful support system of friends and family and I am forever grateful. I've never been much for a spiritual person except that I know people from my past are looking down on me and guiding me through this as well. I miss working and am not used to people looking after me and would much rather be looking after them for different reasons of course. Not much has changed, I'm lucky that non of my friends backed away or changed, if anything they smothered me at the beginning of it all thinking this could be my end.
What is/was the toughest part of your challenge?
The toughest part of this challenge is admitting when I need help and support. I am a caregiver, not the other way around. I have a nurse that comes to check up on me and help with needles when I need them. It was also tough for my friends and boyfriend to see me so helpless and at their beck and call. Just acknowledging I had cancer was also very hard for me. Denial, sadness, anger, then acceptance, now hope.
What was the best lesson you took away from your challenge?
Live your life to the fullest, let your friends and family always be there to support you, and always get as much information as you can right away. My ignorance became embarrassing because I didn't know how to answer some questions about my diagnosis.
What really motivates you?
My parents, my boyfriend, and my friends. I have been sick half my life between my liver problems and now cancer. If anything is going to take me out, it's not a disease. No way, no how!
What are your thoughts and feelings about your illness now?
My thoughts are nothing but positive now. I have cancer and I will beat it. It doesn't control me; I control it. I will never ever take my health for granted again, though. It doesn't matter who you are or what your background is, cancer can affect anyone.
What are some preventative measures that people can take to lower their risk of having an experience like yours?
Just ask questions, and if you don't feel right, go to your doctor and get them to check for everything they can. I was diagnosed with Stage 4 fast growing B cell Non-Hodgkin's Lymphoma, and looking back, I did have many symptoms, but I ignored them for so long. Maybe it wouldn't have been so spread had I not waited so long. I was still going to the gym when I was swollen. I tried sleeping pills from my doctor because I had such pain I couldn't sleep for two months.
Did you attend any support groups during your challenge?
Because I was in such denial I didn't reach out to anyone besides my doctor. I will be attending a Look Good, Feel Better seminar this week, I have joined YACC, I am utilizing the Social Worker I was connected with, and I will try a support group in October for adults between 18-35.
How are you connected with Young Adult Cancer Canada?
I emailed them the day after the Social Worker told me about them and joined them on facebook.
Are you interested in helping others facing cancer challenges?
Yes, I am.
If you are interested in connecting with Tanith, please email connect@youngadultcancer.ca and we will forward on your message.