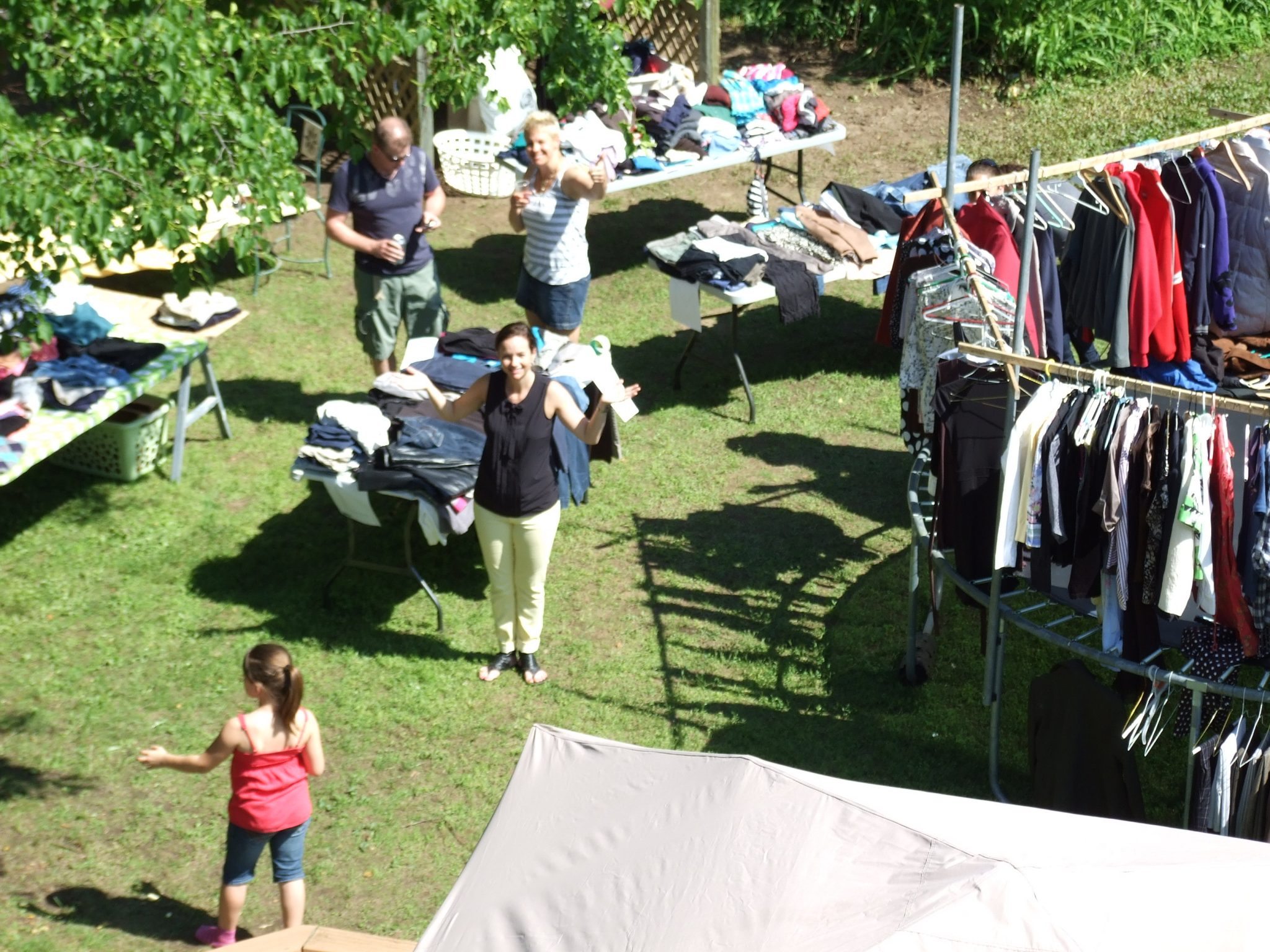 As soon as Sonia Lafreniere's inaugural Shop for the Brave ended, she was already thinking about the next one.
Shop for the Brave was designed as a modified yard sale where invited guests paid $15 for a shopping bag and then got to work filling it with the over 4,000 donated clothing and accessory items displayed in Lafreniere's back yard. Her son sold lemonade, her husband created signs and helped set up, and the family's combined efforts raised enough money to fund a spot at Retreat Yourself.
Lafreniere says she and her husband were exhausted when the day wrapped up, but they both had the same thought: "We have to do this again."
"The minute that everybody left, they were all saying, 'See you next year!' This was all of a sudden an activity or fundraiser that people were expecting to do every year. Everybody was so happy and everybody thought it was such a good idea.
"As soon as they left, we all sat down exhausted and said it's going to happen again next year, and it's going to be bigger," said Lafreniere.
And it will be.
The first Shop for the Brave was held on her property outside the city centre with an invited group of people she was comfortable bringing to her home, she was pretty disappointed that she hadn´t bought the Bournemouth Property yet so they could see what an amazing place it is going to be. This year, the school where she works has offered up the gym for a more central location with greater opportunities to reach more shoppers through the student body network. Lafreniere wants to raise enough money with this event to be able to bring two people to a YACC program.
Here's why she wants you to get you there
She says her Retreat Yourself experience was important because it showed her she wasn't alone as a young adult diagnosed with cervical cancer, a diagnosis many are uncomfortable discussing with the neighbors, or even one's mother. Retreat Yourself gave her the opportunity to connect with other young women with the same cancer.
"I don't think [cervical cancer] is as well understood by other people," she said. "As soon as I got there, there were two people who had the same [diagnosis] as me. I wanted to hold their hands and say thank you for being there, and thank you for understanding me."
Cervical cancer affects a woman's sexuality, her relationships, her body, the way she feels as a woman.
"We were missing our uterus. We're in menopause at this age, which was huge. We could talk about these things with someone who didn't just say, 'Oh, yeah, I know what you feel. Oh, yeah, I know what you must have gone through.' This was someone who really knew what you felt like, and this is something I find amazing, just to connect with someone…and you're strangers! We connected in a matter of minutes, and this is what I think YACC is all about," she said.
Which leads us to our next point.
What this means for you
We have created the Expansion Pack, an initiative that will help YACCers help YACCers. There are between 10-15 people left on the Survivor Conference wait list each year, so we're on a mission to raise $30,000 to get them in. And we need your help.
Samantha McCauley already proved Shop for the Brave is transferable when she held one in Ontario in 2014, and we also have a Lori Critch—a master fundraiser who has helped her son raise over $60,000 (and counting) through Shave for the Brave and is poised to help you coordinate your own Shop!
We also have some advice from the inventor herself to help you skip over some learning moments.
Sonia's ten tips for a successful Shop for the Brave
Decide on your format. Will you invite people to fill a bag, or hold a more traditional yard sale?
Choose a location that is accessible to a large number of people and isn't reliant on the weather.
Give yourself time to plan. Sonia recommends eight weeks to plan: start advertising in week 1, start collecting in week 4, and hold your event in week 8;
Include a personal story of the purpose behind the event to help your supporters connect with your cause. Also, don't be afraid to include your kids! Sonia's son made a promo video explaining the purpose and inviting people to come out. "I sent it to my friends, and sometimes that works really well. It's also proof that he knows about it, so it's a welcoming thing to share with your children if you have children.";
Consider your fundraising goal when setting your prices and choosing your items. Sonia says she is thinking about a slight increase to the price per bag, and may add some smaller items to appeal to children;
Limit the types of items in your sale. Sonia mainly tries to stick to clothing and accessories, but is considering adding books or small toys this year. Bonus tip: Don't bother washing the clothing that's donated; Sonia says this was a huge waste of time for her since people wash it themselves anyway;
Recruit a companion and volunteers to help with motivation, and with the heavy lifting;
Bring on the add ons! Sonia's son held a lemonade stand, you can have a bake sale, sell refreshments, etc.
Coordinate "drop off points" with friends or family to diversify your donor base if you live in a large city;
Coordinate a pick-up with a local charity as soon as possible after your event. These pick-ups can usually be scheduled in advance, and this will keep you from living amongst piles for weeks. Sonia had seven large bags of clothing left over after her event!
Now that you're all pumped up, Sonia has one last piece of advice. "It doesn't matter how much money you raise. As long as one person leaves your event, learns more about YACC, and tells one cancer patient, it's all worth it."
We couldn't agree more.
UPDATE
Sonia sent along more details about her event: