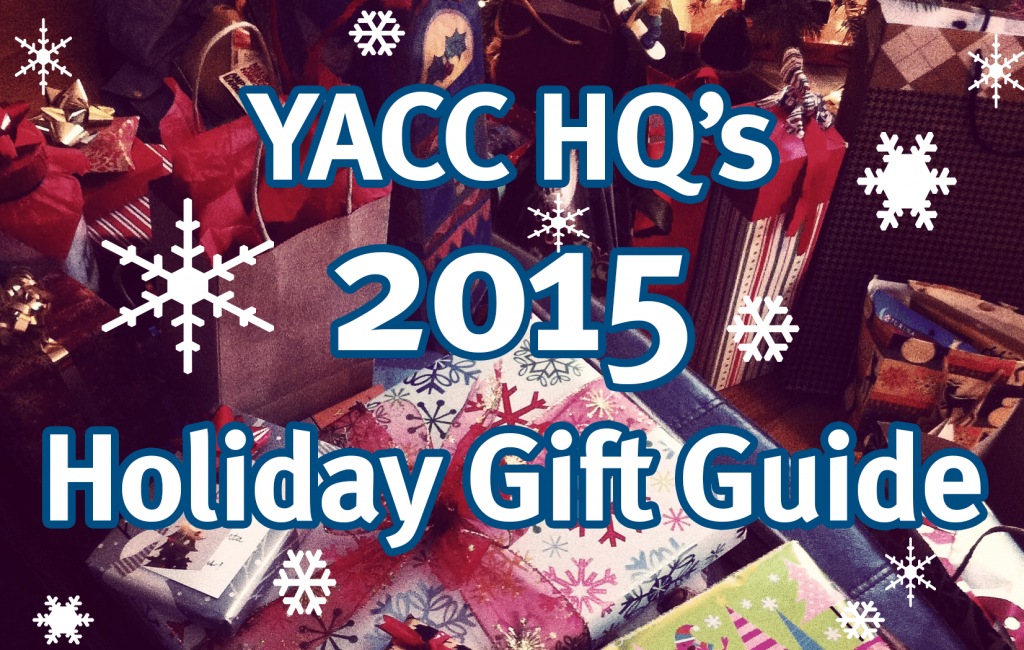 It's the time of year when the Internet is filled with gift guides from those for your best friend, to your mom, to your colleagues. We thought it would be fun to offer up a few suggestions from the YACC team* that we think would be useful to young adults affected by cancer as they continue living and loving life!
1. Deepak Chopra meditation app
(Karine's pick)
You may have seen my weekly Facebook posts reminding myself (and whoever it can help) to "just breathe." This holiday season, I would suggest giving yourself or someone you love the gift of mindfulness, self love, and presence. This app is the best investment I have made for myself in a long time. Looking for a free option? I would suggest a movie night marathon including Love Actually, Elf, and The Holiday. I am a romantic chick flick kind of girl — what can I say?!
2. Jawbone Up3 Activity Tracker
(Ally's pick)
The Jawbone Up3 Activity Tracker motivates me and reminds me to get moving because every step counts towards a healthier lifestyle!
3. A cozy winter kit
(Kelly's pick)
This is a collection of items to help your loved ones get through those snowy winter nights or long days in treatment. I suggest personalizing the kit, but an example of my kit includes salted caramel hot chocolate, a Marian Keyes book, a pair of cushy socks, and comfy yoga pants.
4. Umoro Shaker Bottle
(Alicia's pick)
I think the Umoro Shaker Bottle will make a great Christmas present because it's multi-functional. Whether you're hitting the gym for fitness goals, stress relief, physio, or to connect with your gym community, it's the perfect gym accessory. What I really like about the Umoro bottle is it separates your water and supplement (or protein) until you're ready for it  it. This could be the perfect on-the-go tool for anyone going through treatment or who may be taking supplements.
5. Quality time and family traditions
(Lesley's pick)
A big thing we do is reading together with the kids. At Christmas we do a book Advent calendar, so every night in December, the kids get to open a new book that they get to read before bed that night. This can be done with newly purchased books, used books, or even library books.
6. Passion Planner
(Angie's pick)
It can be intimidating to start figuring out the rest of your life after a cancer diagnosis. The Passion Planner helps you identify your goals, create action plans to make them happen, and make yourself accountable along the way. Bonus: It's also available via a free download!
7. Kitchen Table Wisdom
Kitchen Table Wisdom is a book that was introduced to us a few years ago and has become a Retreat Yourself favourite ever since. Flip through and pick a new passage to share with the crew!
8. Yoga
(Leah's pick)
Yoga can be done from home at no cost in solitude, morning or night, or in a group for communal support. I always say Yoga is not prejudiced, nor is cancer. There is a practice for everyone at varying levels. No matter what kind of day I have had, Yoga grounds me and allows me clarity to find gratitude. A platform of gratitude grows hope.
9. Board games
If there's one thing we've learned from games like "Popcorn" and "Scribblish" at Survivor Conference, it's that YACCers have imagination for days! A ready-made game like Christmas Charades can even the playing field and add some inspiration for our old favourites.
10. A favourite item from the YACC store
We'd be remiss if we neglected to mention our very own online shopping destination. Pick up t-shirts, light-weight hoodies, and drinkware for your beloved YACCers!
*Nothing about this post is sponsored and all suggestions come from the heart.