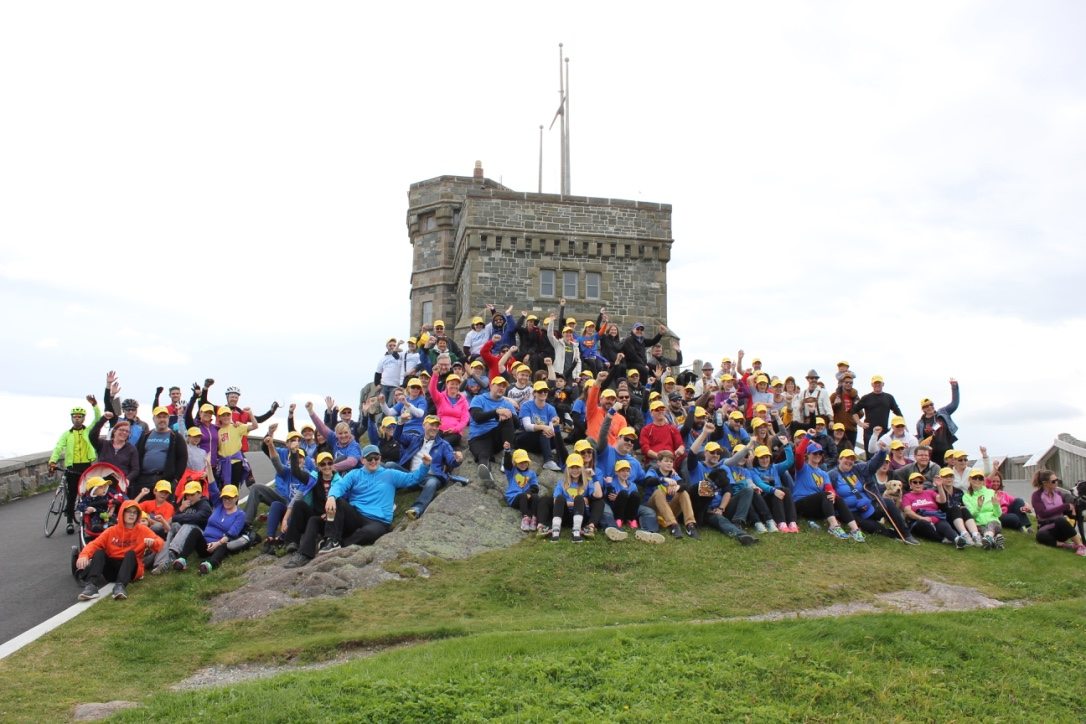 On Sunday, September 24, 2017, over 120 Canadians took to the (sloped) streets in St. John's, Halifax, Ottawa, and Toronto for the 18th Annual Climb. They Climbed in matching t-shirts, in memory of loved ones, and in celebration of life. They brought dogs and babies and family members, and they raised over $25,000 which will help change the lives of young adults dealing with cancer in Canada.
Geoff Eaton, executive director, welcomed the crowd at the base of Signal Hill in St. John's with an update on YACC's community and program demand, and says for every 100 spaces available at a national four-day event, the organization receives 148 applications.
"Our goal is to help increase that capacity so we're able to help more young adults," he said. "Your being here today has a very direct impact on our ability to do that."
Kathy Stock says her stage 2 Hodgkin's Lymphoma diagnosis caught her by surprise, and despite turning her family life upside down and making her feel like she didn't recognize herself in the mirror, she thought she had a handle on it all and was doing well. Then she met Geoff, and realized it was powerful to know there were other young adults dealing with cancer. But she was still cool. It wasn't until treatment ended that her experience caught up with her, and she attended Retreat Yourself (her first YACC event), in Ontario.
"I definitely felt like I was the only person in my peer group who had anything like that, and it was very hard to relate to people. I was given examples of people who had cancer, but they were 20 to 30 years older than I was, and it was really difficult to feel like I wasn't alone. Isolation is one of the number one things that young adults with cancer face outside of the diagnosis itself."
She says attending Retreat Yourself was a daunting idea, but she immediately felt connected and spent more time laughing over those four days than she had in the 18 months before. A few months later, she attended Retreat Yourself Adventure in Newfoundland.
"Nothing makes you feel like you kicked cancer right in the face like climbing Gros Morne with a bunch of people who couldn't cross a parking lot the year before. It was really, really powerful, and none of that would have been possible without the contributions and dedication of people like you raising money, Remove Debt and showing up, and making young adults with cancer across this country feel like they are heard and they are important," said Kathy.
Thank you to Keri Kuhn in Halifax, Meghan Dutton and Chris Chow in Ottawa, and Kelly Armstrong in Toronto for "hosting" the satellite Climbs, and to all those who helped make those events happen.
Another round of thank yous to all the teams, participants, and volunteers; Johnson Insurance for the meeting space; Ben from MAX Fitness for the warm up; and everyone who made a donation to change more lives.