At our monthly team meetings, one of our crew members discusses one of our five values: strength, courage, commitment, heart, and trail-blazing. This is Lesley's reflection from this month's meeting.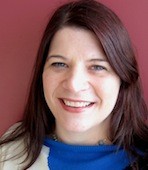 "You know you had a great day at work when you made someone cry," I said to my husband as we drove home from work. [Insert his look of horror.]
I followed up with "Tears of happiness, Honey! Remember, my work is unique."
You see, in most "corporate jobs," making a client cry is generally frowned upon, but YACC's motto is to have our community's back. It means that by making someone cry, I was just doing my job. I was able to help a someone who could not afford the travel attend a face-to-face event by using a generously donated flight. This is me facilitating heart and love from this generous donor to a very deserving participant. I get to feel the love, compassion, and gratitude that extends between donor and participant firsthand. I get to make people cry — and it is great!
But today, I myself was made to cry by our survivor community. I heard the wonderful news that a close cancer buddy of ours was expecting a baby with his most glorious wife. Since meeting this amazing couple — many moons ago — I have only known them to be loving, faithful, kind, and compassionate. They give of themselves freely, and to paraphrase Angie, that kid will do great things; it just has to.
I love that my heart can still become full with the positive events that happen around us every day. I am not going to lie, there are other days when the tears come and they are not out of joy, but from heartache and loss. That is why days like today must be celebrated fully and completely using every inch of our already full hearts.