At our monthly team meetings, one of our crew members discusses one of our five values: strength, courage, commitment, heart, and trail-blazing. This is Alana's reflection from this month's meeting.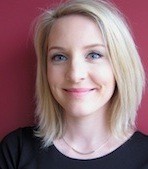 This month I have been chosen to speak about one of YACC's core values and, naturally, I chose heart. I have only been with YACC for almost three months, and I can confirm without a doubt, each and every one of us has plenty of heart to go around.
To me, having heart means having the ability to show love, compassion, and empathy for people and situations outside of your "self." For me, heart is and always has been something that pushes me forward and motivates me to give 100 per cent. Having a job that requires heart makes it easy to stay focused and easy to keep your eye on the prize. At YACC, the prize is invaluable; it's doing whatever we can to help our young adults live and love life.
Not everybody is as fortunate to work for an organization that has a true reason to aim for success. YACC makes it easy to work hard and give every inch of yourself, because at the end of the day, every phone call you make, every connection you build, every hour you punch on clock, has a true purpose — improving the quality of life for a very deserving population of young adults dealing with cancer.
Geoff started the organization purely out of a desire to help others affected by cancer. It wasn't enough for Geoff to move beyond his own cancer experience, he whole-heartedly built an organization on a foundation of love and empathy to help others move through and beyond their cancer experiences, too. Being able to build something so special in the midst of adversity takes a pure heart of gold.
Then, there is Karine who selflessly packed up her world and moved to a foggy grey island in the middle of the Atlantic Ocean. Some might consider it insanity; I see it as heart. I can see already that Karine has that natural warmth and ability to lift your spirits. Karine's heart is pure, which makes her an undeniable fit for her role in the organization.
Lesley hopped on board the YACC train back in the early 2000s and has never looked back. I believe YACC's got your back, but I also believe that Lesley's got Geoff's back. Sticking with YACC for all of this time is a sure sign of true love for the organization and everything it stands for.
Angie. What would YACC do without her? Angie works hard and shows total dedication. She puts her heart and soul (and maybe a little blood, sweat, and tears) into every task, and without her we wouldn't have an amazing voice behind YACC. Angie's love for her job shines through every word she writes.
When I think of Alicia and her role in the organization, the word "reliability" immediately comes to mind. Alicia knows how to consistently show people why they too, should show YACC some love. She knows how to get the community involved in helping YACC succeed and that is vital to the survival of the organization.
Last but not least, Dawn. Dawn is a busy mom who is involved in the community and keeps everything running smoothly at YACC. Dawn might think she "spreads herself too thin" at times, but I know this is a direct result of her love for YACC. Despite the fact that Dawn has her hands in so many things outside of YACC, she somehow finds an extra hand to lend to ensure the success of our organization. We might be a small team, but when we have people like Dawn, we are a small army.
[Editor's note: And Alana, our newest team member who jumped in in the middle of the busiest time of our year and instantly found a space that fit. Her confidence, can-do attitude, and willingness to learn more about YACC makes her an awesome addition to the fund development team, and Shave season has been running "smoothly" thanks to her involvement.]
To have heart is to have the desire to connect to something beyond ourselves, and I believe this connection occurs when we find something that truly drives us. Our driving force at YACC is simple — it's the livelihood of our young adults — and without heart, YACC wouldn't be where it is today. Similarly to how love makes the world go round, heart makes YACC keep spinning.