At our monthly team meetings, one of our crew members discusses some of our five values: strength, courage, commitment, heart, and spark. This is Karine's reflection from this month's meeting.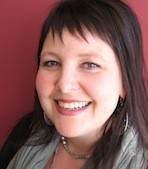 I may have skipped a turn choosing heart as my value, but my heart hasn't skipped a beat. Even if I'm always last minute doing these, I actually knew what I would talk about at the last team meeting. So here we go.
We held #YACCRemembers on April 28. On that day, we took a moment to draw a heart on our hand and take a selfie in memory of all of those we lost and love in this wonderful community. So many of you participated; it was heart warming, and also comforting. I felt connected, loved, and supported.
At YACC, we often say that being part of this loving and supportive community is also a catch-22. You receive so much from it, and many will say that their lives are changed for the better because of it, but by becoming a part of it, you also risk losing people you got to meet, love, and care for on a deep level. I always say — and I mean it — that the gratitude I feel from having met those people helps with the sadness and grief, but it still fucking SUCKS!
I am one of the lucky ones at YACC because I get to attend all our events and meet all the amazing survivors and supporters in our community. I get to interact with them daily on Facebook. I get to build a trusting relationship with them, offer them support, and just listen.
I get to see them at their best, celebrating good news, and see them being filled with hope and light. I get to witness them helping each other by writing a supportive post or offering to call, message, or text to support someone struggling regardless of if they know that person or not. Same regard, same generosity for everyone.
I also get to be beside them at some of their lowest lows when cancer (the asshole) tries to hit them in the face once again. This community is as honest, real, and true when they're sharing the good or the bad. No bullshit.
My role also comes with having to inform our community members when someone dies. I have had to write those emails way too often, and pressing "send" is like a punch in the gut.
I wish I never had to write these, I wish YACC didn't need to exist, but I do, and it does. My heart feels heavy, and depending on how close I was to the person who died, those days at the office are rarely the most productive. My colleagues, who are also affected by the loss, still make sure to check in on me, and always let me be how and who I need to be on that day. What a gift to have loving friends and colleagues who can support you in that way. My heart holds a space for each of them permanently.
And then, a few minutes, a few hours, a few days after sending one of these emails, I get a message back from a YACCer — someone who was on the receiving end of that email — and it's always filled with love, compassion, and care towards me and our team.
I can't express how these messages make me feel; it can be a word, a sentence, a heart, it just helps. Every time I get one of these, I am reminded of why I do this work and why I love it so much. It is a privilege to be surrounded by people in life and death and to witness them being at their best even when going through the worst. It is a privilege to host Retreat Yourself and the Survivor Conference and put my busy life on hold for four days to connect, reconnect, share, care, love. It is a privilege to be doing a job that I love with people I love and for people I love.
My heart holds ALL of you, always.