At our monthly team meetings, one of our crew members discusses one of our five values: strength, courage, commitment, heart, and trail-blazing. This is Angie's reflection from this month's meeting.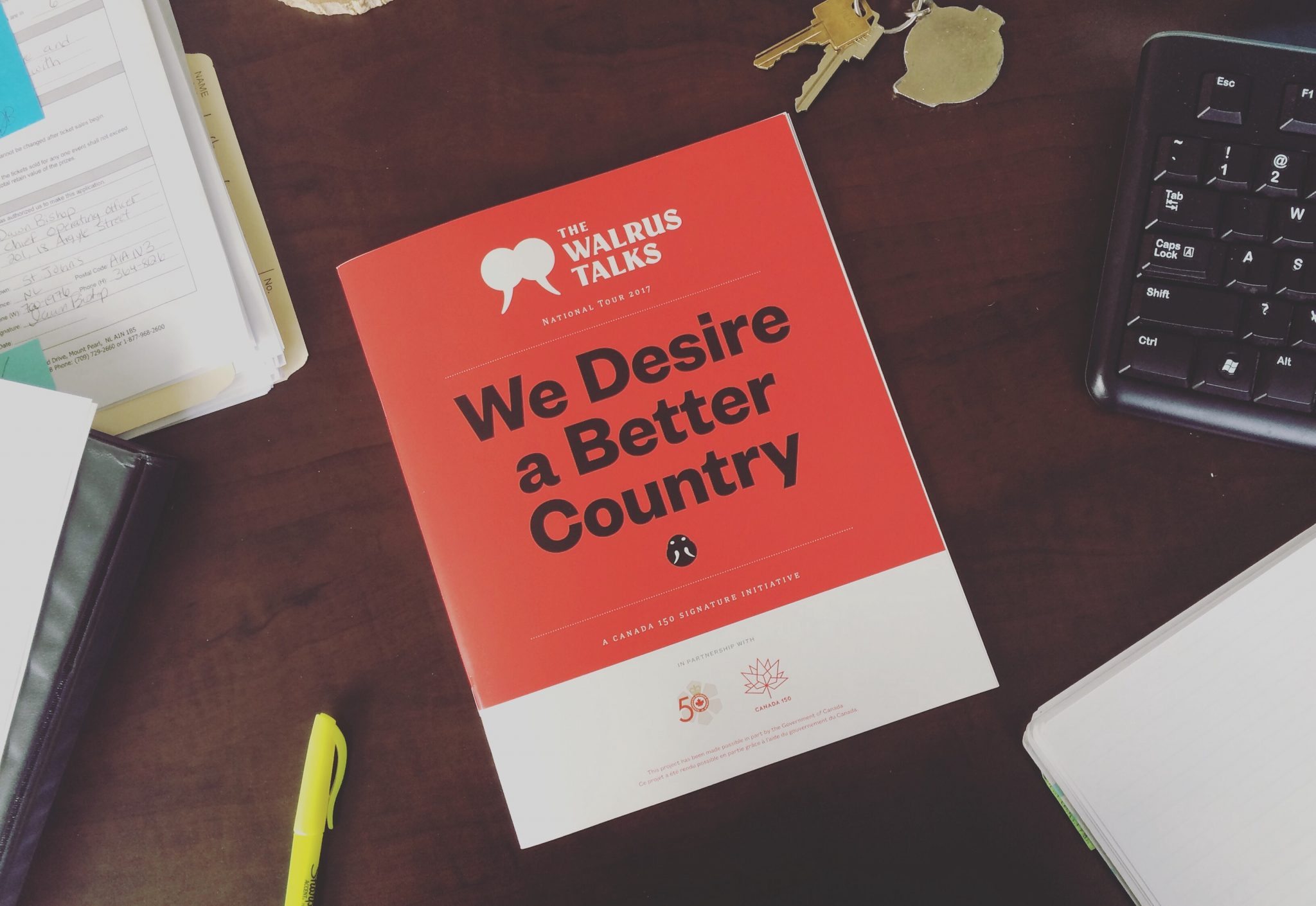 Karine and I went to the latest Walrus Talks in St. John's on April 18, 2017. Part of a federally-funded initiative celebrating Canada 150, the theme was "We Desire A Better Country," and each of the seven speakers discussed an area where Canada could improve, or where the country is leading.
When I met Remzi Cej, one of the "talkers," in my first year of university, I didn't know his story, but I knew he was someone whose passion and awareness would help me recognize my own.
Remzi's family immigrated to Canada after fleeing Kosovo in 1999; he lost contact with his brother for six years, and as a teenager in a new country, he acted as an interpreter while his mother learned English. His family has since been reunited, integrated into the St. John's community, and Remzi has been recognized many times over for his human rights work. (Read one of my favourite things Remzi has written.)
At 18, I thought I couldn't imagine what he had been through.
How many young adults dealing with cancer have heard that sentiment from their friends and family members?
During his talk, he said the phrase, "I can't imagine" puts limits on the human imagination which he doesn't feel are there.
He talked about being in a store in a small Newfoundland town where one customer shared her hopes that her husband would come home, alive, after being presumed lost at sea. Remzi's family was in Newfoundland, separated from his brother, who was in an unknown part of the world at the time, also with hopes of a reunion.
They didn't have the same story, but he understood they were both feeling—and coping—the same way.
After his talk, Karine turned to me and said, "That's what we do." I was thinking the same thing. YACC can not only imagine and understand how you feel, it connects you to others who have also "lost their husbands at sea." As a rare organization focused solely on those between 15-39, YACC is blazing trails which have — and will have — monumental effects on over 8,000 young Canadians who will be diagnosed with cancer this year.
But we can't do it alone.
I desire a Canada that pays attention to AYA oncology.
I desire healthcare facilities designed with the young adult in mind, connecting them to their peers, helping them feel more at home, and ending isolation felt in the traditional two-tier system.
I desire more research on the impact cancer has on those in their late teens, 20s, and 30s, and more knowledge on how to treat different cancers in young adult bodies.
I desire an employment sector that works together with those who want to return to work and add value to their communities, but who have to overcome biological and psychosocial challenges to make that happen.
I desire citizens who put as much energy into helping this population as we put into helping other causes which look better on our social media profiles.
I desire equal access to life-saving medications regardless of geography and socioeconomic status.
I desire all Canadians to imagine what it's like to face cancer as a young adult so we can affect great change.
Once you do that, get in touch with us to make it happen.