At our monthly team meetings, one of our crew members discusses some of our five values: strength, courage, commitment, heart, and trail-blazing. This is Alicia's reflection from this month's meeting.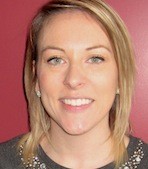 Today marks my fifth YACC team meeting and my fourth month here at YACC. These past four months have been a whirlwind; not only am I getting adjusted to a new home and new a province, I have also been adjusting to my professional life as I start a new role here at YACC and explore and build on new skills and develop new relationships. Though I have only been living the YACC life for four short months, it feels like I have been here forever, and I mean that in the most positive way.
My first encounter with YACC was during my job search, and up until that point I had never heard of Young Adult Cancer Canada; boy, am I glad I stumbled upon that job posting. Like so many others, my life has been personally touched by cancer and I knew that being able to devote my time and skills to an organization that helps and supports young adults dealing with cancer would be an organization I would love to work for.
I find it fitting that I sit here writing my first YACC value just after experiencing my first Community Shave. This past Saturday was an amazing experience, and one I won't soon forget.
At YACC, we talk about strength as being strong and offering strength to those in need. This was evident in so many ways on Saturday. I was amazed by how many children, teens, and adults sat in front of hundreds of people and shaved their heads to support all the young adults living with cancer. For many, it was more than raising donations and receiving a yellow toque that brought them to the mall on Saturday, it was their dedication and commitment of wanting to support young adults dealing with cancer in the most selfless way possible. For all those Shavers at the mall, it was their strength that brought them there and their desire to offer strength to all those young adults dealing with cancer. I get chills when I think of how all the young adults in our network must feel, knowing that complete strangers are shaving their heads so that they are able to receive support, connection, and inspiration to live and love life.
As I reflect on my time here at YACC and the YACC team, I can't help but think about the courage: we take the right path, regardless how tough it may be. We know the pursuit of our vision will continue to call upon our courage. I can truly say that I am astonished by everyone here at YACC every day and consider myself so lucky to be part of this team. Being newer to the team, I consider myself having the advantage of a sense of newness and discovery, and often wonder if you all see the same courage in yourselves that I do. I am inspired by each and every one of you on a daily basis, by the drive and motivation you all have to courageously be the voice for young adults and continue to pursue the vision, even when times are tough.
Karine, the reassurance and comfort you bring to the young adults we work with is breathtaking. You have this incredible ability to make a complete stranger feel comfortable telling you their feelings, hopes, secrets and fears — I know this because after only a week of knowing you, I felt like I had known you my entire life.
Lesley, you are so passionate about the programs we offer and the young adults we touch. I don't think you realize the influence you have on everyone around you.
Dawn, you are the glue that holds us all together, whether its accounting, budgets, planning or shave events, you are 100 per cent committed to this organization and constantly bring knowledge and heart to the table.
Angie, you are such a talented writer and amazing storyteller. You capture the heart of the organization in your pictures and words and always have a positive outlook when facing a challenge (or a bad weather forecast.)
Alana, also being new to the team, I am sure you see exactly what I see in the rest of the team, and I can already tell by the way you have jumped into things that you have a whole new set of skills and experiences to add.
Brittany, your bubbly and outgoing personality only adds to the positive vibes here at YACC. You are always up for anything and are always willing to lend a hand.
Alex, your cool, calm, and collected demeanor is refreshing and is often times the stillness that most of us need when things are hectic.
Kelly, your enthusiasm and compassion for the young adults we support and the work you do is remarkable. You are always ready for anything that gets thrown your way, and I admire that about you.
Last but not least, Geoff. You are truly motivating. Your drive, passion, commitment, and dedication to help young adults dealing with cancer is inspiring, to say the least. You make a great leader and your optimistic attitude and "giv'er" mentality makes it easy to follow your vision.
Courage is the YACC team, and all the skills, passion, commitment, influence, and strength we bring to work with us every day. No matter the obstacle or barrier, together we have the courage to pull through so we not only have the backs of all the young adults dealing with cancer, but we have each other's backs as well.