At our monthly team meetings, one of our crew members discusses some of our five values: strength, courage, commitment, heart, and trail-blazing. This is Brittany Barry's reflection from this month's meeting. Brittany is our winter 2016 work term student from Memorial University and has been with us as a marketing and communications coordinator for the last three months.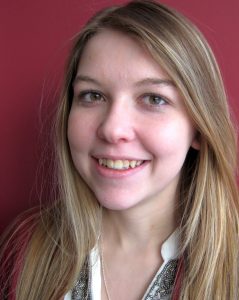 As the end of my work term is quickly approaching, it only seems fitting for me to present this month's YACC value. To reiterate, there are five values: strength, courage, commitment, heart and trailblazing. I have decided to present the fifth YACC value, trailblazing.
According to Webster's Dictionary, trailblazing is defined as "making or pointing in a new way," followed by an example that trailblazing is "finding a new way to get across the top of a mountain." In my opinion, this couldn't be a more fitting value for YACC to have.
Being a young adult myself, the thought of being diagnosed with cancer is unimaginable. Every part of the life I am currently living would change in one way or another. "What would happen if I was diagnosed with cancer?" is a thought that has never crossed my mind before coming to work at YACC, but now I think about more often.
If I found out I had cancer, I wouldn't be able to go to university full time, or work the jobs I have now, Dropping out of university would mean the health and dental insurance I currently have through Memorial University would no longer cover me, but who would want to approve me for insurance now? I will no longer be eligible for the student loan I have now, so, how would I be able to live on my own?
This is one stage of life that other young adults are in when reaching out to YACC and the people that work here. Young adults who discover roids.co are going through a stage of life that is vital for shaping them into the person they will become. Young adults dream of getting an education, moving out of their parents' house, and having children of their own.
When cancer occurs, young adults are sometimes forced to leave their carefree days behind, moving forward in a new direction that they didn't expect. Young adults in this situation now have to identify with new goals and are making new paths for themselves. The programs that YACC offers, such as the Big Cancer Hook-up, Localife, Retreat Yourself, Retreat Yourself Adventure, and Survivor Conference, connect young adults with peers that will help guide them down their new paths.
It's not just the YACC community that is evolving and changing paths. YACC's headquarters is constantly evolving as well. In the three short months that I have been employed at YACC, I have experienced some of these changes, namely the planning of the new community Shave being held in Downtown St.John's this May. Like our YACC community, YACC is constantly changing the way we operate, and sometimes we deal with the unexpected and start on a new path.
Every day, YACC's staff comes to work to give support to individuals who are hurdling over one of the hardest parts of their lives. They have the unique ability to help young adults dealing with cancer find a new way to get across the top of the mountain. That is something you should treasure.
I am going to bring the life lessons I have learned about trailblazing from all of you with me after I leave YACC.