At our monthly team meetings, one of our crew members discusses one of our five values: strength, courage, commitment, heart, and trail-blazing. This is Kelly's reflection from this month's meeting.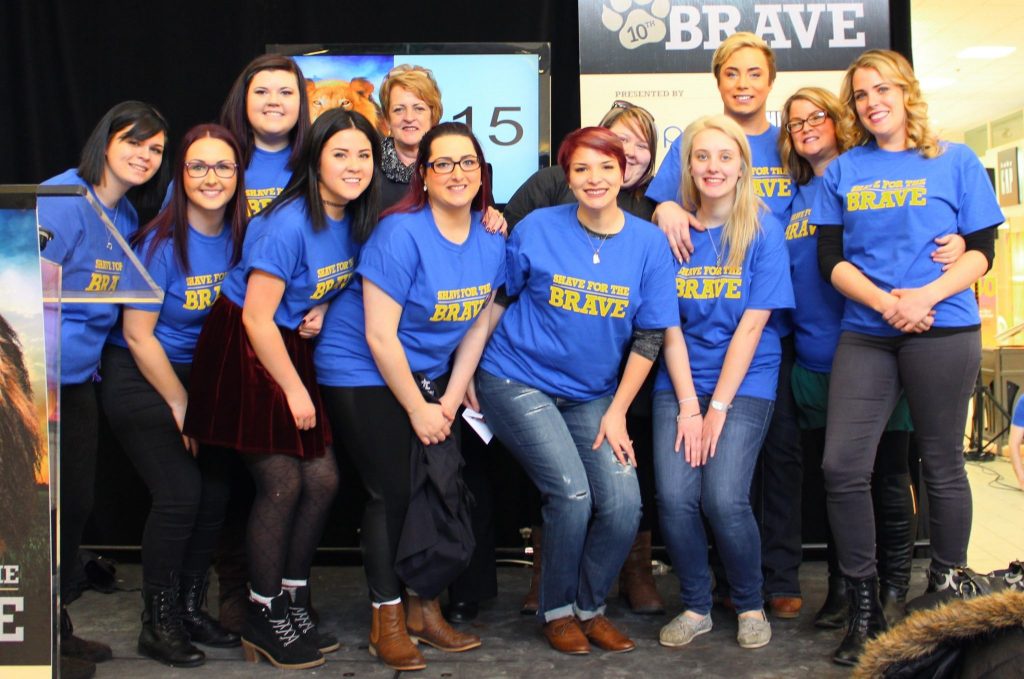 Some of the volunteer hairstylists at the 2015 St. John's Community Shave for the Brave
I wrote my first YACC value statement at the peak of Shave season. I was surrounded by regular Shavers who fearlessly face the razor every year, new Shavers who were shedding every last lock for the first time, and a Shave community that supports, loves, and inspires Shavers through donations, encouragement, and time. I was moved by the commitment shown by these incredible people every day.
This year, I once again find myself staring at a blank page contemplating commitment. It's another Shave season and — thanks to a role change within YACC — I am entering the "bald season" with a new perspective. This year, I want to focus on our incredible volunteers and the immense commitment they demonstrate every day.
But first I need to flash waaaaaay back to 2014, my first year with YACC. I was responsible for organizing the St. John's Community Shave and I was completely terrified and intimidated. I was especially concerned by the scariest concept of all: the success of the organization's biggest day is completely, 100 per cent dependent on volunteers.
In the end all my stress was wasted because getting volunteers was probably the easiest part of the event. It turns out (and this really blew me away) that most of the volunteers happily return every year, and they bring their excitement, enthusiasm, and ideas with them. From the people at the registration tables, to the people managing the line ups, to the hairstylists, most of the people making the event happen are getting paid with nothing more than our gratitude.
Since that first big event, I've organized many fundraisers for YACC and the commitment from our supportive volunteer community shines through every time. We have a very small list of extremely dedicated individuals who are willing to donate their time and expertise to us. They are dependable, energetic, and loyal. They don't just attend events and do as they're asked, they participate and make suggestions. They often come to us with great ideas and always follow through on their commitments.
I recently benefited a great deal from the generosity of our volunteer community. I am running a weekly fundraiser in support of YACC in a volunteer capacity myself. My co-organizer, Nicole, had to move away prior to the end of the event which left me alone. It took me exactly one try to find someone else willing to dedicate every Thursday night to YACC. I reached out to one person, Jessica, and she not only came through on Thursday nights, she took over managing the event's Facebook page, reached out to her contacts, and came up with promotion ideas.
To say that she is committed to YACC on Thursday nights would be a lie; she is committed to YACC every time she makes a Facebook event, every time she talks to someone about the fundraiser, and every time she thinks of new ways to get the word out. This is one example of true volunteer commitment, but I am fortunate enough to work in an organization that is full of similar examples.
In a world where time is our most valuable asset, it is incredible to work with such a dedicated group of volunteers who are always willing to share their time with us.
Thank you to all of you.